Every day on the water as a fly angler is different. Water clarity, weather conditions, and a variety of other factors can change overnight. While it's important to pay close attention to these, landing fish is difficult unless you use the proper fly patterns. 
Fish need an accurate presentation, but if the fly isn't something they often consume, you'll struggle to get them to commit. Make sure you take a close look at the hatch chart before hitting the river to find out what is working. If this isn't an option, Mayfly patterns work great. They're a safe choice, and they make up the majority of a trout's diet. 
Best Mayfly Nymphs 
When choosing the best nymph, make sure you pay close attention to what is hatching and the water clarity. This will help you determine what the best color and size is. Don't get discouraged if your first choice doesn't work. Being willing to change up your patterns is a key to a successful day on the water. 
Hare's Ear Nymph
Hare's Ear Nymphs are a classic pattern. This is an extremely buggy looking fly. This pattern will work even if there is no hatch occurring. You can fish this in a variety of situations, including lakes and rivers. 
If you're fishing a river, make sure you run the Hare's Ear through the seams and riffles. You have the option of dead drifting it as well as stripping it back towards yourself. Make sure that you purchase black and olive colors. You can also find them in a variety of sizes ranging from size 8-18. The flies ranging from 12 to 14 will be the most successful, but be willing to try others! 
Pheasant Tail Jig
The Pheasant Tail Nymph is a perfect option if you know fish are feeding on Mayflies. These are a great representation of Blue Winged Olives. BWO's often hatch early in the spring, so make sure they're in your box to begin the year. 
The beadhead on this fly provides a nice amount of flash in the midst of some darker or more stained water. The Pheasant Tail is one of the better flies you can use if you're fishing a dry-dropper pattern. The jig hook provides an excellent presentation as it drifts in the water. Traditional style hooks can often float upside down. The jig style hangs at a nice angle, and fish will be quick to snatch it. 
Look for these patterns with a bit of green flash. You can find this pattern between sizes 10-18. It's another classic that will work in almost every situation. 
Holy Grail Nymph
The Holy Grail is one of the smaller Mayfly nymphs you'll find. It's flashy and a bit obnoxious. Use this pattern if you're fishing clear water! Fish in clear water can be a bit spooky, and this pattern will entice them but isn't too large that they'll be overwhelmed. 
If you aren't quite sure what fly to use, the Holy Grail can work great as a searching pattern. You'll find quite a few uses for this fly. Go ahead and float this through some riffles and faster moving water. Fish will sit behind rocks and in pockets. If this nymph drifts by their face, they'll strike out of reaction. 
No matter the time of year or conditions, this pattern is going to work! It's genuinely remarkable how successful this is. 
CJ Nymph
This nymph is similar to the Copper John. It's another smaller option that's going to work in quite a few situations. Another great aspect of this pattern is that it doesn't only work for trout. It works great if you're looking to land some bass as well. 
The CJ Nymph comes in numerous colors, so make sure you take a close look at the water's color before you make your selection. The darker the water, the darker the fly. If you're fishing clear water, you have many more options. However, a bit of flash is going to make more of a difference. The fish will be spooky, so you need to make sure they're dead drifting across the face of trout. 
Fish this on the bottom of a dry-dropper rig. It's a great "last resort" fly. Other things may not be working, but don't give up on the day until you tie on this pattern.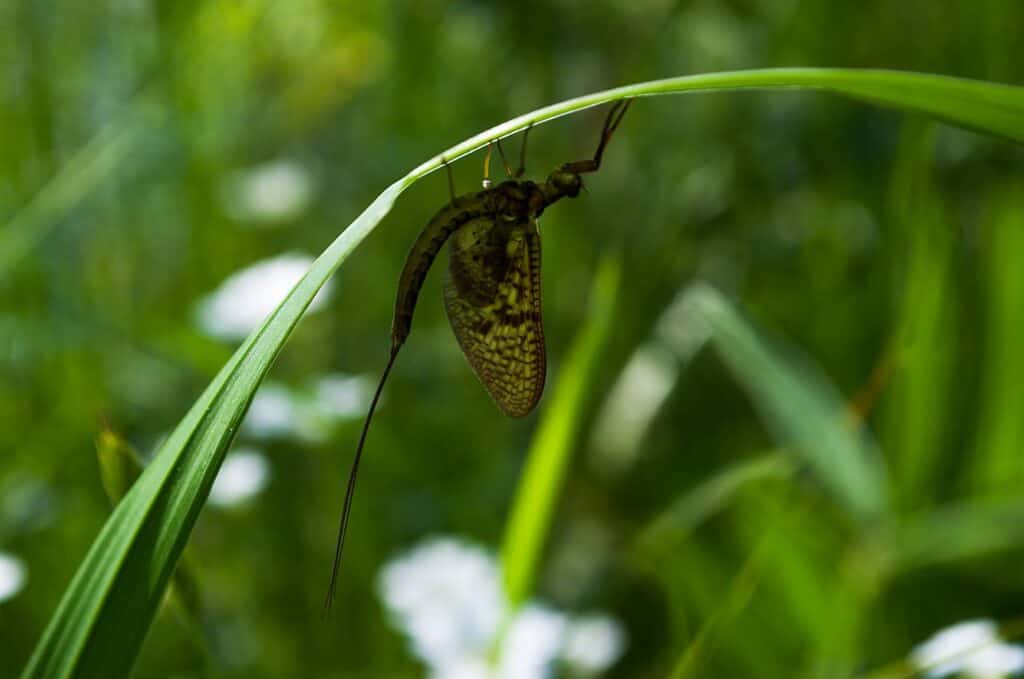 Best Mayfly Dries 
Dry Mayfly patterns are a blast to fish. They sit high on the water and work wonders in the midst of a hatch. Make sure you bring quite a bit of floatant with you on the days you're fishing the hatches. Your flies will get plenty of pressure, so you need to make sure they're able to perform. 
Interested in starting to tie your own flies? Read "Best Beginner Fly Tying Kits."
Adams Parachute Dry Fly
The Adams is about as classic of a dry fly pattern as you can find. It's a versatile dry that will always perform. It's easy to identify, and if there is a hatch, you can believe the Adams will work. Adams dry flies are found between size 12 and 26. Keep numerous sizes of this pattern in your box. Fish aren't always going to want to hit one of the larger patterns, so it may require you to go smaller. The small flies aren't as intrusive, but they still can land plenty of fish. 
While this pattern is popular, fish still seem to fall for it regardless of how much they see it. Cast this fly anywhere you see a rise, and you'll likely find yourself with a fish! 
This fly is also great for rainbow trout. Read "Best Flies For Rainbow Trout."
Eastern Green Drake
Drake flies hatch throughout June and early July. While they're a great pattern, fish can be extremely selective as to when they eat them. Don't get discouraged if they aren't hitting right away. Odds are they're going to wait until later in the hatch before they strike. 
These patterns are tied most often between size 8 and 10. Big mayflies are going to attract some of the larger trout in the river. Wait for the tail end of an evening hatch, and you'll find yourself in for a session filled with non-stop action. 
Look for these flies in sizes 6-10. They need to have plenty of floatant to make sure they stay high in the column. Fish will hit these flies hard! Green Drake season is one of the best of the year. 
Rusty Spinner
The Rusty Spinner is a solid pattern for anglers to use if they can't seem to find any other fly that works. It's a small pattern that works great when you see rises but can't seem to find anything else that works. 
If you're interested in tying flies, the Rusty Spinner is a great fly to try. It isn't too complicated, and the more buggy it looks, the better! Don't worry if your first few attempts look unnatural. Fish sometimes see too many manufactured flies, so a more messy fly isn't always bad. 
You'll find these patterns between size 14-18. They're smaller but still will attract big fish. Be sure to tie these on 3 or 4x tippet, so the fish don't spook! 
Black Gnat
The Black Gnat is a must-have mayfly pattern! Gnats can be found worldwide, and they are active throughout the day in the midst of the spring and summer. These hatches come and go quickly, so make sure you time things appropriately! 
The gnat fly can work great for a variety of smaller black mayflies. This pattern is best fished between size 12 and 14. The gnat is smart to use when you feel like you're overcomplicating things. Sometimes simple is better when you're fly fishing! Start with the gnat and work your way through the rest of your box. 
Royal Coachman
The Royal Coachman is the most vibrant pattern on this list. While it's most often fished between size 12-16, the bright red and yellow colors work great for some of the smaller streams that hold wild trout. 
If you're starting to see rises in some clearer water, this Royal Coachman is a wonderful option. You won't have to wait long for a few fish to strike.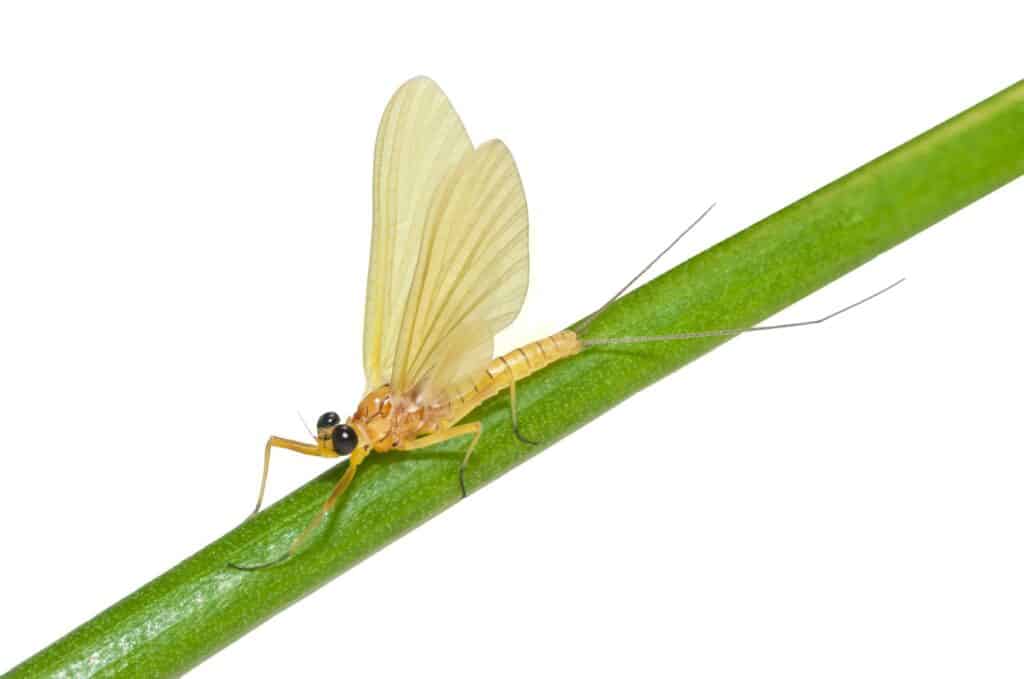 Conclusion 
Mayfly patterns will work all over the world. The number of options can be overwhelming, but remember to keep things as simple as possible. The classic patterns work for a reason! Be sure to match the size of flies hatching and the color of the water. It takes time and practice, but as soon as you begin to match what the fish want, you'll find yourself reeling in fish after fish. 
Mayfly fishing is similar to midge fishing. Read "What Is Midge Fly Fishing?"