It's hard to pinpoint a feeling more peaceful than sitting in a boat, waiting for fish, and enjoying the ambiance of nature's symphony. 
Imagine yourself right now on the water, the warm sun on your back as the water gently nudges you in different directions. Imagine fish popping out of the water as if they are telling you hello. 
If you're having trouble imagining just what type of boat you're floating along in, you might be asking what is the best boat for fly fishing? 
The best type of boat for fly fishing is a drift boat. Your selection is going to depend on your needs and wants, but the other primary options include:
Drift Boat
Float Tube
Pontoon Boat
Kayak
Canoe
Aluminum Fishing Boat
Raft
There are various styles of fly fishing boats, each one beneficial in multiple ways. Let's check out some typical boats used for fly fishing and the benefits they have. 
Drift Boat
Drift boats are an extremely popular fishing boat and are considered to be top tier. Drift boats were created solely for fly fishing! 
Not only do people love fishing from them, but they also offer an abundance of space, definitely room for an overnight pack and a tent if you're looking to camp out. 
Drift boats are excellent for standing and fishing. They are also extremely maneuverable and can handle moderate whitewater.  Drift boats have a V hull, making them simple to row. 
They are super stable and durable, making them easy to cast from, and you won't have to worry about springing a leak as they are completely solid. You'll be able to stand comfortably in a drift boat. 
The downside is they are pretty pricey, so you can expect to spend at least $4,000 on a new drift boat. You'll also need a trailer for transportation purposes, as they weigh several hundred pounds. 
They are also not the best to use in low water conditions, as they draw more water and could scrape the ground in a low flow zone. 
Float Tube
If you've spent time on a river, you've probably seen a few float tubes in your day. However, did you know that float tubes don't just have to be round and doughnut-like – they come in all sorts of shapes and sizes! 
These floaters have several benefits. They're light, they're inexpensive, they're easy to store, they travel well. Depending on the type of float tube, you can pack them up and throw them in a backpack! Nice. 
If you're just starting fly fishing, a float tube is an easy and affordable option to begin with. 
It's probably best to stick with smaller ponds and lakes if the float tube is your style. If you're planning to flow on a river with a little more speed and rapid action, float tubes are best for transporting from one fishing spot to another as you won't have much control over the movements. 
Float tubes are dangerous to be in when the weather is super windy, so make sure you're going out on a calm day. 
Pontoon Boat
These lightweight and, dare I say it, stylish boats are perfect for fly fishing in ponds, rivers, and lakes. A pontoon is a boat that consists of two air bladders connected with a seat in the center. You can maneuver the boat through the use of oars. 
Pontoon boats are excellent for maneuvering, as the two air bladders glide through the water with ease.
Not only were pontoons explicitly designed for fly fishing, but they are also lightweight, assembly is simple, and they're not crazy expensive.  It's also pretty nice to sit out of the water, unlike the float tubes where you're in the water. Here are the four types of pontoon boats:
One Person Pontoon Boat
This is the most commonly seen pontoon boat for fishing.  They are usually pretty easy to assemble. They have a weight capacity of 250-400 pounds. They are pretty light – making for easy transport. Here is a great example of one from Amazon.
Two Person Pontoon Boat
As the name suggests, these pontoon boats are for two people. They aren't relatively as easy to assemble, as they are a lot more solid and heavy. To transport them effectively, you'd need a trailer as they are quite a bit bigger than the one person pontoon. 
Backpack Pontoon Boat
These boats pack a punch when it comes to ease of transportation! Perfect for slow current waters such as lakes or rivers, they are specially designed for easy transport and are a one-person ride. 
The Pontoon Boat-Float Tube Hybrid
Also known as a 'kick boat,' this boat still has two anglers, but there is no luxury of a seat. Or maybe being in the water is a luxury for you: either way, no seat. Maneuvering is done through kicking, much like a float tube. 
When looking to purchase a pontoon boat, keep in mind the weight it will hold, how you'll be able to transport it, and the storage space you have at home for it. Prices for pontoons also range depending on the type you are looking for, so keep that in mind. 
Kayak 
Kayaks are excellent for fishing in ponds, flatwater rivers, and well-mannered lakes. There are so many types of kayaks available on the market, so it's really up to you to pick and choose your kayak preferences. 
Kayaks were initially designed for single-use, and are still small, narrow boats. They are usually 10-20 feet long. The 'V' shaped kayaks do better in more aggressive waters, while the round-shaped ones have the internal stability for mild waters. 
Kayaks are very stable and can endure rougher weather. The seats are lower to the water, allowing for lower wind resistance. Kayaks are also sealed, meaning you won't have to worry about water getting in. You can also store your equipment, and it won't get wet, even if it rains. 
Some kayaks have pedals, so you don't have to worry about rowing. Some kayaks are more spacious; some kayaks even have a speedometer. They make single kayaks and double kayaks so that you can fish with a friend. 
You can also find a pretty comfortable kayak for standing, depending on the length and width. (Should have a length of at least 12 feet and a width of at least 34 inches.)  
Kayaks probably aren't the most family-friendly option as they can only hold up to two people depending on the kayak. The price of kayaks ranges from $800-$2,000 depending on what you are looking for.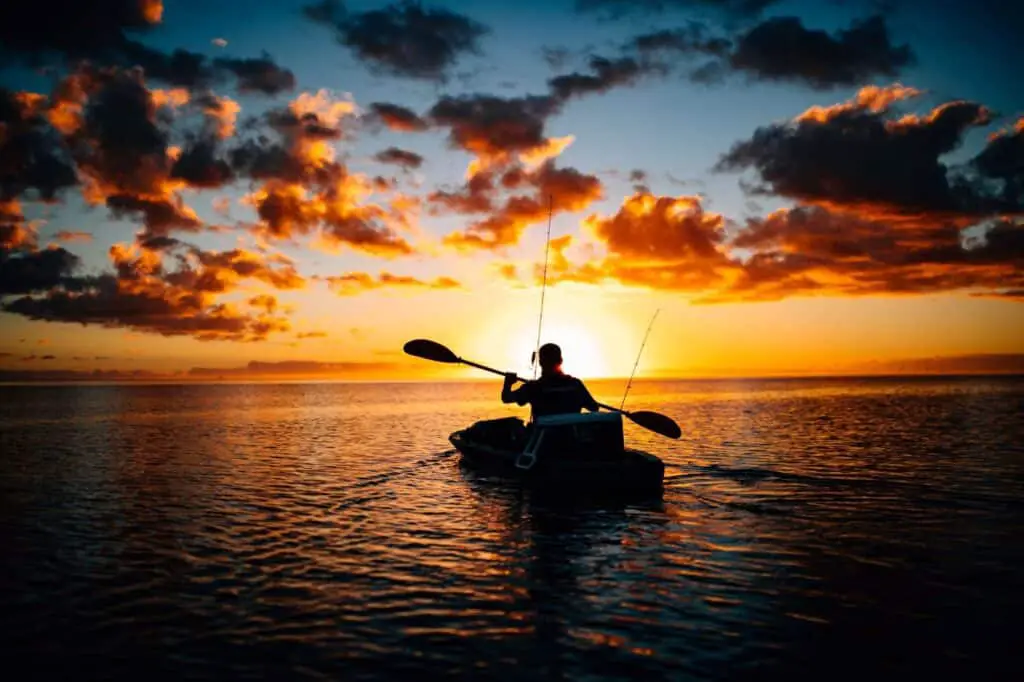 Canoe
Canoes are great fishing boats; they offer stability and storage space. The ideal location for canoe fishing are rivers, streams, ponds, and a well-mannered lake. 
Canoes are pretty easy to paddle, and you can expect some speed on the water due to their shape and weight. A typical canoe is 13-18 feet long. In the middle of the canoe is the yoke, designed for carrying the canoe over your shoulders. 
Canoes are also roomy as they were originally designed to carry more than one person, so bring your friends or family along on your next outing with the canoe! 
When on a canoe by yourself, make sure to remain centered in the middle of the boat. The canoe's roominess makes it an extremely comfortable ride and allows for sitting, kneeling, and even standing if you can balance properly. 
Most canoes now have carrying handles, making transportation easy. This one even has an outrigger.
Keep in mind that because canoes can be easily tipped and fickle with water conditions, it might take some practice.
Aluminum Fishing Boat
Aluminum fishing boats, otherwise known as 'car toppers,' are smaller and lighter boats. Many modern models are actually made from plastic, like this one from Amazon. 
As the nickname suggests, they can fit on the top of your car and are typically around 12 feet. They're great for lake fishing (but not limited to) and are easy to maneuver. 
Corrosion is also a problem if not well maintained, so make sure you're keeping up with cleaning the boat. 
Raft
Rafts are excellent if you're looking to fish in more turbulent waters. They've very forgiving, meaning they can take a lot of heat from whitewater and rapids as well as the rocks underneath. 
Rafts are often very roomie, allowing for you to pack along plenty of sufficient gear. Rafts are usually very comfortable, and you won't have to worry about sinking. 
There are only a couple of downsides to a raft. They're not the cheapest fishing option, with prices ranging from $2,000 to $3,000 as the frames are sold separately, and they don't do super well when it comes to fishing in windy conditions.
Conclusion
Hopefully, with all this information, you can now imagine what type of boat you want to fly fish from. Whether it's a float tube, pontoon, kayak, drift boat, canoe, car topper, or raft, you're sure to have a peaceful time.