Everything You Need To Know Before Fly Fishing In The State Of Washington
Are you interested in fly fishing? If you love fly fishing and you are in the state of Washington, there are some things that you need to know first. Like any other hobby, sport, or activity, it is good to do some research before heading to a new area in hopes of finding what you are looking for.
In the state of Washington, you will find that there are many different locations that you can visit to fish for trout. With plenty of lakes and rivers throughout the state, you will never run out of exciting places to go fly fishing! Along with the best trout lakes in Washington, you will also want to know a few things about fly fishing before going to a new state, as fishing regulations and seasons can vary depending on where you are. The topics covered in this article will include:
Omak Lake
Bonaparte Lake
Potholes Reservoir
Rock Lake
Lake Chelan
Conclusion
With these locations and topics in mind, you will better understand fishing in Washington before heading out to the state. It is always good to be safe and cautious before going on a fun journey as you want to make sure you are following all laws and regulations and choosing the best time of year and locations for the sport!
Omak Lake
If you are looking for huge Lahontan cutthroat trout at a beautiful location, Omak Lake is an excellent choice for you. If you are visiting this lake, you should not expect to find other trout species at this location. If you are interested in fishing for Lahontan cutthroat trout, that should not be an issue as there are plenty! The trout you can find while fly fishing at this location ranges from 5 to 15 pounds, although there are records of larger trout coming from this lake.
This blue lake is excellent as it is the largest saline lake in the state. It is great to fish here earlier in the season. The lake covers an area of over 3,200 acres, meaning there are plenty of great spots that you can find while at this lake looking for trout. You will need a special tribal fishing license to fish here at this large lake, which can be purchased at a nearby Walmart or sporting goods store.
One good thing to note about this location is that you will need artificial lures. You will need to respect tribal rules during your visit to this location. When fishing from a boat, you need to be careful as the water can get choppy.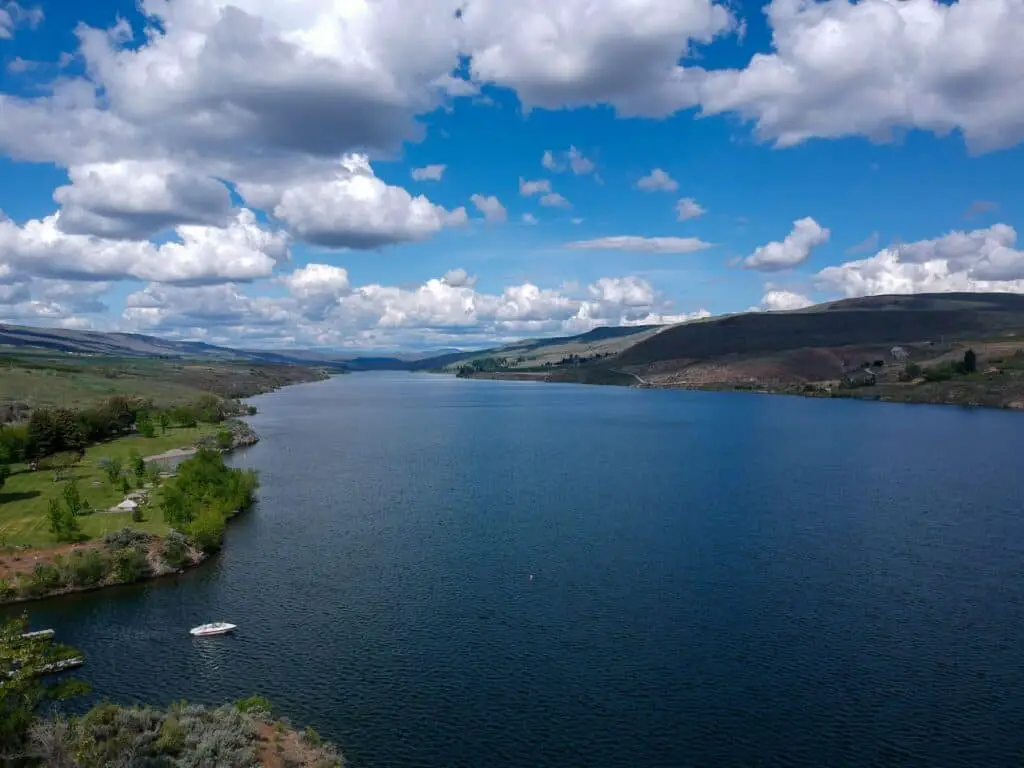 Bonaparte Lake
Bonaparte Lake is a smaller lake compared to Omak Lake. This location covers a 151-acre area, but do not be mistaken for its small size as it still holds large trout that make it worth visiting!
At Bonaparte Lake, you will find that there are many large rainbow trout, brook trout, and tiger trout. This location holds the record for the biggest tiger trout, weighing in at 18.49 pounds. It is great to fish here year-round for these trout, whether you are hoping for clear waters or ice fishing in the winter! With fishing being open all year, you can use all types of bait, lures, and flies at this spot.
You will not find too many people fishing at this location since it is a smaller area and can be a drive to reach. On that note, you can stay for longer trips as there are cabins, spots for campers, a restaurant, bathroom, and showers.
Potholes Reservoir
Potholes Reservoir is a large spot that offers many types of fish species. You will find all kinds of fish here, including walleye, bass, panfish, and of course, trout! You will likely want to be on a boat or along the east shore when fishing for trout.
When choosing a time to fish at this particular location, you will want to visit during early spring and winter. The trout will move to deeper waters later in the season.
Similar to Bonaparte Lake, Potholes Reservoir offers areas for lodging, camping, and boating. You can choose to plan longer trips for this location if you wish.
Rock Lake
Covering over 2,100 acres of area, Rock Lake is the largest natural lake you can find in the eastern region of Washington. If you like fishing from a boat, this is an excellent place for it as it is limited to boat fishing. 
If you are looking for trout, you will find giant brown trout and rainbow trout at this spot! You will find a variety of sizes at this lake, ranging from 10 pounds to 24 pounds. You can use all types of baits at this spot, such as crankbaits, spinners, and flies.
Fly fishing for trout at this location is great during cooler temperatures like February, March, and late fall. You can also be successful fishing here during late spring.
Lake Chelan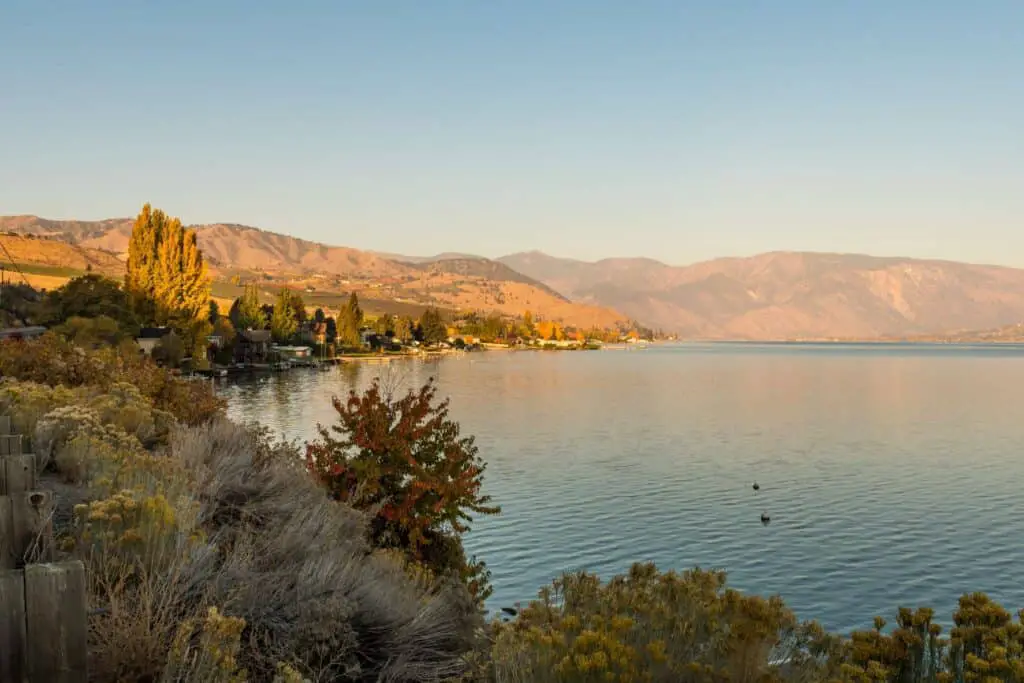 One more lake that is worth visiting while you are in the state of Washington is Lake Chelan. Lake Chelan is perfect if you are looking for a popular location to visit on a hot summer day. If you are looking for lake trout, this is the ideal place to visit! You can also find cutthroat and rainbow trout at this lake.
You can fish from shore at this lake, although it is limited. With that in mind, they have many boat launches so you can fish from a boat! At Lake Chelan, you can also plan for some fun camping with many resorts and cabins available.
Conclusion
If you are looking for the right time to go fly fishing in Washington, it is good to note that you can fly fish all year in the state for trout! Whether it is winter, early spring, summer, or late fall, you can fish year-round for trout in Washington. With so many trout species, constant stocking, and all of these locations, there is never a better time to go fly fishing for trout in Washington. 
When fishing in Washington, you will need to be aware of the law. If you are over the age of 15, you will need a fishing license to fish for trout in Washington. Once you have a license, you can choose a lake and get started on your journey! All five of these lakes are great places to visit as you will find a range of small lakes and large popular lakes.