Most fly fishers carry a few reels on them. Multiple reels allow you to have different types of lines and tippets already set up if you decide to make a change. But they may not be used frequently. 
It doesn't always make sense to buy pricey reels if they only end up sitting in your vest pocket. You're going to want to carry some budget-friendly reels.
The 11 best budget fly reels for beginners are:
Orvis Clearwater
Echo Ion 
Redington Behemoth
Cabela's Prestige Plus Fly Reel
Piscifun Aoka
Redington Crosswater
Echo Base
Orvis Battenkill
Piscifun Crest
Scientific Anglers Ampere Electron
Waterworks-Lamson Liquid 
Today, we will be diving into the best budget fly reels on the market. 
Best Budget Fly Reels
Especially when starting, you don't want to spend a ton of money on equipment. As you progress through the sport and learn a lot more, it could be time to upgrade. But, if you are a beginner, it is best to keep it simple and save some money when you can. 
Whether you are a complete beginner or have already started your fly fishing journey, it is always good to gain some outside perspectives and learn more about the sport. This will make your purchases more informed, your time on the water more productive, and your overall time as an angler more successful.
There is some variation in what weights these reels are available in. Check the weight chart at the bottom of the article to see what weight is best for which fish species. 
| Reel | Weight Options |
| --- | --- |
| Orvis Clearwater | 4-6, 7-9 |
| Echo Ion  | 2 to 12 |
| Redington Behemoth | 5 to 12 |
| Cabela's Prestige Plus Fly Reel | 5/6, 7/8 |
| Piscifun Aoka | 3/4, 5/6, 7/8 |
| Redington Crosswater | 4/5/6, 7/8/9 |
| Echo Base | 2/3, 4/5, 6/8 |
| Orvis Battenkill | 1-3, 3-5, 5-7 |
| Piscifun Crest | 5/6, 7/8, 9/10 |
| Scientific Anglers Ampere Electron | 6 |
| Waterworks-Lamson Liquid  | 2-4, 4-6, 6-8, 8-10 |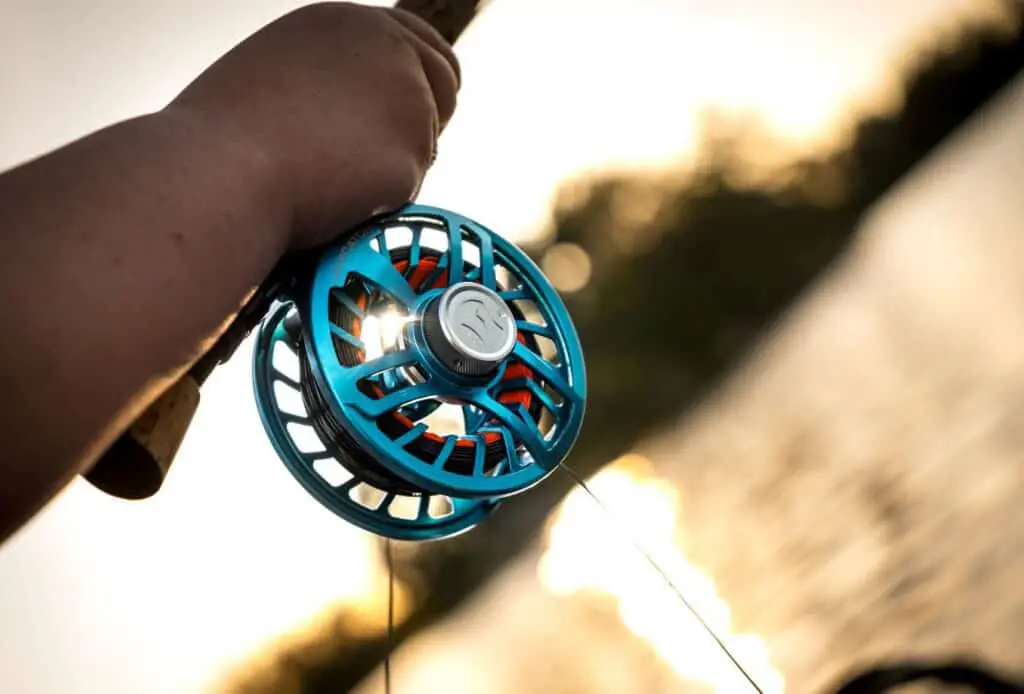 Here are 11 of the very best budget fly fishing reels for beginners.
One of the steadiest and most reliable fly fishing reels for beginners is the Orvis Clearwater. Orvis is a very old brand that has mastered so many aspects of the fly fishing industry. Reels are just one of the great products under the Orvis umbrella.
The Clearwater is one of the brand's biggest lines that encompass reels, rods, and line. The reel is made to last a long time. This is a huge aspect to keep in mind when talking about beginner reels. A lot of mid-level and experienced anglers still use the Clearwater in their arsenals. 
It is best paired with the Orvis Clearwater rod, but if the pair is out of your budget, this is still a great reel to use with a different setup. Either way, you are getting a lot of value with the Clearwater. 
The usual weights that come with this reel are 4-6 and 7-9. If you don't know, the weight of your setup is crucial to keep in mind. See the chart below for more information. 
This reel will deliver quality beyond its price point.
Another excellent starting reel is the Echo Ion. This reel has an interesting mix of cast and machined aluminum to make it as strong and light as possible. This is important to consider because beginner reels can be either light and flimsy or heavy and bulky. You don't want either of those, and the Echo Ion finds an excellent middle ground. 
This is considered a beginner reel because of both its price point and overall build. Echo makes reels that are both higher-end and lower-end. The Ion is a great middle-ground that doesn't break the budget while also delivering quality. The key to finding the perfect beginner fly reel is to find this balance. 
This reel's weight rated ranges from 2 to 12. You can target a wide range of species and sizes of fish. All you have to do is get a weight rating that best fits your fishing goals. 
These are in a great price range for a beginner. You don't want to overextend your wallet, but cheap does not always mean better.
A great way to introduce yourself to fly fishing is sticking to some of the sport's better brands. Just about every well-known fishing brand that has higher-end reels will also have beginner models. Redington is no exception. The Redington Behemoth is an excellent beginner reel that won't hurt your wallet too much. 
There are a couple of different Behemoth variations so that you can buy accordingly based on your budget. There are also slight differences between the models, but the generalities stay the same. 
One of this reel's biggest attributes is its drag system. You will gain up to 30 pounds of leverage over your fish, so your landing ratio will be far better than some of the other reels out there.  
Because it is a beginning reel for many people, things are very simplified. The adjusting knobs will be a bit bigger, and the reel is made for easy use. This takes a lot of the guesswork out of a beginning fly reel. 
The reel's weight is also important to keep in mind. It is 5wt-12wt, so many options cover a broad range of possible weights. However, there aren't any small fish ratings. The 5-wt. reel is excellent for small to medium-sized fish like trout or small bass. 
Cabela's Prestige Plus Fly Reel
The conglomerate of Bass Pro Shops and Cabela's is a huge force in the outdoor industry. Not only do these retail stores have so many options in all of the outdoor spaces, but they also manufacture their goods. 
Maybe a few years ago, this product was disregarded because it did not come from a longstanding company that only focuses on fishing gear. Now, the script has changed, and stores are allowed to have their lines of products. 
The Cabela's Prestige Plus fly reel is a perfect example of this trend that has hit the market in recent years. This is a very entry-level reel that is affordable while also delivering good quality for the price point. 
The frame is made from cast aluminum, a fairly common material amongst fly reels. This is both strong and light. A unique factor of this reel is the cork drag system. This is found on higher-end reels, but it is ingratiated into this model as well. This makes less of an imprint on your tippet and leader, so they will both last longer. The last thing you need is a reel that takes its toll on your other equipment. 
Right now, the two weights available are 5/6 and 7/8. These are very versatile and normal weights to target a broad range of species.
On the cheaper end of the budget reel list, there is the Piscifun Aoka aluminum fly fishing reel. If you are on a bit of a strict budget, this might be a great option to keep in mind. To see the current price, click here. 
Like many others, this is an aluminum fly reel that comes in at just above 6 ounces. This means that it is both light and relatively strong so that you can avoid chunkiness and fragility. 
There are 3/4, 5/6, and 7/8 weight options, covering a wide range of weights available. 
This reel is considered a beginner option because of both the price point and the design's simplicity. The Aoka has a cork disk drag system, one of the best for this kind of reel. It also makes everything easier to use with simple colors and the lack of unnecessary add-ons. 
Plus, the Aoka is a really good looking reel. Although looks definitely aren't everything, who doesn't want some cool looking gear? Don't put too much stock into looks, but it is something to keep in the back of your mind.
Redington is already mentioned on this list, but it is a repeat brand for a good reason. Its exceptional quality and customer care make you feel good about purchasing its equipment. The Redington Crosswater is another solid reel that is usually cheaper than the already mentioned Behemoth. 
The Crosswater is not made from aluminum but rather composite. This is where a lot of money is saved. They also use a disc drag system to give you some trust in the reel's ability to handle fighting fish.  This also instills confidence in your abilities to set the hook in the first place. 
This reel weighs in at less than half of a pound.
The Crosswater is also an ambidextrous reel, so anything can use it regardless of what hand is your strong one. This feature isn't super uncommon amongst fly reels, but it is a great perk. Being able to switch hands quickly and efficiently is nice. 
Your buyer's confidence will be sky high as Redington offers a 1-year warranty. It is always good to purchase from a company with excellent customer service.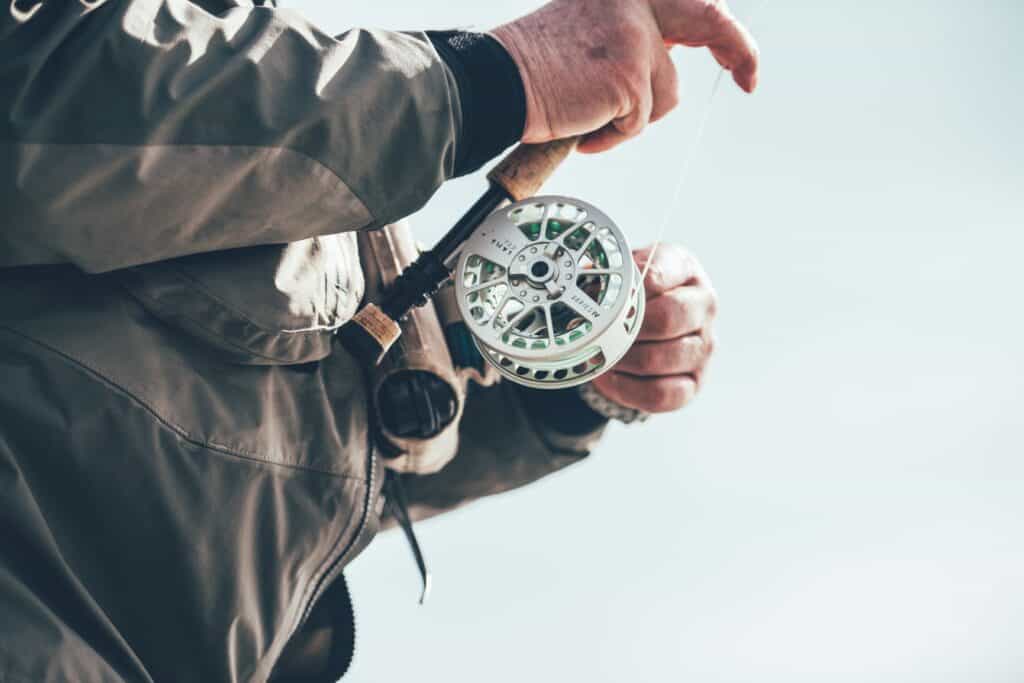 Another repeat brand is Echo. Echo's experience in this industry is outstanding, and they show that through their products. The Echo Base is another excellent line that is great for a beginning angler. This is a very durable composite reel that is very affordable. To stay up-to-date on its current price, check here. 
There is instant drag engagement initiated, so the odds of having a backlash is very minimal. 
This reel is also one of the few reels on this list that comes in the 2/3-weight option. This size is perfect for smaller fish in smaller bodies of water. There are bigger options like 4/5 and 6/8, but the smaller model is the most popular. Because many reels focus on the mid-to-large weight ranges, it can be challenging to find a smaller reel, especially for beginners. 
There is even a Base model that comes with a larger spool. This lets you hold more line and make farther casts with ease. 
While we are listing some repeat brands, we can't leave out Orvis. You already learned about the Clearwater, an excellent reel, but Orvis is a fairly large brand and makes several reels that cater to the beginner crowd. Another one of these is the Battenkill. 
This reel tends to be slightly more expensive than the Clearwater, but it is a step toward the higher-end reels, at least for a beginner's standards. To check the current price, click here. 
This reel is excellent for smaller and shorter rods because it is super lightweight and compact. This is one of the best reels on this list for targeting smaller fish with smaller setups. This is because one of the wight options is 1/3-wt. 
This is exclusively for smaller fish, so you don't want a large rod and reel setup being used. Keep it simple and keep it light. This is precisely what the Battenkill does. 
If you want to step it up a notch, there are 3/5 and 5/7 options. So, the midrange fish can be targeted by the same line if you love your smaller reel. No matter what size of fish you want to target, Battenkill has an option for you, except for the larger fish. 
Although some fly fishing reels can be used for both freshwater and saltwater, most reels are made for either or. In this case, the Piscifun Crest brands itself as a fly reel that can be used for both freshwater and saltwater. This reel is different because they claim it is great for both. 
Saltwater gear requires a bit more beef and more robust components, so it can be more expensive. This is why the Crest is a great entry-level saltwater reel. It caters to heavier weights because you sometimes never know what you will get in the ocean. There are 5/6, 7/8, and 9/10 options. This is probably the reel with the biggest capabilities on the list so far. 
It is on the upper end of beginner reels in terms of price, so you should look at it as an investment. To see the current price right now, click here. 
Scientific Anglers is a fly fishing brand known for its fly line. They make excellent lines that are very popular amongst a lot of anglers. This brand is taking its identity with line and using it to enter the reel market. 
Whenever a reel brand also makes a line as well, it is always a perk. They can design products to work effortlessly with the other. So, when buying a Scientific Anglers reel, it is also best to get their line. They pair beautifully and can make you feel confident in your purchase. 
This is also a fantastic reel because it is very versatile. Right now, the weight rating available is 6, which is very middle-of-the-road. This allows you to do a lot with it. Especially when starting, it is nice to have a versatile reel that can be used in many situations. 
Finally, to round out our list, there is the Waterworks-Lamson Liquid fly reel. At the higher end of the beginning price point, this is a die-cast reel That focuses on strength and usability. 
Waterworks-Lamson is not a super established, well-known company in the west, but they are fairly popular in Asia and other parts of the world. This brand has reels from beginner to higher end for those with a larger budget. 
The Liquid reel is on the bottom end in terms of price but can be considered expensive by some starting anglers. To check the current price, click here. 
The entire idea of the Liquid reel is to flip the script on cast reels. Cast reels are usually heavier, stronger, and of the higher-end price points. Waterworks-Lamson is trying to make cast reels more accessible to the average person. 
They also make this particular line in a wide variety of weight ratings. So, no matter what kind of fish you are targeting, the Liquid is an option. They have reels from 2/4 to 8/10 and everywhere in between. This is a big perk because what you commonly fish for determines what type of reel you can use. 
Although at this price, you might want to stick with a more established brand. That will give you the consumer confidence needed for a purchase like this. However, if you are in the mood to branch out and try something out of the box, this reel can be a great option.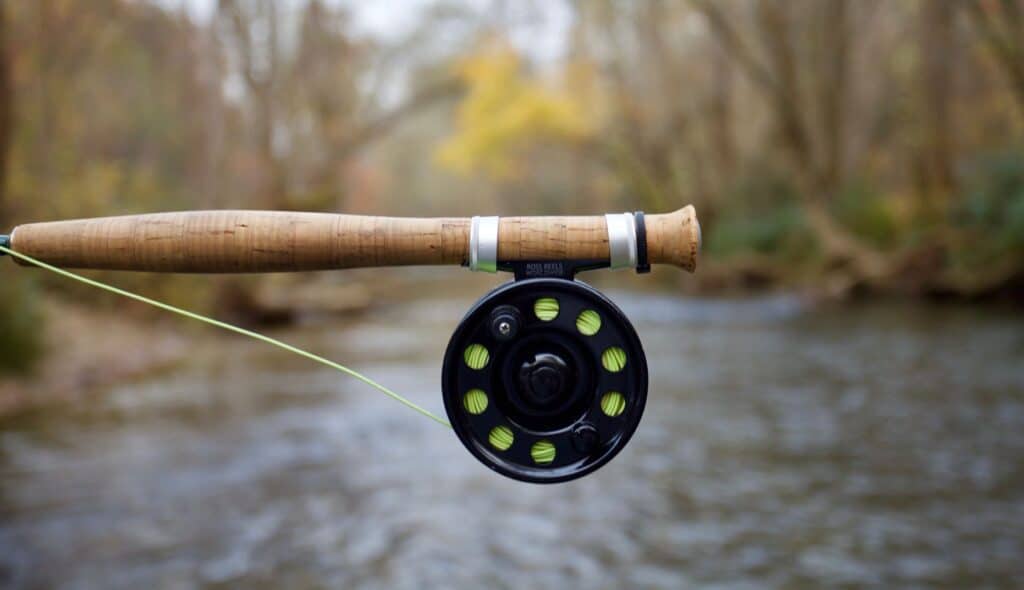 Fly Fishing Reel Weights
In case you're still learning about fly fishing basics, it is a good idea to refresh yourself on how fly rods and reels are rated for weight. You want to align the rod, reel, and line's weight to the target species you'll be fishing.
The weight rating is an industry-standard that gives fly fishing equipment a standard. These standards coincide with what type and size of fish should be targeted. The line, reel, and rod all have a weight rating, and you want them to have the same ratings. 
| Weight | Ideal For | Recommended Budget Reel |
| --- | --- | --- |
| 1-3 | Small fish, small bluegill, panfish | Echo Base, Orvis Battenkill |
| 4 | Small trout, larger panfish | Piscifun Aoka, Waterworks-Lamson Liquid |
| 5 | Trout, small bass | Orvis Clearwater, Redington Crosswater |
| 6 | Trout, bass | Scientific Anglers Ampere Electron, Echo Ion |
| 7 | Large trout, steelhead, medium salmon | Redington Crosswater, Cabela's Prestige Plus Fly Reel |
| 8 | Salmon, small saltwater, bonefish | Piscifun Crest, Orvis Clearwater |
| 9 | Saltwater, Golden Dorado | Redington Behemoth, Piscifun Crest |
| 10-12 | Tarpon, billfish, large golden dorado | Redington Behemoth |
Conclusion
All these reels are great options for beginners and veterans alike. If you have a primary setup that you typically use, maybe one of these reels will work as a great budget-friendly backup fly reel. 
If you found this article useful, check out our other equipment articles like "The Best Fly Fishing Rods" or "Is Fly Fishing Better Than Spinning?"
And don't forget to sign up for the Rod And Net Newsletter!