Buying a new fly fishing rod can be intimidating. There are numerous opinions and options to consider. This is a list of our recommended fly rods for 2021. 
Four main parts make up a fly-fishing setup: a rod, a reel, a line, and a fly. They should all work together. 
Each part can be as basic or feature-rich as you and your budget desire. These rods have a variety of options to consider. 
What To Look For In A New Fly Rod
There are several factors to consider when in the market for a new fly rod. Once you know what they are, it is up to you to decide which ones are more important than the others.
The most significant factor for many anglers is quality. No one wants to buy a rod with a short shelf life. Especially in these times, your hard-earned money needs to be protected. So, buying something that will last a long time is huge.
This is extremely specific to every consumer as everyone has their budgets. If you can only spend $200-300, there are great options out there. If you want to drop over $1000, that is an option as well. Finding the best value for your budget is critical.
There are some things to look for when shopping around.
First off, the weight rating of the rod is really important to know. Every rod, reel, and line has a specific rating, usually 1-14. As the number gets higher, the stronger the gear is. For example, a 10-wt. rod can be used for salmon and steelhead, whereas a 3-wt. shouldn't be used for anything bigger than panfish, small bass, and small trout.
The other big thing to consider is action. The action or power of a rod refers to how much bend it has. A fast-action rod is much stiffer than a slow-action rod. This makes a difference in the fishing style and the target species.
Admittedly, these rods are not all great options for a beginner.  If you are interested in the best fly fishing gear for beginners, check out our article.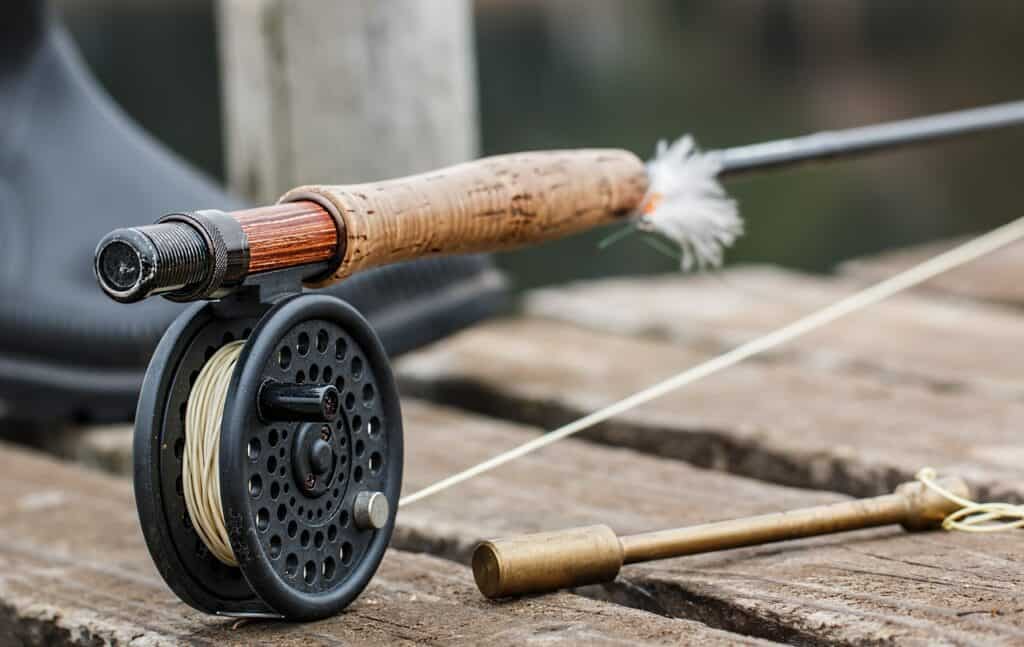 Best Fly Fishing Rods
Here are some of fly fishing's best rods on the market. These will be in no particular order and will cover all bases of fly fishing. 
This list includes high-end rods, rods for people on a budget, and everything in between. There should be something for you. Here are the best fly-fishing rods on the market today!
One of the best-selling rods on this entire list is the Fenwick Streamflex. It is so sought-after that is it sometimes hard to find in stock. When you can, you won't be disappointed as it backs up the hype with results.
The regular Streamflex offers 14 options that range from 3-6 wt. Generally, the 3-wt. option is most popular and is found more often than the other options.
The High Modulus 3M Powerlux 1000 Carbon Blank technology makes the rod strong, lightweight, and sensitive. It is often hard to find the right balance of strength and sensitivity, but the Streamflex keeps both in mind.
There is also the Streamflex Plus, which is a bit beefier and can handle larger fish. The price might jump up a little bit, but it is well worth it when you need something a little stronger. Many anglers buy the regular version, and if they like it, they will eventually upgrade within the same model. This adds some consistency to your spending. 
Overall, the Streamflex can provide a very reliable, mid-end rod that can prove a great backup if you choose to upgrade.
As one of the oldest and most well-known fly-fishing brands in the world, Orvis has an excellent grasp on the industry and constantly produces quality products. One of the brand's homestead products is the Clearwater.
With the saying "Innovation for Everyone," the Clearwater is branded to be super accessible while maintaining the Orvis integrity that it needs.
There are a couple of variations of the Clearwater. The most common is the freshwater model that ranges from 2-6 wt. and is between 7'6" and 10'.
For larger species and saltwater fish, there is a Big Game and Saltwater variation. These range from 6-12 wt. and are between 9 and 10 feet long. These can handle the bigger fish with ease compared to the freshwater version.
Orvis offers its customers a 25-year guarantee, so if something were to happen, you might be covered. Dealing with a brand that cares this much about customer satisfaction is huge.
Orvis makes it super easy to streamline the buying process by making rods, reels, and line all under the Clearwater umbrella. So, each piece is designed to fit the others very well. Buying from the same line great way to make sure your gear will work together. 
On the lower end, you can get a line, a rod, and a reel for a fantastic value for such a highly rated brand. Fly fishing gear can get expensive quickly. The Clearwater option keeps you within budget and provides you with a dependable piece of equipment.
Asking yourself, "Is Orvis A Good Fly Fishing Brand?" check out this article to learn more.
On the higher end of fly rods, there is the G. Loomis NRX+. G. Loomis is a very well-known and revered brand that has its hand in a number of areas in the angling industry. No matter what they produce, you know it is going to be quality.
This company is continuously at the forefront of pushing the envelope and using technology to develop new ideas. 
The NRX+ series dips into many facets of fishing. There are NRX+ models for bass fishing, saltwater, and large freshwater species like salmon and trout to fly fishing. G. Loomis continues this series' success with the fly rod.
With about 20 models of this one line, you can specify your setup as much as possible. Freshwater options range from 3-6 wt. so targeting those stream trout is excellent with this rod.
The saltwater variation ranges from 7-12 wt. Although it is classified as a saltwater rig, it is perfect for bigger freshwater fish like salmon and trout.
At this advanced price point, it needs to deliver. The NRX does a great job of justifying a higher price tag. A great perk of buying a G. Loomis product is its excellent customer service force.   
If you're looking to try out this great rod in some of the best fly fishing in the world, check out, "Best Fly Fishing in Montana."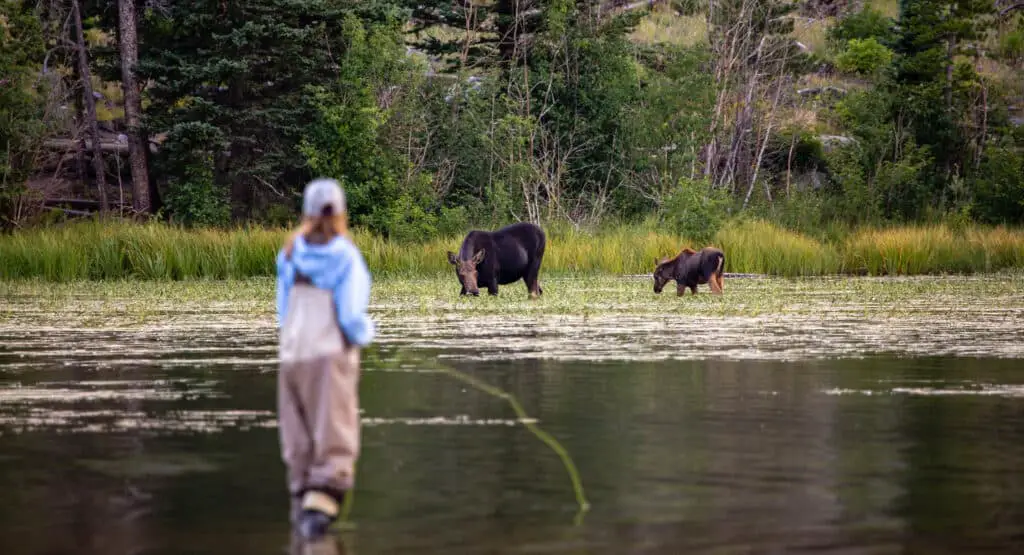 One of the more affordable brands on this list is WETFLY. The Nitrolite is one of their top lines, so there are other price point options offered. A lot of fly rods are made from graphite or glass, but this one is made from layered carbon fiber to make the rod super light but still strong.
Along with having a high-quality rod built for performance, WETFLY also strives to be affordable to the average fly fisher.
This company has only been on the scene since 1999 but has quickly risen to a top producer that is often underrated. Their entire mantra is to make fly fishing accessible to everyone. This is reflected in their products and prices.
You can get the Nitrolite in four, seven, or eight weights. The 4-wt. is fantastic for streams and smaller fish, while the bigger weights take it up a notch.
This is a highly rated rod that is a consumer favorite of sorts. If saving money while not compromising most of the quality is a priority, keep the Nitrolite in mind.
Redington is a very affordable brand. The Redington Class Trout fly rod may be the best rod on this entire list for beginners.
If you aren't a beginner, remember back to the time where you were learning. There is a learning curve associated with fly fishing.
Until you feel comfortable with the sport, it is hard to shell out a lot of money on advanced gear. This is where the Redington Classic Trout rod comes in and saves the day. You can spend a reasonable amount for a rod and not stress out about it.
The weights of the Classic Trout range from 3-10, so several species can be targeted with this line. There is even a travel-friendly 6-piece option that makes traveling long distances super easy. The standard rod comes in four pieces, so the travel option is considerably smaller when broken down.
This is a fast-action rod, so it is relatively stiff and can handle bigger fish depending on the weight.
One of the top-of-the-line fly rods that doesn't care about your wallet is Sage X. Expensive fly rods have long been a status symbol for those who can afford them. However, this does not mean expensive rods are just to show off and prove wealth. Many of them are of great quality and live up to the hype in one way or another.
This is also a fantastic fly rod for the saltwater anglers out there. Because it is relatively heavy, this rod is meant to catch bigger fish. There are options for five, six, and eight weight rods. As you can see, you will not be using this rod for panfish.
The heavyweight allows it to work very well for saltwater. More so than freshwater, saltwater species can get very large, and you often never know how big your catch will be. Having this rod allows you to be ready for anything.
The Sage X is most known to be an award-winning series, with its most recent success coming from ICAST 2019. Yes, this does require a pretty advanced budget, so you need to know you are getting your money's worth.
One step down from the X is the Sage Trout LL. As the name implies, Sage engineered this rod to specifically target trout, which is one of the most popular species to fly fish for. Having a specified rod that is designed for one species can make the experience much better.
This does not mean it can't be used for other fish. It can, but if you can afford one special rod, it may be worth specializing in this setup for trout specifically.
Because many trout live in small, narrow streams and rivers, this rod is designed to fit these scenarios best. The finesse required when the waterway is small can be challenging to master. That is what the Trout LL is trying to do.
The most common weight on the market is four. This might seem light, but when navigating those streams, you don't need anything beefier. It is also a medium-action rod, so it is very versatile.
Along the same lines of high-end rods, the R.L. Winston Air is at the top of the top. This rod has some very compelling selling points that need to get recognized.
A big one is its ability to handle big fish. Because the weight range is 5-9, this is engineered to handle the trophy salmon and steelhead you are searching for. This rod is also longer than many. The added length will help you handle those hefty fish. You can get one that is up to 14'6", so any big game is on the table.
Another great selling point is the materials that make up the Winston. The patented SuperSilica resin allows the rod to be light, durable, and very consistent. These are huge aspects of fly rods that you need to keep in mind. Because they have their own technology in use, R.L. Winston's brand can deliver excellence on their own terms.
This rod is also the only two-handed rod on this list made for big game. With space for the second hand, you can take full advantage of the leverage this rod provides.
Like with some of the previous rods, the more expensive they get, the more likely you will specialize them. You can specialize for those prized steelheads or salmon with the Winston that only come around so often.
Among the high-end rods, the Hardy Zephrus is one of the most affordable. As you already know, those top-of-the-line pieces can fetch four figures. This is a really high-quality fly rod. Check the link for current pricing. This rod is designed to be an everyday user, so you can get your money's worth very easily.
Although this rod comes from 3-6 wt., the 4-wt. option is the most popular. This is a super versatile rod that can be used in several situations. That is why this rod is classified as an everyday user.
They use the patented Fuji titanium stripping guides to ensure strength. A big part of Hardy's goal is to establish control. That is why they use quality materials engineered in the best way possible.
Everyone needs a "beater" rod. If you have a more advanced budget, this can be an excellent option.
Conclusion
Hopefully, you now know a little bit more about fly-fishing rods and what goes into them. The buying process can be quite intimidating, especially when there are hundreds of dollars at stake. You want the security to know that your money is going to a piece of equipment that will perform and make it all worth it.
So, next time you are in the market for a new fly rod, buy with confidence and know what brand, type, size, and style will best compliment your skills and meet your needs. 
And remember, fly fishing gear doesn't have to be expensive. Check out, "Is Fly Fishing Expensive?" for more details.
Good luck and happy fishing!