Fishing used to be one of those activities that families enjoyed together. With the pace of our current world pre-COVID, the number of active participants and fishing licenses struggled to keep consistent numbers.
According to the Outdoor Foundation and the Recreational Boating and Fishing Foundation, the industry deals with what is often called a "leaky bucket." The good news in 2018 was that participation rates rose by a net 300,000 for all fishing practices.
The bad news is that 9.1 million people gave up fishing for good as 9.4 million joined the industry to try it for the first time.
Thankfully, fly fishing is a bright spot for the industry. It might have the fewest total participants, but it is also retaining the most growth. 
Since 2017, all forms of fishing saw participation rates rise by 3.7%. For fly fishing, the rates were an average of 4.5%. That's for anglers of all ages.
When we only look at today's youth and fishing, the increases in the 6-12 and 13-17 categories were below those percentages.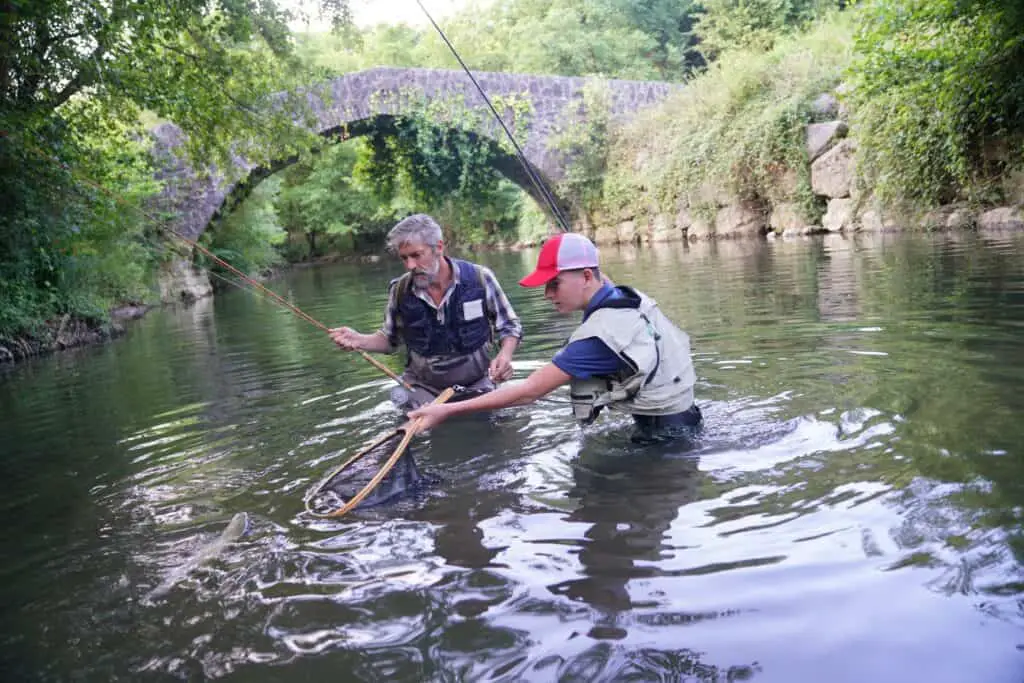 What Are the Best Fly Fishing Rods for Kids?
Fly fishing can avoid some of the boredom disadvantages because you're always doing something. After you cast the line, the goal is to improve the presentation. Once you get that skill developed, the goal is to let it appear as natural as possible.
You'll need to teach your kids where the most fish live, how to access them, and what technique works best in each situation.
The journey begins when you select the best fly fishing rod for your kids. Instead of choosing one for them, bring them to this content to pick out the one they think will be the most fun.
Don't worry – we've chosen the best rods that offer price and value benefits so that you won't go broke!
If you're looking for the best fly fishing rods for you, read "The Best Fly Fishing Rods For 2021"
Wakeman Fly Fishing Starter Set
This 5/6 poly fly reel comes with a built-in hook keeper to let your child keep everything at the ready. The handle is made from EVA foam to create a secure grip, even if you're operating in damp conditions, to create a safe fishing experience. Although it is an affordable entry-level model, your kids still get to catch fish quickly and reliably. 
| Pros of the Wakeman Starter Kit | Cons of the Wakeman Starter Kit |
| --- | --- |
| It comes with 45 feet of dry line that you can use right away when you get the urge to fish. | The rod weighs about two pounds, which makes it a little bulky for some younger children. |
| You'll get two dry flies and a 4x tapered leader. | You must be careful when casting, as the rod can come apart at its split point. |
| The rod measures eight feet in length to provide the right flow and motion for youth to practice their technique.  | The fly line requires replacement if you step up your skills.  |
If you want an affordable option that lets your kids have an authentic fishing experience, this fly fishing rod delivers a lot of value. No one would ever go pro with this design, but it works well for most in the under-12 category.
We'd like to see a manual included to help kids put together their equipment without as much help from their parents. You don't get any backing either – just the float line and the leader. It forces you to put in a little extra effort, but you'll start catching fish.
Once you get familiar with the dry flies, we highly recommend using wet flies for your future fisher.
Echo Gecko Kids Fly Rod with Tube
Most fly fishing rods for kids are designed to handle a few outings to see if your little angler likes this technique. When you know for sure that your children want to get outside as much as you, this investment makes a lot of sense. It offers a medium-fast action with an authentic motion to let them replicate the techniques they see you performing.
| Pros of the Echo Gecko Kids Fly Rod | Cons of the Echo Gecko Kids Fly Rod |
| --- | --- |
| It is the appropriate length for the youngest fly fishers out there. | The rod isn't designed to go after the big ones that might be in the river. |
| You can teach the appropriate techniques and formulas while offering the right level of support. | It works well with a 5 wt line, but it isn't as helpful when you go to 3 wt or below. |
| The rod comes with one of the better warranties you can find today for a children's fly fishing rod.  | You must transport the reel separately from the included case.  |
We like that this fly fishing rod provides forgiving action. Although the cosmetics are certainly visually attractive for kids, it won't work well in saltwater environments. The design does work well for little ones since it can be a one-handed or two-handed cast.
This rod comes with a reel and line package that's already strung, which means your kids can take it from the box to the water to start fishing. It breaks down into four pieces to make traveling more comfortable, while the hard chrome snake guides allow for a safe DIY experience. 
You'll be investing more in this product than the other kits sold today, but it delivers the high-quality results you'd expect at this price point. 
TOPFORT Fly Fishing Rod
You'll get a complete starter set with this fly fishing rod combination kit for kids. It comes with a dozen flies, a nipper tool, forceps, and a zinger. You'll appreciate the adjustable CNC aluminum reel seat that avoids the loose swinging that comes when young ones start practicing their technique.
| Pros of the TOPFORT Fly Fishing Rod | Cons of the TOPFORT Fly Fishing Rod |
| --- | --- |
| It comes with a pre-spooled fly line with 5/6 wt while keeping the entire assembly to just 5.2 ounces.  | Some of the items, such as the split-shot for use with sub-surface lures, are more advanced. |
| The kit comes with many of the tools you won't find in other starter packages, and everything fits into the included bag. | The gear ratio is 1:1, which means some adjustments could be necessary as you get better at this skill. |
| You get the backing and the leader with the ready-to-fish set. | It is an ambidextrous model, but you cannot comfortably use the two-handed technique that younger children sometimes need. |
We loved the lightweight design of this fly fishing rod when we first saw it.  You get everything you need to teach right in the kit, including some of the extras that you'd need to buy separately from competitive products. That makes your final checkout a little more expensive, but we feel it is worth the investment. 
It comes with a cork handle, offering eight feet for casting support. The material is a stainless steel and carbon fiber fusion, which keeps the weight down for casting.
We cannot stress enough that this fly fishing rod is clearly meant for children. Adults will put too much force on the product, increasing the risk that it could snap. If you want to demonstrate a specific technique, we'd recommend using your rod while watching them duplicate it on this one.
MultiOutools Kid's Reel Set
When kids start fishing, they aren't always sure what technique they'd prefer. Why spend a lot on a fly fishing rod when they might like something more traditional? With the MultiOuttools Kids fishing kit, you have an affordable way to try everything.
| Pros of the MultiOutools Kids Fishing Pole | Cons of the MultiOutools Kids Fishing Pole |
| --- | --- |
| You receive a full kit that includes the line, reel, lures, and tackle box. | The included flies with this fishing pole kit feel like an afterthought. The soft baits are a better value. |
| It provides an all-in-one design that works for virtually all young children.  | If you catch something of reasonable size, the pole could snap or get yanked out of your child's hands. |
| If you opt to use the reel, it has a soft seat with a smooth retractable lever that reduces the risk of burns or injury.  | The manufacturing process seems to focus on speed over quality, so it isn't built for prolonged use. |
We'd recommend this fly fishing rod combo kit for those who have little ones under the age of 7 who want to try fishing. Older kids will find that the length and overall quality are unlikely to meet their needs. 
You'd also want to have a net available if your child catches something with this rod because the flex point at the second extension could use some reinforcement.
It helps to think of this rod as more of a training tool than a fish-catching machine. We found the movement to be authentic, and its lightweight nature makes it suitable for small hands.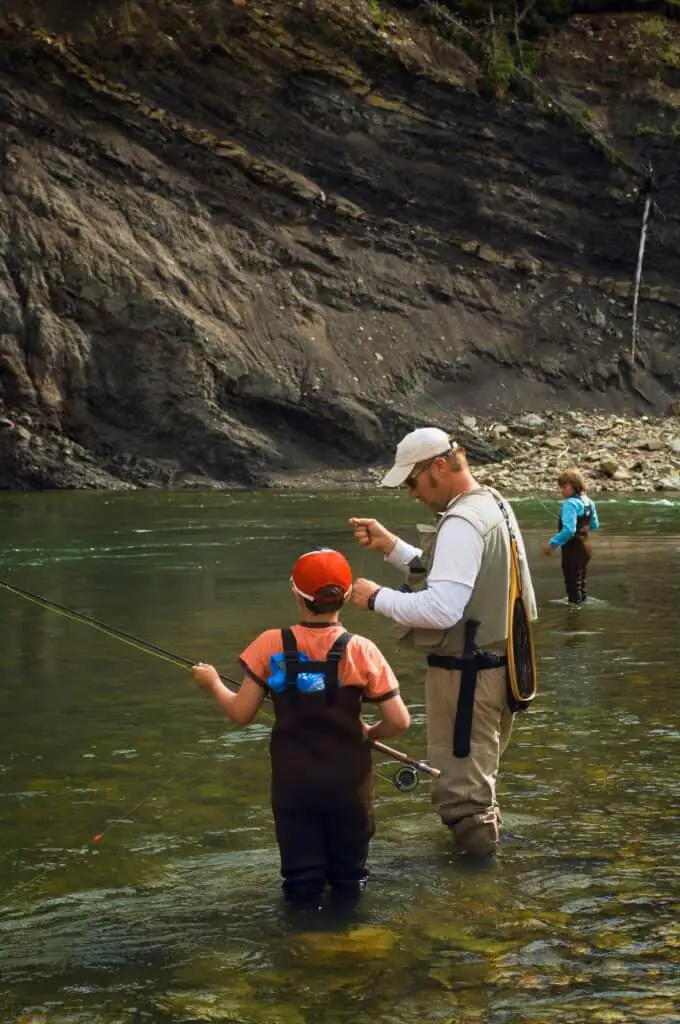 When to Introduce Kids to Fly Fishing
Every child is different. Some kids love to start fishing right after they start walking, while others don't begin to appreciate the experience until they reach their teens.
If you force fishing on kids, the results are often hit or miss. Some eventually take to the time spent with their family and friends, while others end up resenting the entire experience.
When you can allow kids to take ownership of their choices, you'll find better results. Although that doesn't guarantee you'll have an angler for life, at least you're on the right track.
It might be helpful to let your kids tag along on an adventure or two to see if they like the experience. If they start having fun, why not let them try one of these fishing rods to allow them to begin casting?
Why Are Fewer Kids Fishing?
Outside of the equipment costs for a rod and reel, most kids can fish until the age of 12 for free. Although some areas restrict the age to 10, it can reach 16 in other jurisdictions. 
The only documentation required is to fill out the species cards as mandated by the local authorities. This issue almost always applies to salmon, but officials can demand it for every fish you decide to keep.
Since minimal barriers exist to keep kids from fishing, why are the numbers lower than the adults? 
We like to talk about the various myths about why this issue might occur, but the actual reasons are much more surprising.
| Myths About Kids and Fishing | Reality of the Fishing Industry |
| --- | --- |
| 1. Kid's from single-parent households don't like to go fishing.  | Children who live with a single parent are more likely to fish (and hunt) because it provides more time for a family: grandparents, uncles, and other extended family help. |
| 2. Children get told at school that fishing is terrible for the environment.  | Although animal rights organizations do campaign against unethical fishing practices, almost 80% of kids say that they've never heard anything about it at school. Only a small fraction of kids (7%) say that they hear negative experiences about fishing or hunting from teachers or administrators. |
| 3. Kids stay inside all of the time and play video games all day.  | COVID-19 encourages this myth, but today's kids are just as active. Instead of playing team-based sports, they are snowboarding, camping, climbing, hiking, and cycling more often. Although the option for video games does create some poor health choices, that outcome can also happen when you eat candy bars at the lake.  |
| 4. If more kids tried fishing, they would like it. | The fact about fishing is that the kids who want to try this activity are already doing it. Those who don't are looking for other things to do. We often think of "I don't want to fish" as opposition, but it's really apathy. Fishing interest steadily increases with age.  |
| 5. It must be fun for kids to want to do it. | If any myth is true, it is this one. We prioritize the fun activities in our lives. That means if a fishing experience feels boring, children are less likely to want to do it again. It is up to the parents to find ways to make this discovery process fun.  |
How Do We Make Fishing Fun Again?
In a world where you can play a fishing video game faster than you can grab a rod to do the real thing, trying to find ways to make this activity fun for kids can be challenging.
Just because it is challenging doesn't mean it is impossible.
If you've ever seen those parents who fight at baseball games or yell at soccer referees, you've got an idea of why families don't return to fishing. Far too often, the result is on the fish instead of the child. 
You don't need to catch a personal best fish on a day when your kids are with you in the river or on the shore. When you focus on making their experience fun, you're more likely to get a lifelong partner.
Here are some of the other strategies that might help your kids find a love for fishing that sticks with them as they get older.
Let the kids choose what lure to use when casting a line. It might not be the right one, but they'll figure things out when nothing bites.
Take some time to learn about the different fish species. When your child sees one, they can point out what they saw.
Let your children use lures and a tackle box without dipping into your own equipment. When they have ownership of this process, they're more likely to enjoy it. 
Turn your fishing adventure into a game. Some parents like to play "I Spy," while others have a contest to see who catches the biggest and the smallest fish of the day. You know your kids better than an online post, so think about what you do together at home and bring that experience to the river or shore.
Take a break. If you're not having any fun fishing, neither is your family. It's okay to walk away to have a picnic or time to relax before trying again.
Use barbless hooks when casting lines with kids. You don't want it to get stuck in their skin when a potential accident occurs.
When you start thinking about how kids can take ownership of the fishing experience, the first item they need is a fishing rod and reel.
Even if you only purchase a starter set, having something that they can point to as theirs to use can deliver a higher likelihood that you're creating a future angler.
If you're looking for some great destination to take your kids fly fishing, read "Best States For Fly Fishing."