The problem with writing an article with this scope is where do you start? And where do you end? And what states do you cover? The fact is that just about every state in the US has fantastic fly fishing available somewhere or other. 
The best states for fly fishing are:
We made hard decisions. If we left off your personal favorite, it is nothing personal, and it might just make a future article.
If you are just starting in fly fishing, read our article, "Beginners' Fly Fishing Destinations."
Here in no particular order, is my list of the best states for fly fishing in the US.
Montana
There can be no argument about this one!
Montana is a mecca for fly fishers from all over the world, and no wonder. The state is crisscrossed with some of the best fly fishing rivers to be found anywhere in the world. 
Big Sky country has it all when it comes to fly fishing. And it isn't just for trout, although that is what the state is famous for. If you want to add a species or two, then head to eastern Montana, where you will be able to fish for catfish, walleye, bass, and even sturgeon. 
But it's when you head into the central and western regions that the trout fishing begins. The central region is the real backwater country, a sprawling wilderness of rolling rivers and endless forest. This is the Montana that captures the true spirit of Montana.
If you head further west, the landscape is still rugged but gentler, and altogether the effect is stunningly beautiful. 
There are uncountable fishable rivers in the state that are home to rainbow, brown and cutthroat trout, and trophy-sized fish are not uncommon.
If you fancy a trip to Montana (and what fly fisherman doesn't), then Montana Angler are an excellent resource for accommodation, guides, and organized fishing trips. 
Wyoming
South of Montana, Wyoming shares many of the great trout rivers of Montana. Where else in the world can you fly fish with a backdrop of geysers in rivers that are kept ice-free by hot springs. 
Fishing the Yellowstone River with its thriving population of cutthroat trout is a once in a lifetime experience. Fishing anywhere in the Yellowstone National Park is a once in a lifetime experience for those of us unlucky enough not to live on its doorstep. 
One word of warning for those planning a trip to fly-fish in Yellowstone Park is that the season only runs from Memorial Day to the first Sunday in November. 
But don't despair if you can't make these dates. The rest of the state has ample all-year-round fishing to suit all tastes. If you want a piece of wilderness action, Wyoming has it. If you want to park the car and be on the water 10 minutes later, Wyoming has it. 
With a population of only 500,000 and hundreds of miles of rivers and a multitude of Lakes that bubble with trout, Wyoming definitely makes this list on merit. 
If you're planning a trip to Wyoming and want to see the best the state offers, then Wyoming Angling is a great place to start. 
If you're planning a once in a lifetime trip to Wyoming, get a good rod. Read our article on The Best Fly Fishing Rods.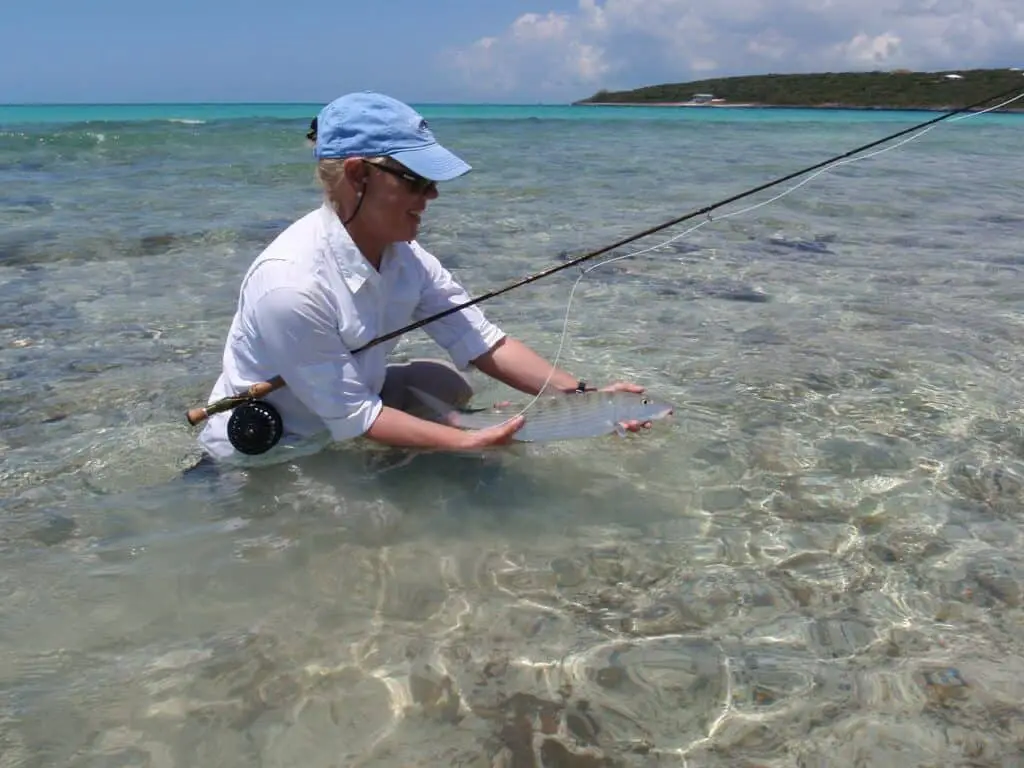 Florida
I can hear the trout fishermen choke as I include this. But for anyone serious about saltwater fly fishing, then Florida is a must-visit state. 
Honestly, if you haven't experienced saltwater fly fishing, then head off to Florida. But one of word warning, step your gear up a notch, 7 and 8 weights gear won't cut it here. Think 10, 11, 12 weight rods and reels, and make sure to have plenty of running line too! For when you hook into a large tarpon or permit, you know all about it. 
What's the difference between saltwater fly fishing and freshwater fly fishing? 
And don't forget the trout either. There are plenty of spots to fish for spotted seatrout, and those guys know how to put up a fight. So, if you fancy fishing for tarpon, permit, bass, snook, redfish, bonefish, trout, well, I could go on, but I'm sure you get the point. 
In Florida, you can be fishing the saltwater grass flats in the morning, the canals in the afternoon, and the lakes in the evening. Each of them is its own unique experience, and most of the fishing is highly accessible, just to make it even easier. 
One thing to note about fishing in Florida, saltwater and freshwater fishing both require an individual permit. 
An excellent resource for guides and fishing trips throughout Florida can be found here.
Colorado
One great thing about fly fishing in Colorado is that the state has designated certain rivers, streams, and lakes as Gold Medal Waters. For water to achieve this ranking, rivers and lakes must hold a stock of at least 60lbs of trout per acre, and a percentage of them must measure at least 12". 
It says a lot about the quality of the fishing available in Colorado that currently there are 300 miles of river and three lakes that satisfy these criteria.
Of course, to get the authentic Colorado fishing experience, a trip to the Colorado River's upper reaches is recommended. It just so happens that this stretch of water has achieved the legendary Gold Medal status. 
But that isn't the only option. Colorado has the largest concentration of fly fishers in the USA for a reason; simply put, the fishing's sheer quality. 
The rivers that flow east cross the drier slopes and grasslands. The waters flowing west wander through the greener pastures of the western slope. The headwaters of these rivers offer the opportunity for some fantastic wilderness fishing. It has something for everyone. 
Trouts Flyfishing is an excellent resource about all aspects of fly fishing in Colorado. They have up-to-date fishing reports, where to fish, and a team of knowledgeable guides that can plan the perfect outing for you. 
Washington
When we think of Washington, we think of rivers full of steelheads and migratory salmon. That on its own would generally be enough to get most fly-fishermen into a state of frenzy. But Fly fishing in Washington is more than just this. 
As you head east and up past the cascades, you will find the 'high desert.' Here you will find a hidden paradise for fly-fishermen. Rivers that boil with rainbow and cutthroat trout abound. 
Heading back down to the coastal rivers, though, is where the state's reputation is molded. Both freshwater and saltwater fly fishing is available of the highest quality in an abundance of rivers and coastal outlets. 
You will find the species the state is famous for, including sockeye, coho, and chinook salmon. And, of course, no list is complete without mentioning the state's famous steelhead fishery. 
But you're not just tied to the rivers and lakes. The state has a coastline that runs for over 3000 miles. That is a lot of exploring to be done. If you're looking for a guide or advice on where to fish on your trip to Washington, then Emerald Water Anglers can hook you up with a guide, tell you where to fish, and offer a list of the top accommodation for anglers to be found in the state. 
For more details, read "Best Trout Fishing In Washington."
Alaska
It would be impossible to compose a list of the top states to fish in without including Alaska. It is the epitome of fly fishing in the wilderness. It is harder to think of anywhere more beautiful, peaceful, and untouched than the northernmost state. 
Firstly, the state is so large and underpopulated that one thing you won't have to do is stand shoulder to shoulder on a crammed riverbank. There are over 3,000 miles of river to fish and an astounding 3 million lakes to fish. 
So, don't expect to see all that Alaska has to offer in a long weekend!
Alaska is the natural habitat of the rainbow trout, and in the streams and rivers that abound, these bars of silver are stunning fighters. And remember, such is the vastness of the state you may find yourself fishing where no-one has ever fished before. Not something that you can say about the local reservoir or permit stream. 
Then there are the salmon, Alaska has five native species of Pacific Salmon, and the rod caught record for King Salmon is held by a fish caught in the state. 
And if all that wasn't enough, you can also fish for arctic char, steelheads, cutthroat trout, and arctic grayling. 
If you intend to fish in Alaska, it is best to plan your trip through a local specialist. Alaskan Fishing, for instance, has a host of packages and guided trips available. 
Michigan
While it can't boast Alaska's wilderness and doesn't have over 3 million lakes (it does have one rather large one, though), it does have a worthy claim to fly fishing fame. 
Michigan was the first place in the US where brown trout were stocked. The offspring of these fish have stocked many of the brown trout fisheries throughout the whole US. 
Not that that's a point that helps Michigan claim its place in this list. That is simply down to the quality of fishing that is available throughout the whole state. Everywhere you turn in Michigan, a lake or river is crying out to be fished. 
For trout anglers, there are brown, rainbow, and cutthroat trout to stalk. There are also salmon, and steelhead runs, and if that isn't enough, try a bit of fly fishing for northern pike, bass, and panfish.
Overall, the state boasts thousands of miles of pristine, cold, high-quality trout waters. 
And then, of course, there's the little matter of Lake Michigan itself. This massive body of water is fishable from both shore and bank and offers some of the most exciting fishing in the USA. In recent years there has been a huge increase in fly fishers fishing for carp in Lake Michigan. 
The Lake Michigan Angler is a great site to get all the information you need to get fly fishing in Michigan, including reports, local guides, where to fish, etc. 
Louisiana
It's a bit like Florida, but without the beaches, and for some people, this may just be enough to sway them. It is a humid, marshy, salty state that boasts a rich fishing heritage and some of the finest saltwater fly fishing in the United States. 
The coastal marshes are an absolute must fish when visiting Louisiana. It is here that you will be able to fish for such species as black drum that can grow to up 60lbs, redfish up to 60lbs and more, and alligator gar that can grow as long as 6ft.
It is the redfish fishing that is attracting the bulk of the interest in Louisiana. Fly fishing for these has taken off in a big way in recent years, and it's easy to see why. 
Redfish are aggressive on the fly and likely to have you down to your backing line before you can blink.
Redfish, which are sometimes known as a red drum, can grow to be massive; 50 to 60lbs is not unheard of, and the record tipped the scale 94lbs!
Most of the fishing for these is done from flats boats, so if you are heading down to Louisiana, then it's worth hiring a boat or getting in tow with a good guide, of which there are plenty. Try Marsh on the Fly for starters. They are always willing to offer advice and have an outstanding guiding service.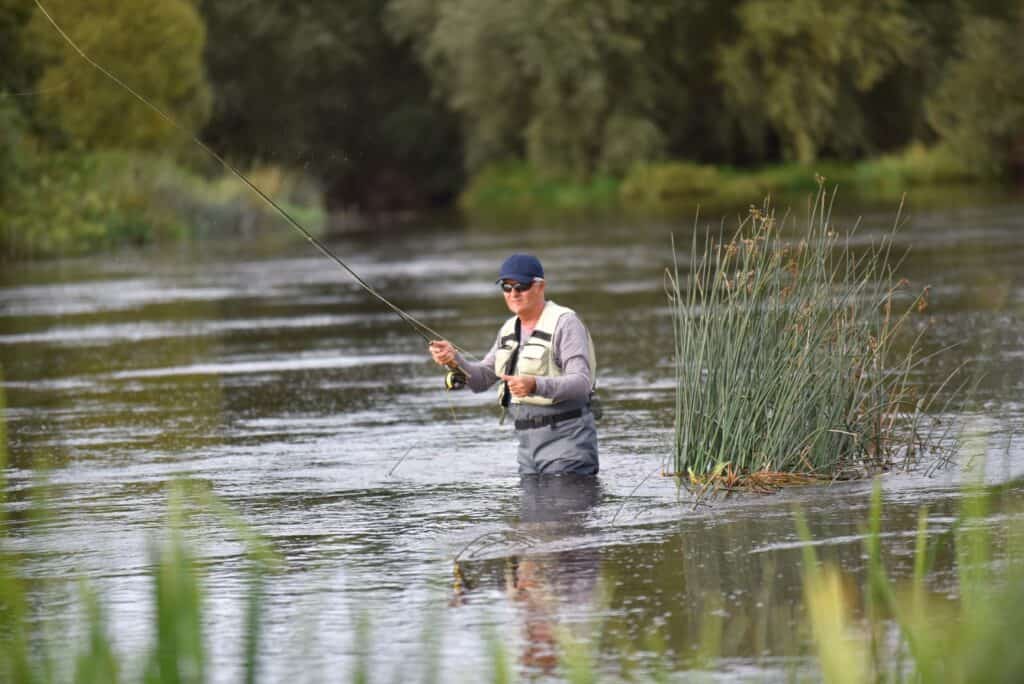 Ohio
Wait, hear me out. Ohio might not be one of the first names that come to mind when thinking of the best fly fishing states. But Ohio has great fly fishing. 
You might think of Ohio as flat and mostly devoid of top-quality fly fishing, but Ohio can boast over 50,000 lakes, and over 2,000 of these are of a pretty decent size. 
On top of that, it has over 60 fishable rivers and streams. This alone is enough to attract any angler but added to that because the Ohio Department of Natural Resources adds healthy stocks of yearling brown trout each season. What you get is a bit of a hidden gem of a state. 
Then, of course, there is the Ohio River. If you want to give those poor brown trout a break, then the Ohio River can offer you a vast range of species that will come to the fly, including smallmouth, largemouth, and hybrid bass, sauger, walleye, and giant catfish. 
Or if you fancy a spot of urban fishing for some fighting fit Manistee Steelheads, why not fish the Rocky River in the center of downtown Cleveland. And then, of course, there is always Lake Erie. This massive body of water is excellent for doing a spot of bass angling. 
Naturally, with a body of water this size, a guide would help get you straight to the hotspots. Mad River Outfitters can kit you out and get you fishing all in one stop.
Idaho
The first interesting (well interesting for anglers) fact that Idaho throws your way is that it is the only landlocked state in western America where you will be able to catch salmon and steelhead. 
While there is good fishing to be had throughout the state, east Idaho seems to be the fly fishing magnet. They are generally drawn here by the fantastic fishing available on the South Fork's hallowed waters of the Snake River and Henry's Fork of the Snake River. 
These two rivers are famed throughout the angling community in Idaho and further afield too! 
You can hook into some ferocious rainbow and lively brown trout by fly fishing here. There is barely a water system in the land to match it. 
Then there is Yellowstone National Park. Although the park section that crosses into Idaho isn't as rugged as that of the Montana and Wyoming sections, it still has some of the best fishing rivers in the country. 
Just a word of warning, some of the best fishing in the park involves a bit of a hike, and sightings of some of Yellowstone Park's famed wildlife are common, including bears and elk. 
As with any fishing trip, particularly when it involves a hike, it is better to get yourself a guide, and there are loads of excellent, helpful, and friendly guides to choose from in the state. There is a good selection of renowned fly fishing guides in Idaho available here. 
Conclusion
You can't please everybody all of the time, and yes, we know we've missed some cracking states of the list. But that is part of the problem writing an article like this about the US. There is barely a state that doesn't have a rightful claim to make the list. 
So, to New York, Maine, Oregon, Pennsylvania, Texas, and every other state that feels like they should be on the list, I can only offer humble apologies. You're probably right. 
Whatever state you live in, I wish you all tight lines.