Fly fishing offers you a fantastic way to engage with nature, be connected with wildlife, and simply enjoy the outdoors. When gearing up for a fly fishing excursion, knowing what to wear is crucial. Some items are required, and some are optional but can help. 
Along with the required rod, reel, and flies, the right accessories and clothing items will make the entire experience much more enjoyable. 
When fly fishing, you should wear:
Base Layer Tops And Bottoms
Mid Layer Tops 
Waders
Boots
Neck Gaiter
Vest
Rain Gear 
Let's break these down a bit more.
Some items will be more necessary than others, but the idea stays the same. The more comfortable, safe, and efficient you are, the more likely you will have a successful and enjoyable fishing trip. 
Here is a breakdown of what to wear when fly fishing the next time you go. 
Base Layer Tops And Bottoms
First things first, you need a solid base layer. Whether it is 95 degrees or 45 degrees, you need some protection to start. It is important for your waist and below to have something of quality, and the specifics will depend on the weather. 
In the summer, this could be as simple as super lightweight nylon pants and moisture-wicking. In hot temperatures, these will help you stay cool compared to other materials. 
If the temperature has fallen, you should look into thermals or long underwear. This will help you keep your core warm when the elements want you to be cold. 
On your top half, the same rule applies. You want a lightweight, moisture-wicking material like polyester that will keep you feeling fresh in the summer. These same shirts are fantastic in the winter, but you may want to layer up with a thermal shirt to conserve your inner heat. 
Ideally, you want to avoid cotton on all levels because of its ability to soak up water and keep in moisture. Taking advantage of materials like polyester and other blends is key. 
Mid Layer Tops 
Once you have a base set, you need to worry about everything else. If it is hot, you won't have to worry about this as much, but it is best to be prepared. This is where you step up and get gear that will keep you warm. 
A mid-layer top usually takes the place of a thick shirt, sweater, hoodie, or jacket. When it is cold out, having this is far more apparent, but you want to be prepared in the summer as well. Even though it's 80 degrees outside, a storm system could roll in at any moment, and the rain could be chilling to the bone. 
For our article "Fly Fishing In Patagonia," we discuss how you can go through four seasons in about an hour. Weather needs to be a consideration when planning a fly fishing trip.
The last thing you need is a fly fishing trip to be derailed because you weren't prepared for what the elements can bring you. 
On mainly sunny days, it is a great idea to wear a shirt with a hood to increase protection from the sun. This is a general rule for all of your mid-layers, as protecting yourself from the harsh sun rays is a really important thing to keep in mind. 
Waders
Although waders aren't necessarily required to fly fish, they are highly recommended, and for a good reason. A pair of waders is the best tool out there to keep you both dry and warm. Unlike many other fishing styles, fly fishing often requires you to be in the water casting toward a fish. 
Even on the hottest summer days, the water can be surprisingly cold, so you will want to protect yourself. Waders are a real investment. The nice ones aren't cheap, but they will last you a long time. 
There are two main types of waders. There are hip waders and chest waders. The hip waders usually stop at the waist and is either a pants or overalls style. Chest waders are extended up to your chest and are of the overalls style. 
Each one is a worthwhile option, but the chest waders will provide more protection and offer pockets and storage up on your chest. Extra storage is a great perk to keep in mind because having an additional pocket to hold some plyers or extra flies can be a game-changer. 
Boots
Depending on the style and brand of wader, your boots will probably be built-in. This causes maximized waterproofing because there are fewer variables. However, some situations may not call for the big, $200 waders. Lugging these around for every trip isn't necessary. 
When the water and weather are both warmer, you may just want to use boot waders. Boot waders are waterproof boots where the tops are extended up to the upper thigh. These can be really lightweight and offer a different solution to the classic big waders. 
Again, these aren't even necessary, but they are better than nothing. Above your shin, the material is the same waterproof fabric as a classic wader, and there are clips to attach to your belt. This allows most of your lower half to be waterproof while also avoiding overheating and too much weight taking its toll.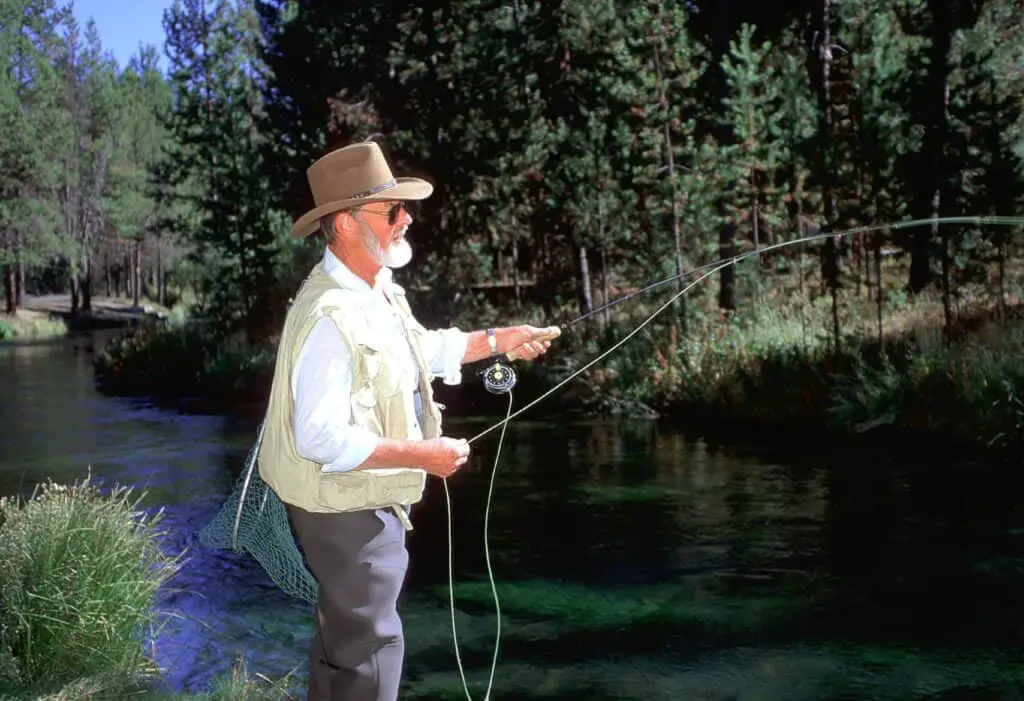 Neck Gaiter
The best way to protect yourself from the sun, besides sunscreen and a proper shirt, is with a neck gaiter. A neck gaiter is a cylinder of lightweight, protective fabric that goes around your next and can be stretched up above your head. 
Protecting yourself from the sun's harm is extremely important. This also extends far beyond a bad sunburn. These could be long term effects as well. The simplest way to prevent this from happening is to simply cover up with a neck gaiter. 
Neck gaiters are cheap and excellent for protecting yourself. They are usually made of moisture-wicking material that also works to keep you cool. So, not only will you be protected, but you can also keep the back of your neck cool on those hot summer days. 
Vest
Although it is not required by any means, it can be really helpful to wear a vest or fanny pack. Because a lot of fly fishing takes place with you being in the water, you need some form of storage on your person. 
A fishing vest allows you to keep plyers, flies, and anything else you may need to be right on you. This eliminates the need to go back to the bank every time something needs fixing or altering. 
If you don't want the iconic fishing vest draped around your shoulders, you can even do a fanny pack. These are subtle, smaller, and rest right on the hip. Although there is less storage, there will be less weighing you down than with the vest. 
Rain Gear 
To round out this list, we have rain gear. Rain gear is essential to have for your next fishing excursion. No matter how good you think the weather will be, it can take a turn for the worst very quickly. Nothing can derail a fly fishing trip more than bad weather, especially if you are not prepared for it. 
At its most basic level, you should have a quality rain jacket. This will help keep your core warm and dry, which is crucial. Once your core has been affected, it all goes downhill from there. If you are fishing from the shore, you may want to invest in rain pants, but if you are using waders, those will do the job. 
Rain gear is another significant investment. Sure, you can get a raincoat for $20, but investing in something that is highly-rated and high quality will pay off in the long run. 
Conclusion
Wearing the right gear isn't just about covering up. The right fly fishing gear can comfortably extend your fishing season from what you may have been able to without it. Also, keep in mind that the air temperature and water temperature can be dramatically different. A sunny day on a mountain stream can still be very chilly in the water.
If you're not sure of local conditions, best to check with a local fly shop near your destination. There may be local weather patterns that they can give you a heads up on. 
And don't forget to review our other articles on what to wear when fly fishing: