There are few places in the world that anglers will positively swoon with just the name's mention. Patagonia is one of them.
Patagonia is a mystical land of giant trout that populate crystal-clear rivers and creeks for a trout angler. To put it simply, it is the trout angler's idea of paradise on earth, the ultimate destination.  
Before we explore some of the fishing that beckons in this region, let's answer some of the most frequently asked questions about Patagonia.
Where is Patagonia?
Patagonia is an area of land situated in the south of South America. It spans Chile and Argentina and is loosely defined as the area lying to the south of the Rio Negro in Argentina and south of Valdivia in Chile. 
From these points south right to the tip of the continent and including the island chain of Tierra del Fuego is all considered as making up Patagonia. 
What's So Special About Patagonia?
Well, there's the fly fishing, but we will go into that later. Patagonia is a true wilderness; it is one of the most remote places on earth, and the landscape is unspoiled and breathtaking. It is the scenery that is rugged. All around you are jagged mountains that rise from open plains and reach into crystal clear skies. 
It is amongst this landscape that you will be fishing. It is a vista carved by countless rivers fed by the glaciers and snowmelt from the mountains. These rivers are the draw; they teem with fish, not just any fish but Patagonian monster fish!
Patagonia Trout Fishing
Patagonia trout fishing is some of the most amazing in the world. 
Depending on location and time of year, you can fish for brown, brook, and rainbow trout. There is also sea-run brown trout, steelheads, and salmon, including king salmon, coho, and chinook. 
All this would be mouthwatering enough, but it's the size and power of these fish that is the icing on the cake. The average size of the resident brown and rainbow trout are around the 4lb to 8lb mark, but you can expect to catch these beauties up to 15lbs on occasion!
For sea-run trout, the story is even better, the average size of these beasts is around 12lbs, and they can get up to 30lbs in weight. 
If salmon is your thing, then these reach about 40lbs in weight!
What Is The Climate Like In Patagonia?
If you want to see four seasons in an hour, then come to Patagonia.
The weather in Patagonia is best described as unpredictable. The Southern Ocean surrounds this land, and the mountain range that splits it makes for a highly unsettled climate. 
Overall, the climate is cool and dry but subject to regional variations. As a rule, the west side is generally cooler than the east. But this is Patagonia; anything can happen. 
Average summer temperatures are only in the region 60 degrees, but summer also brings the strongest winds! These can reach up to 120 miles per hour, not conducive to good fly fishing. This has got to be a consideration when planning your trip and the dates you intend to visit. 
What is the Best Time to Visit Patagonia?
The height of summer is when some of the best fishing has to be tempered because fishing days can be lost through high winds. Although, to be fair, this can also be said with all the seasons. 
Below is a summary of the fishing conditions from season to season, but there is a fantastic guide to the best times to fish Patagonia available here. 
Spring – November, and December – This is when the waters start to warm up, and the fish begin to feed with a vengeance. It is also a quieter time of year to visit. 
Summer – January through to Mid-March – The height of the season, and despite the threat of high winds, it is still one of the popular times for visiting anglers. So, if you intend to visit during these months, it is best to plan and book your trip early. 
Fall – Mid-march through to April – Late season is one of the best times to fish in Patagonia. Although the temperature is cooler, the fish are doing some last-minute stocking up before the winter arrives. 
Is Patagonia Suitable for Novice Anglers?
Although some fishing can be pretty extreme and the weather tricky, there is such a variety of fishing in Patagonia that there is something for everyone. The variety of fish to target and the landscape's diversity means that even beginners can come to Patagonia and have a fly fishing trip that will indeed launch a lifetime of passion for this noblest of sports.
Not sure what a beginner fly fisher needs? Read "Best Fly Fishing Gear for Beginners."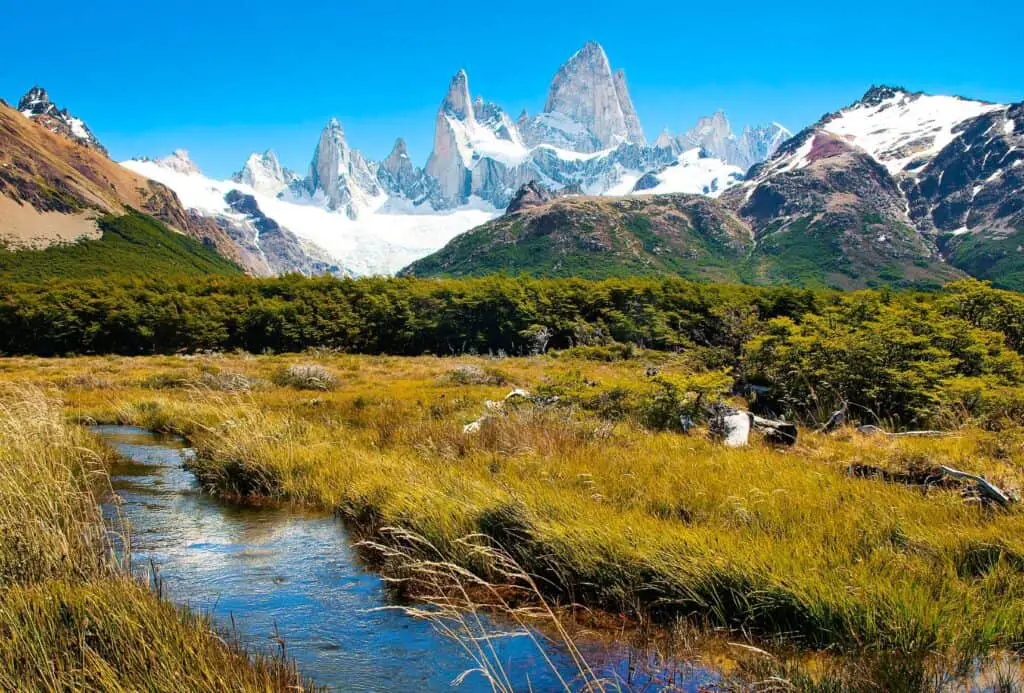 Patagonia Fly Fishing Gear
Because of the variety of fishing available, it is difficult to pin down just one set of tackle to cover all eventualities. If you have booked a guide, they will recommend the best gear to take depending on the fishing they will be covering. In many instances, a guide will be able to supply you with the right equipment too! 
Here are some general Patagonia fly fishing gear guidelines based on the water types: – 
Rod Recommendations By Water Type In Patagonia 
Spring Creeks
There are hundreds of these throughout Patagonia, and they can make for some of the best fishing. They are often relatively slow running and deep, reminiscent of still water fishing conditions. A rod of around 9' feet would be best for fishing these waters as they are typically surrounded by small trees and grasses that necessitate a high back cast. 
The fish in these creeks can get massive, so you will want to be using at least a 5-weight rod or even a 6-weight. 
Large Rivers
Your fast action 5 or 6 weight rod would cover you here as well, but it's when fishing these big rivers that the wind becomes a consideration. A medium action would do in perfect conditions, but expect those winds and expect to be casting all day, hard enough with a lightweight kit. However, nobody said it would be easy, so expect to be punching out a 6-weight all day. 
Still waters
From spring into early summer, there are great dragonfly hatches on Patagonia's still waters. You'll be seeing a pattern by now, for once again, this is a 5 or weight kit situation. Although this is likely to be dry-fly fishing, these are large flies that you will have punt into the wind. This is not delicate dry-fly fishing.
Coastal Rivers
With the potential for big salmon and sea-run trout, if you are fishing these waters, you need to think big! Some anglers arrive here with a Spey Outfit, and it isn't out of place. The minimum you will need to bring if you're looking for salmon or sea-run trout is an 8-weight outfit. 
Small Freestone Rivers
The sheer amount of these smaller tributaries available for fishing is astonishing, and they provide plenty of old-fashioned wading fishing. If you find yourself a sheltered spot, then these are great waters for using a smaller, lighter rod, perhaps an 8.5' foot 4weight.
To Summarize 
It is best to find out beforehand from your guide which rods are appropriate. If you are DIY fishing, then a 9' rod rated as a 6-weight should be in your armory; this will cover most options. A good range of rods for those wanting to tackle everything this region has to offer would be:
Reels
Unless you intend to do a lot of Stillwater fishing, then it is all about floating lines in Patagonia (although a sink tip can come in handy). So spare spools aren't much of a consideration. However, the reel should be robust and rugged and have an excellent drag system.
Tackle shops are few and far between in Patagonia, so you want to make sure that whatever you take is going to be up to the job. As for the drag, well, that speaks for itself. If you are lucky enough to be heading to Patagonia, you will need a reel with a hearty drag. 
Lines
As noted, the bulk of your fishing is going to be done using a floating line. When considering tackle requirements in Patagonia, the wind is a factor. When you pair that consideration with the fact that you will likely be fishing larger flies than usual, you should select weight forward lines with a heavy taper. 
This type of line is essential for turning over those large flies in the winds you will face. 
Sinking tip lines are also useful. They can come in handy in any type of water but are particularly useful for fishing the lakes and the spring creeks, where the fish may lie deeper. How often you use these is also season dependent.
Sinking lines and intermediates are rarely used, but if you do intend to spend some time on the lakes of Patagonia, then it might be worth popping a couple in your tackle bag. 
Leaders and Tippets
Nylon and fluorocarbon are the name of the game for your leader material. Once again, with the windy conditions, leaders are usually fished shorter and stouter than elsewhere, useful for turning those flies over and hooking that monster!
Most anglers take a range of 1X to 4X leaders matched tippets of 2X to 6X. for those heading to the coastal rivers, then 1X or even 0X is recommended. 
Best Flies For Patagonia
It is best to ask your guide about this before you set off. Chances are, they will be able to supply you with all the flies you need. We have compiled a list of the top ten fishing files to take to Patagonia to help you choose. 
Patagonia River Guides owner Rance Rathie created this one, so it is bound to be good with a pedigree like that. It is a foam and elk hair construction with rubber legs and is great for popping along the surface.  
Found in most tackle shops in North America, so you should be able to stock up with this one before your trip. Despite its garish color, it can match many hatches but is deadliest when the mayflies are hatching.
This is perfect for those spring creeks. They are usually alive with beetles and other terrestrial insects, and the trout love them. Constructed from foam, it is the perfect dry fly if you find yourself having a go on the creeks.
Yes, we've all laughed at its name, but it is a fly that always seems to produce the goods. Used frequently in the western states, this is another fly that is making its mark in Patagonia. 
A stonefly nymph pattern that the Patagonia trout can't seem to get enough despite a lack of substantial stonefly hatches in the region. In the same vein, the good old Montana Nymph is an excellent substitute if you find yourself without one. 
There is barely a fly fishing destination the world over that doesn't have at least one pheasant tail pattern that works on the local trout. Patagonia is no different. This pattern, with its bead head, is a multi-purpose fly that is useful in any circumstances.
This worm is a winner all over the world. The red variant is particularly potent in Patagonia; fished slowly on a dropper, the results can be staggering. 
Quiet day on the surface? Nothing hatching? Tie one of these chaps on, and your day could change in a single cast. This minnow imitation gets the trout moving on the slowest of days.
This flashy lure was developed to tackle Alaskan trout and salmon and made its mark down south. Strip it fast and hang on tight!
These foam and rubber beetle imitations are a 'must-have' for your fly box! Take some variants to cover stonefly and hopper species, and with one fly, you've covered a whole bunch of bases. 
Footwear
This is not the sort of land where you are likely to be doing much wet wading. It is simply too cold 95% of the time, even in the height of summer, so wading boots are essential. 
Breathable waders with stocking soles paired with a good set of felt or rubber-soled wading boots are an essential piece of gear. 
A word of warning here, though, make sure your boots are reasonably new. Felt boots are still legal in the area, but customs are likely to confiscate dirty or tattered boots. They could harbor organisms that could damage the ecosystem. 
This is a commendable action as it shows a level of responsibility has been undertaken to protect the area's ecology. 
Other Items
A good tackle bag or vest is essential as you can expect to fish on the move a lot. Also, a good pair of polarized sunglasses is vital. You will be fishing crystal clear waters, and these help you spot your prey. 
When choosing your apparel, remember that winter in North America is summer in Patagonia, so don't get your seasons mixed up! Regardless of when you go, though, the advice would be similar for much of the fishing season – prepare for all seasons. 
Take a lightweight but warm jacket, a good raincoat, breathable waterproof over-trousers and or waders, plenty of warm socks, a beanie and a wide-brimmed hat, and a scarf or buff. And that will just about cover your first day.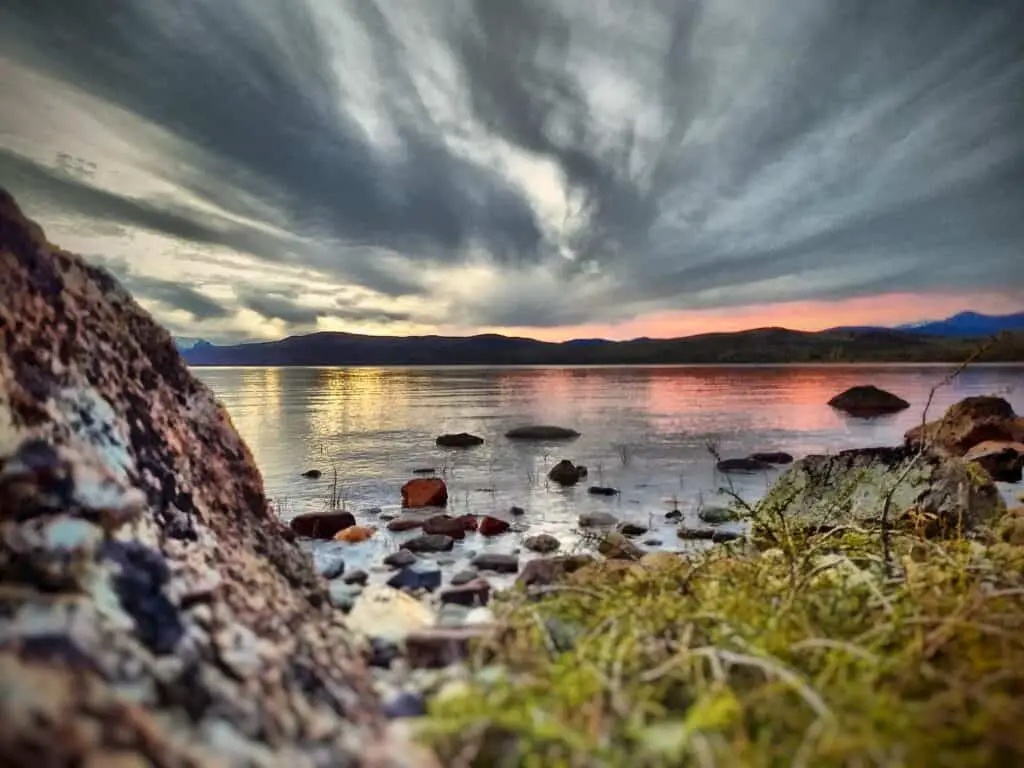 Is Fishing Better on the Argentine or Chilean area of Patagonia?
There is no easy answer to this one, as the fishing and scenery are as dramatic wherever you go in Patagonia. If you are lucky enough to be going on a fishing trip in this region, it doesn't matter. You are going to have the trip of a lifetime, either way. 
Where to Fish in Patagonia?
Or where isn't there to fish in Patagonia. It is a region full of the world's finest rivers situated in untouched wilderness. 
Here we can only hope to touch briefly on some of the highlights. First, we will look at the Argentinian side of the region. To get the most out of your trip, it is highly recommended that you look at booking a guide or fishing package.
Debating if you need a guide? Read, "Should I Hire A Fly Fishing Guide?"
Fly Fishing In Patagonia Argentina
The Collon Cura River 
Stemming from the confluence of the Alumine and Catan Lil Rivers, the Collon Curs meanders across the Patagonian Steppe. It flows over volcanic rock, and it is lush with willow-lined banks that provide the perfect habitat for both terrestrial life and the trout that feeds on it. 
On this river, you will catch some of the hardest fighting rainbow trout in the world, and you will do so in amongst some breathtaking scenery and wildlife. 
The Alumine River
Originating in the North and sourced from the Moquehue and Alumine Lakes, this river runs for 160 miles before merging With the Malleo River to form the Collon Cura. 
The upper reaches are famed for big rainbow trout, while the lower region has a large brown trout population. 
The Chimehuin River
Famous for producing some of the largest German Brown Trout in the whole of Patagonia, this river is simply one of the best trout fisheries in the world. From its source at Lake Huechulafquen, the river runs through vast ranchlands before its confluence with the Collon Mura River. 
This river is famous the world over in fly fishing circles and is often referred to as the "Cathedral of Patagonia Fly Fishing." The river was made famous in the sixties and was the first to put Patagonian fly fishing on the world map. 
Think big tackle if you're lucky enough to be fishing here. The trout are simply enormous. 
The Malleo River
There are three locations on the Malleo river that boast some of the best wading fishing to be had anywhere in Patagonia. There is the rocky upper section where you are surrounded by araucaria trees and can view the Lanin Volcano. 
Further down, there is the stunning canyon section, where the river is fast and the trout willing and plentiful. Finally, the lower section is a different beast altogether as it flows gently through the desert valley. 
Fly Fishing In Patagonia Chile
The western regions of Patagonia lie within Chile. It is slightly colder on this side of the continent, but that doesn't apply to the fishing. The fishing that Chile has to offer is unbelievable, and once again, the only thing that we could ever hope to cover in this article is brief highlights of the available riches.
It would be advisable to book a guide or an organized trip to get the best from your trip.  
Rio Maullin
This river forms the drainage system of Lake Llanquihue. From this point on, it meanders its way through farmlands and plains. It can be a tough river to fish with much vegetation, but this is also what makes it some of the most exciting fishing around. The fish gorge themselves on the insects in and around the vegetation, and the result is super fast and fit fish that are superb fighters. 
Rio Grande
This is considered the best river in the world to catch migratory brown trout. If you could out just one river on your fly fishing trip itinerary, then this would be a pretty good choice. If the run of migratory brown trout wasn't enough, then there is also the fact that it has the largest sea trout run of any river, anywhere in the world. 
Rio Paloma
One of the prime rivers if you want to try a spot of Coho fishing, but it also has some fantastic rainbow trout fishing. Rainbows caught in the Paloma River average 14 to 21 inches! 
Rio Simpson
The Rio Simpson is a trout angler's dream. It hosts a huge population of both brown and rainbow trout, and frequently they are caught up to 21 inches in length. The river has large mayfly and caddis hatches that send the trout crazy. 
From January to March, there is also the Chinook migration to look forward to. The river simply boils with them at times, so if you fancy hooking into a 3' chinook, then this river is for you.
Rio Emperador Guillermo
Beginning high in the Andes in the Aysen Region, this river flows westward and has many different characters along its length. If you're looking for a river with various challenges set among some of the most beautiful scenery anywhere, this river fits the bill. 
It is mostly known for its trout fishing, and both rainbows and browns are frequently caught at a trophy size.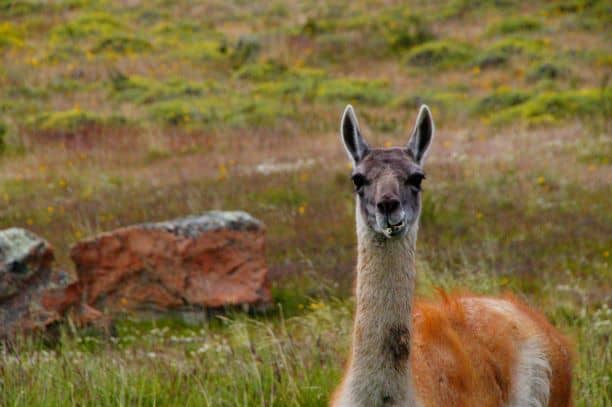 Conclusion
Patagonia is a fly fishing dream.
It has challenges. Patagonia fly fishing conditions can be tricky. The weather is brutal, and the wind is ferocious. But that's all part of the experience. 
In Patagonia, not only are you surrounded by some of the most primeval and beautiful landscapes in the world, but you feel part of it too! It isn't just a fishing experience; it is an all-round immersion in a place that is simply magical. 
The fishing available in this one region is unmatched in any area anywhere in the world. It is simply staggering, beyond words. 
If you want to experience the best sea trout fishing in the world, come to Patagonia. Brown trout? The same. 
Salmon? Yep, it has some of the finest salmon rivers in the world as well.
The people are friendly and helpful; the guides are all fonts of knowledge and invested in making your trip a memorable one! 
If you plan one big fishing trip that will stay with you for the rest of your life, then it has to be Patagonia. It is Disneyland for the fly fisher, Las Vegas for the angler. 
Wrap up warm, though, and remember those windbreakers!