An increasing number of people are becoming interested in fly fishing. Many think it is too expensive to get started. So is fly fishing expensive?
Fly fishing doesn't have to be expensive. That stereotype simply isn't true. Fly fishing is no more expensive than conventional fishing. The cost of fly fishing will depend on how much you are comfortable spending on individual pieces of fly fishing gear or guides. 
The primary consideration of the initial expense of fly fishing is the cost of fly fishing gear. Fly fishing gear can range from very affordable to incredibly expensive. There is often very little difference in performance between the two. 
This fly fishing starter combo set can get you started for around $25. On the opposite end of the spectrum, this rod from Winston list for over $3,500 on Trident.com.  
Here is the essential fly fishing equipment you need to consider the expense of if you're interested in starting to fly fish.
Fly Rod
Fly Reel
Waders or wading boots
Flies
Guide Services
Fly Rods Cost
Your fly rod will be one of the first pieces of equipment you'll want to consider. 
You don't have to start with a $25 rod or break the bank on a $3500 fly rod. There are quality fly fishing rods at a price point you can be comfortable purchasing. 
If you're looking for a quality starter set, this Wild Water Fly Fishing Rod and Reel Combo is great. It has an impressive set of features, including a graphite rod, aluminum reel, and a handy carry case.
If you're looking for something a little higher-end, check out this Clearwater rod by Orvis
. Orvis
is the industry leader in fly fishing and would be a solid choice for a beginner or veteran angler. 
There are other considerations besides price when choosing a fly rod. You'll want to consider weight, action, and construction materials, such as fiberglass or graphite. 
Graphite has become the overwhelming rod of choice in recent years, but some fly fishermen still prefer fiberglass rods.
An even smaller group likes to keep it old school and use bamboo crafted rods. 
Fly Reels Cost
Fly fishing reels are considerably different from conventional reels. Unlike conventional reels, you can go on the cheaper end for fly reels. You don't use the fly reel nearly as much. 
Fly reels have a gear ratio of 1:1. That means for each turn of the handle, the spool rotates one time. Also, in fly fishing, you don't use the reel for casting. 
Two primary categories of construction can affect the cost of fly reels.
 A "cast" constructed reel is less durable but more affordable. A "machined" fly reel has a superior finish with tighter tolerances, but it could cost you a bit more. 
If you don't start with a kit that includes a reel, take a look at this cast pre-loaded fly reel.
This CNC machined reel is beautiful but machined reels might cost a little more.
Waders
Waders are also no exception to the wide variation in price, but this is one item that going cheap can ruin your experience. 
More affordable waders can be over $100. While some of the low-cost waders have decent reviews on Amazon, you may be better off with a mid-range set.
If you want to be really happy, try these high-end waders from Orvis. 
Like most gear, price isn't the only consideration. The seasonal weather and water temperature of your expected fishing locations are a factor as well. You may want to review neoprene waders with insulation for a little extra warmth. 
In warmer weather or water, you may not need waders at all. Wading socks or simple wading boots may work just fine. 
Cost of Flies
Flies are your smallest and most varied piece of fly fishing equipment. Their prices can vary too. 
Fly prices are generally very affordable. Fly prices will range depending on the target fish species, which generally dictates the size and amount of materials used to create a fly. 
Single individual small flies can be found on Amazon. Entire fly kits are available there as well. These flies typically are from non-specialized companies that don't focus specifically on fly fishing. 
Other files, such as game-changer-style flies, can cost more than the typical fly. This style has taken the fly fishing world by storm, and they work well for most predatory species.
Other fly types like the large musky and pike fishing flies can range in price and tend to change over time. 
Nymphing flies are pretty cheap. What is nymphing? Read our post on it here.
Many flies are made by small businesses or anglers that pay great attention to detail and take great pride in their work. 
In the fly fishing world, these "small batch flies" are prevalent, but the amount of work and small operation can demand a higher price compared to typical mass-produced flies. 
Cost of Guide Services
A fly fishing guide isn't required to fly fish, but it is a widespread practice. If you're new to the sport, you'll find it well worth it. 
If you're lucky enough to go fly fishing in another country or part of the world, it is absolutely recommended. 
Like any other cost, guide service costs range in price due to duration, location, and packages.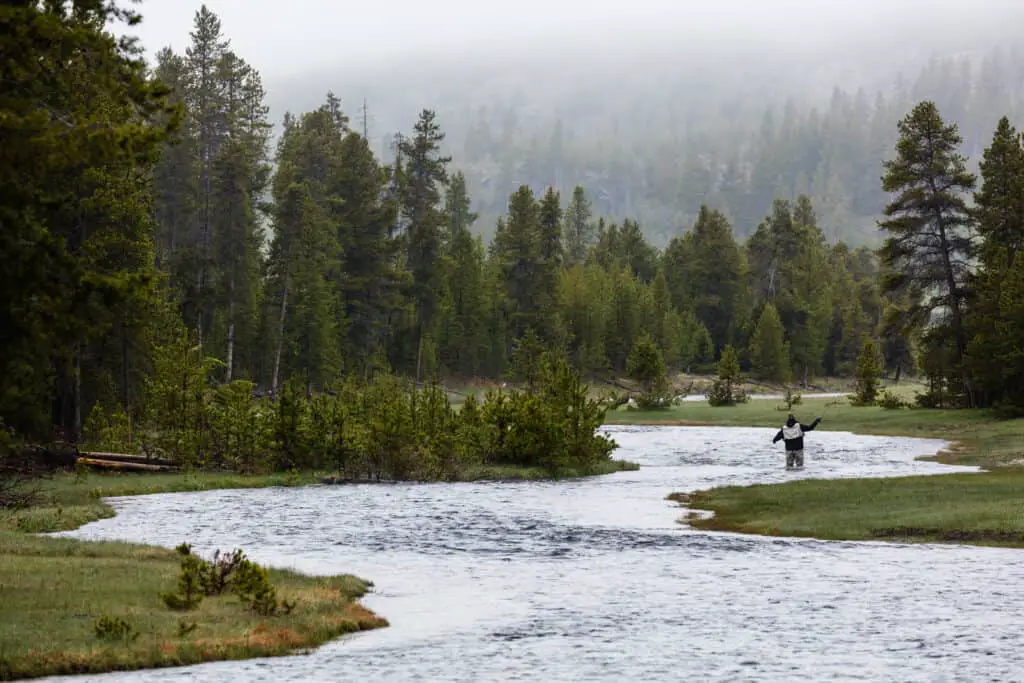 Single-Day Fly Fishing Guide Cost
Single-day guide costs can vary by season and location, but there are plenty of options. 
If you're interested in fly fishing in Montana, check out the website for Montana Fly Fishing Experience. They offer single day packages for $500-$600. While that sounds pricy, Montana offers some of the best fly fishing in the world, and these guides will make sure you get the most out of your experience. 
If you want a guide in Ohio, check out the website for John Fabian Fly Fishing. For $425, you can get an excellent guide for two anglers. Ohio has excellent fly fishing if you didn't know it!
Looking for something closer to your home, check out the guide list from Orvis.com
here. 
Multi-Day Fly Fishing Trips
Multi-day guided fly fishing trips are not cheap. You may want to gain some fly fishing experience before shelling out for these. Once you're ready, they are well worth it. 
If you want the quintessential fly fishing experience, check out the Guided Wilderness Fishing Expeditions from Colorado Outfitters. These fully guided trips can cost $450 a day per person but include meals, canvas tent lodging, and some of the most fantastic scenery and fly fishing in the US. 
Libby Camps in Maine offers a 7-day/6-night double occupancy private cabin with meals and maid service for $1750 per person. 
Conclusion
Fly fishing doesn't have to be expensive. You could easily fully equip yourself for your first fly fishing experience for less than $300. A quality starter kit, waders, and few extra flies are all you need. 
As you gain experience, you can upgrade equipment because you want to, not because the sport requires it. 
Save those dollars to spend on the trip of a lifetime. You'll appreciate it more than a $3500 rod anyway.