We know that fishing can be a relaxing activity for the entire family to enjoy on the weekend, during a holiday, or while taking a break. The benefits include stress relief, learning how to be patient, and developing new skills.
Once you get your fishing license online or from a local provider, fly fishing lets you set up at a lake, river, or shoreline to embrace the art of angling.
Instead of using earthworms or baitfish, most fly fishing activities involve feathers, simulated insects, and shiny items to encourage a prey strike.
When you have the best fly fishing starter combo kits to start learning this art form, you're opportunities to relax on the weekend expand exponentially. 
What Are the Advantages of Fly Fishing?
Fly fishing is an entirely customizable experience. In some circumstances, it might be the most effective way to catch a fish.
When one compares fly fishing to spinning, you receive a more lightweight experience because the rod and fly are designed to imitate what a fish eats. If you have still waters somewhere near your home, the different techniques from this style could help you have a full stringer. 
It also lets you fish on rivers, streams, and brooks effectively without needing a significant change to your equipment setup. As long as your fly fishing starter combo can support the weight, you can pursue salmon, bass, trout, and other species in any location.
Several additional advantages of fly fishing are worth considering if you're looking for a new skill to pick up during your free time. 
You can cast the lightweight fly an incredible distance to avoid the fish that might be on alert to your presence. 
This technique allows you to place the lure on the water's surface delicately to encourage the fish's natural behavior.
It is usually cheaper to buy or make flies than it is to get lures or purchase bait. 
Although it takes more time to learn how to fly fish, and you'll need room for casting, almost everyone who tries this technique loves the result. Even if you get skunked, you've spent the day in the mountains, on a lake, along a river, or near the ocean.
Best Fly Fishing Starter Combos for Learning
When you start learning the differences between fly fishing and the more conventional methods used today, a starter combo is a reasonable investment to consider. For one competitive price, you'll get everything you need to see if this methodology provides a fun experience.
Since you'll find that not all rods are created equal in this industry, it requires some due diligence on your part to review each product. Does it have the capability of meeting your current and future needs?
It is also essential to remember that fly fishing is a personal experience. Your gear should reflect your personality, approach to the water, and the fish species you intend to pursue.
If you're ready to get started on this journey, these fly fishing starter combos are proven to provide successful experiences.
Orvis Encounter Fly Fishing Outfit
This nine-foot fly fishing rod combo is one of the most versatile options you'll find today. It uses a 5 wt line to ensure you can pursue whatever might be swimming your way. You can take it fishing in almost any environment, including near saltwater shores.
| Pros of the Orvis Fly Fishing Combo | Cons of the Orvis Fly Fishing Combo |
| --- | --- |
| It offers a lightweight user experience with an ergonomic grip that won't slip when you're in the water. | Your casting length is a little limited for those times when you need to reach deeper water from the shore. |
| You can use it to catch almost any fish species of any size. | If you catch the weeds or another obstacle, the rod tip could snap off.  |
| The durability of the graphite rod ensures that you have a forgiving casting experience. | You'll need to use multiple hooks with a heavy fishing line to catch the larger species, requiring a more significant investment.  |
| You can dismantle the rod into four pieces to make it easier to transport. | It isn't backed by the 25-year standard warranty that Orvis offers on other products. |
We appreciated how the graphite rod delivers a lightweight user experience without compromising the product's casting movement or overall strength. You'll receive a moderate-weight line with the combo, which means you might want to upgrade it for your needs.
Although it is a nine-footer, you still get a nice snap with it as you land the fly. It's remarkably sensitive with its movements, allowing you to figure out your technique rather quickly. The product comes rigged, so you don't need to worry about an extensive setup process. It can go straight from the box to the water.
It's an excellent all-around fly fishing combo that lets you explore this sport at your leisure.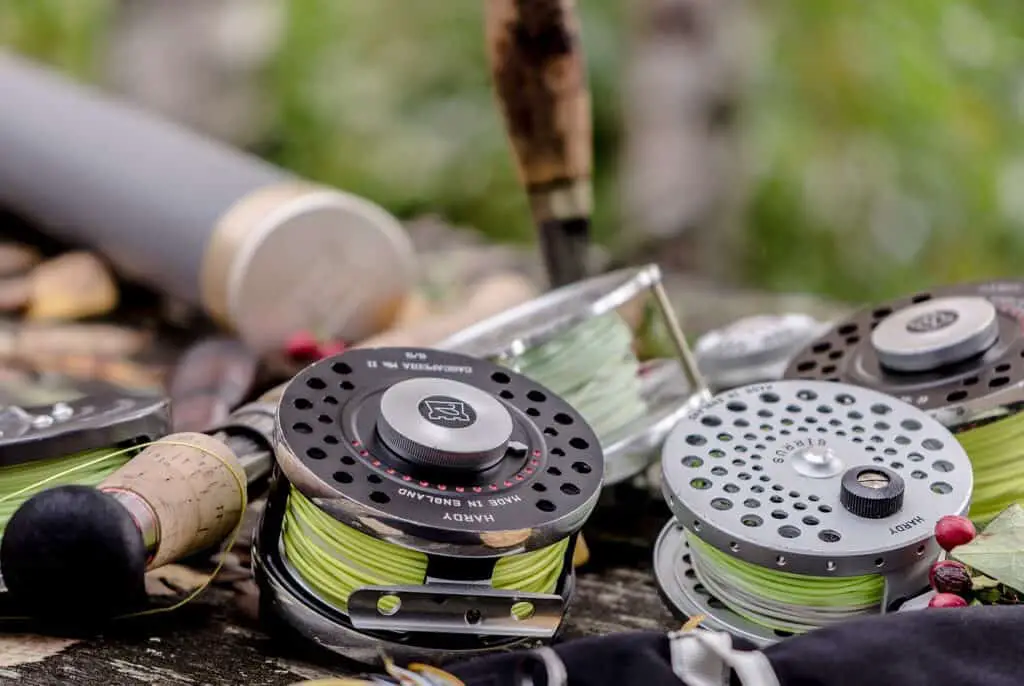 Scientific Anglers Ampere Outfit
One way that fly fishing rod manufacturers attempt to shave weight from their product is by altering the alloy used in its construction. Far too often, ferrous metals become part of that recipe, which means you're stuck fishing in freshwater environments only. With this rod, you'll receive a product made from aircraft-grade aluminum.
| Pros of the Scientific Anglers Ampere Outfit | Cons of the Scientific Anglers Ampere Outfit |
| --- | --- |
| The design uses a stainless steel and carbon fiber washer drag system to deliver consistent results. | It doesn't come with a carrying bag, but you will receive a reel bag and a rod tube with purchase. |
| It uses a click-drag knob to make the fly fishing process easy to learn. | The entire setup weighs 2.5 pounds, which can place more pressure on your wrist than is comfortable.  |
| It comes with an 8 wt setup so that you can pursue almost anything. | It comes with a legal disclaimer that the product can expose you to chemicals like TDI. |
| The design uses a palming rim to create added drag. | |
Although this product is technically a starter combo, it's more for the advanced angler. It doesn't come with the sealed bearings you'd find on lower-level models, but you'll get the backing, line, and leader. The one quirk is that you must remove the reel to store the rod in the tube when other manufacturers provide that extra space. 
You'll see the rod take a decent bend on virtually any fish you manage to snag. You can expect a good fight with a sturdy product that takes on what you want to accomplish. We'd recommend keeping the reel out of the water to prevent it from becoming stiff during the day. 
If you're ready to upgrade the line, several options from Scientific Anglers allow you to customize your setup. The Sonar Titan Intermediate is one of the best investments you could add to your starter combo.
Echo Base 480/4 Fly Rod Kit
If you don't know that fly fishing is the right approach for your preferences, it doesn't make sense to spend $350+ on a starter combo set. Although you'll get an 8-foot rod with this setup (most anglers want a minimum of nine feet), you'll still get to know the technical side of this sport without draining your savings.
| Pros of the Echo Base 480/4 Fly Rod Kit | Cons of the Echo Base 480/4 Fly Rod Kit |
| --- | --- |
| It uses a standard cork handle as part of its design to provide a straightforward traditional casting experience. | The outfit reel on the starter kit is smaller than average, providing some challenges to a few users.  |
| The product comes with a lifetime warranty from the manufacturer. | Your warranty only applies to the rod. The reel comes with a 12-month guarantee with your purchase.  |
| You receive an impact-resistant reel that can survive an expected tug or drop. | |
| The setup process is fast and intuitive so that you can start fishing right away.  | |
We felt that this rod could stand up to many of the industry's top products. Although it is manufactured in China, the quality of your combo kit is unquestionably good. You'll find that it can hold the line with products that cost triple what you'd pay for this one. It's the pound-for-pound best value you can use right now.
The one issue we noticed with the rod is that it can be a little noisy. Once you get the drag submerged, it's not unusual for you to get some squeaking from the reel when using the product from the combo kit. You might consider swapping it out for a higher-quality item to work with the rod. 
It's an excellent compromise between the cheap entry-level rods that might last for a couple of years and the costly ones that the pros use.
Wild Water Fly Fishing Complete Starter Package
With a machined aluminum reel seat and a nine-foot rod equipped with 6 wt, you'll get an excellent feel for what fly fishing can be with this affordable investment. Although it won't perform on the same level as a 12-foot rod with a reinforced alloy, it does let you experiment with your technique to see if this technique is something you'll love.
| Pros of the Wild Water Fly Fishing Complete Starter Package | Cons of the Wild Water Fly Fishing Complete Starter Package |
| --- | --- |
| It comes with a custom fly box that floats on the water and holds over 370 flies; you get nine to use from the kit. | This starter package doesn't work well for larger fish. Its design is more suited to ponds and smaller streams for panfish, trout, and perhaps some smallmouth bass. |
| You can quickly change the reel from left to right for the retrieve based on what you prefer. The default setup is for the left hand. |  You need to store the rod in its four-section cloth bag before placing it in the tube for protection, creating more transport and storage steps. |
| You'll get a hook eye cleaner, a nipper with a knot tying tool, and an instruction manual that takes you through the necessary step to have a successful experience.  | It's only a 5/6 wt fly rod, so it could snap on a tough snag or an expectedly large bite. |
We believe this fly fishing starter combo delivers an excellent result for those who are new to this sport. It offers a medium-action setup that works relatively well, although the reel seat screws need some attention after a few sessions. The fly line's quality could be improved, but it delivers the lightweight experience you need for practicing your technique.
It delivers a fast action with the flies that come with the set. The rod tip will eventually break on this model if you use it consistently, but the replacement cost is minimal from the manufacturer.
If you want to get bigger results, we'd recommend replacing the line with a weight forward product to give you the pull you need for a successful landing.
Maximum Catch Fly Fishing Combo Set
When you purchase this fly fishing starter combo, you'll get everything you need for a day on the water. It comes with an 8 wt, nine-foot full handle rod, and a 7/8 reel so that you can pursue almost anything. You'll also receive a dozen hand-tied lures that come in a waterproof box with your purchase.
| Pros of the Maximum Catch Fly Fishing Combo Set | Cons of the Maximum Catch Fly Fishing Combo Set |
| --- | --- |
| It comes with a preloaded aluminum reel that incorporates a smooth disc drag system to work on your technique.  | This rod focuses more on distance than the presentation, which means it doesn't offer much forgiveness. |
| You'll receive a neoprene reel pouch for an extra protective layer during transport. | The manufacturer markets the product as a learning device, telling anglers that it can be their practice backup rod when they're ready to upgrade. |
| The rod is made with 30T carbon fiber and five reinforcement levels to ensure you receive one of the most robust products possible at this price point.  | You may find the rod to feel a little stiff and heavy, especially if you've tried other models before.  |
We found the whole starter combo to be an impressive investment. If you're unsure of where you stand with fly fishing, this kit is an affordable way to explore your interests. We'd even agree with the manufacturer that it can be a solid backup rod if your primary equipment breaks.
The issue here is one of confidence. It's refreshing to get a straight answer about a brand's expectations, but does that mean it should be an investment you make – knowing that you'll probably need to upgrade it?
It all depends on perspective. You're getting an exceptional value with the 7/8 version that could even serve as an entry-level choice for some kids. The durability is there when you treat this product right.
What Are the Best Places to Go Fly Fishing?
When you've got your fly fishing starter combo packed and ready to go, what destination do you have in mind?
If you're planning a dream vacation or weekend getaway with your gear, these spots deliver outstanding value. Please remember to secure the required licenses before you cast a line!
You'll also find that some of the best fly fishing opportunities are near your home. If you have still water or a river nearby, you've got a chance to cast a line. 
You can find some great fly fishing destination here:
Is It Time for You to Give Fly Fishing a Try?
Fly fishing can certainly get expensive, but it doesn't need to be that way when you first learn its processes and techniques. When you have the right starter combo that meets your requirements, you can hit the water whenever you have some free time to work on your skills.
When you are ready to take your fly fishing to the next level, you might consider stepping up from a starter combo to the Sage X Fly Rod. This product is handmade on Bainbridge Island in Washington State, and it delivers full ceramic stripper guides and an anodized aluminum up-locking reel seat. Cork drips for the fore and rear work with a tapered design to let you put the power into your cast at all times.
That means you'll get tighter loops, greater blank recovery, and a crisp tip stop for an accurate presentation.
If you're ready to try something new this year, why not explore a new approach to your love of angling? The best fly fishing starter combo kits will deliver impressive results so that you can work on your technique and have a successful day on the water.
And don't forget about picking up a rod combo for the kids.  Read "Fly Fishing Rods For Kids."