When we think about classic fly fishing, we think of mountain rivers surrounded by steep forested hillsides, dark pools full of monster trout, and freestone rivers gurgling through the Canyons. When we think of Ohio, this is not the picture that we conjure up in our minds. 
Ohio is mostly flat, but don't let that deceive you into thinking there isn't great fishing to be had. For starters, Ohio can boast over 50,000 lakes, and over 2,000 of these are substantial waters of over 5 acres. 
Then there are the rivers. Ohio has around 60 very fishable rivers. Ohio can rightfully boast of being one of the go-to places for fly-fishers in the Midwest. 
The Ohio Department of Natural Resources also goes to great lengths to ensure the fishing is of top quality.  They stock non-native species in many rivers and lakes, including rainbow, steelhead, and brown trout. 
What do I Need to Fish in Ohio?
Firstly, you will require a license to fish in the state, and also sites like Lake Erie may require a separate license. The licensing scheme only applies to those over 16, and different license requirements and costs depend on circumstances like residency and age. You can find a handy guide to your needs' best license and where to purchase them here. 
Tackle Requirements
Ohio can offer some ferocious Steelhead fishing. If you are looking to do this, then a substantial rod of at least 10 feet and rated for 7 weight lines are recommended. If trout is what you aim for, then a lighter kit of around 9' feet rated for 5 weight lines is perfect. 
For fly selection, if you plan to visit in the spring through to early summer, then many locations have heavy Mayfly hatches, so come prepared. Other than that, plenty of variety is the best advice. Some rivers can be great at times for getting trout to rise to a dry fly, but equally, nymphs and lures all have a part to play. Local tackle shops are always willing to offer advice and point you in the right direction.
Get up to speed on the best fly fishing gear for beginners.
Take what you'd take on any fishing trip, hats, insect repellant, waders, etc.
An excellent source for finding the best shops and advice on tackle, flies, etc., is the Ohio Game Fishing Community.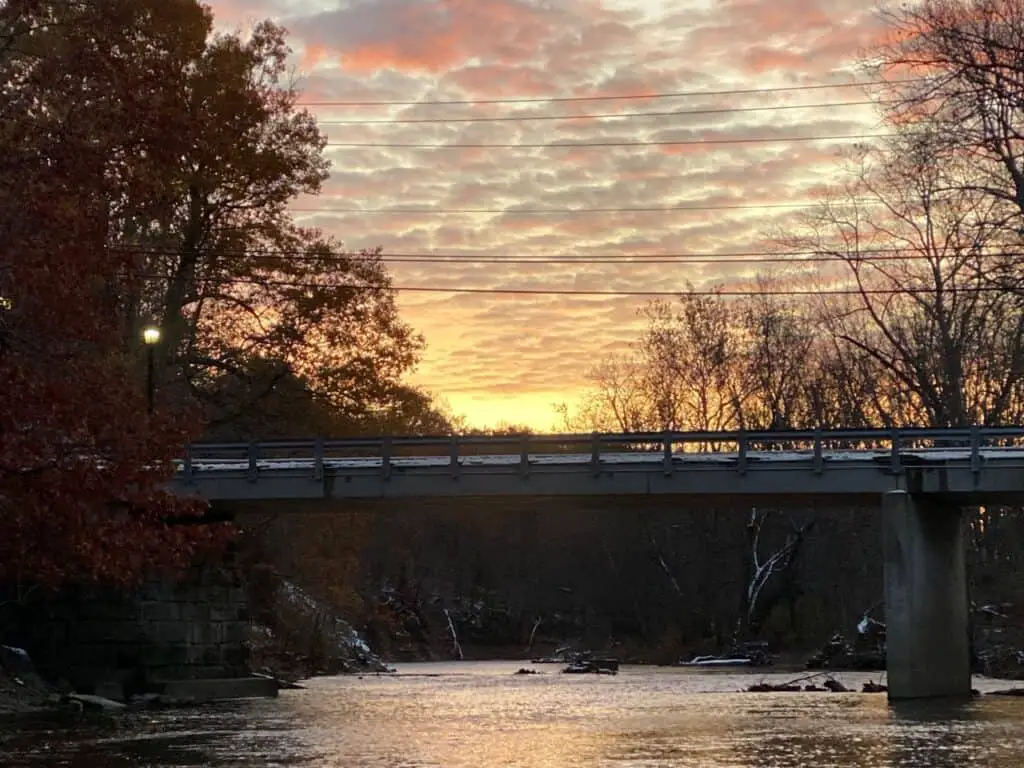 Where to Fish in Ohio?
Fishing in Ohio has plenty of variety. This means it would take a complete book to cover the best Ohio has to offer. We have selected some of the State's real hotspots for this guide and have covered various fishing available. 
We will cover some of the best-known rivers and lakes and various fishing, including trout, steelhead, and the odd mention of bass for those who want to catch this species on a fly.
Firstly, let's have a look at some of the best fly-fishing rivers in Ohio.
Best Fly Fishing Rivers in Ohio
Most of the best rivers Ohio offers are stocked each spring with healthy quantities of brown and rainbow trout and occasionally cutthroat trout. Some waters have good populations of native brook trout. 
Clear Fork River
Clear Fork is one of the few Ohio rivers that maintains a constant year-round temperature that suits a healthy trout population. The river itself is a branch of the Mohican River. The Upper Clear Fork runs through mostly private land, so getting access is difficult. However, the Lower Clear Fork is different. 
There is plenty of public access between Pleasant Hill dam and State Route 3, and it is popular with anglers. 
There is a healthy stock of brown trout for trout anglers, but there is also good fishing for bass, carp, and bluegill. If you get fortunate, an occasional muskie has also been caught on the fly. 
The trout are stocked as 8-inch yearlings and have usually grown to about the 12.5-inch mark after a couple of years. Occasionally fish weighing several pounds and 20-inches in length have been caught. 
In May and June, there are good hatches of Sulfurs, which bring a lot of action. There are Light Cahill, and heavy Caddis hatches from June to July, and all year round, there are midge hatches to keep the fish interested. The Caddis hatches predominant in the early summer also continue at a lesser rate all the year-round. 
If you're looking to fish the Clear Fork River, then a guide can help you get to the best spots. Mohican Fly Fishing are specialists in guiding for the Mohican and the Clear Water Fork waterways. 
The Clear Water River chapter of Trout Unlimited has produced a great online resource for those wanting to fish this river, with a nifty guide on what hatches to expect throughout the year.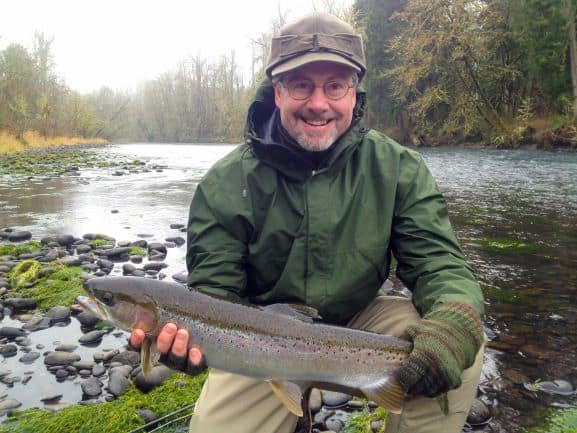 The Mad River
Running from Bellefontaine to Dayton, this sixty-mile-long river is one of the few rivers still to hold a healthy population of native brook trout. As with many Ohio rivers, it is also stocked annually with yearling browns of about 8-inch in length. Although it can be difficult to fish due to clear water and overhanging foliage, the rewards can be well worth the effort. 
Access isn't excellent, but there are options along a few nearby routes, including US Route 35 and US Route 55, and are usually located at bridges where county and local roads cross the river. 
The fishing here is for the purist; although the recently stocked fish might fall for clumsily cast or ill-chosen fly, the established fish are trickier to tempt, which makes for a rewarding experience when you do fool one. 
Most of the success on this river is from fishing areas shaded by trees or overhangs. This is where the bigger trout tend to lurk. For hatches there is a fantastic guide which details a month by month of what to expect available at the Perfect Fly Store website, they will also offer you advice on which flies are best to take on your trip. 
Hatches to expect include from early March and into May there is a consistent hatch of Blue Winged Olives. Also, Sulfur Hatches usually start in May along with March Browns and Hendricksons. 
Early spring is reckoned to be when this river is best, but Sedges and Caddisflies' hatches keep the fish interested later in the year. There are also year-round hatches of Midges.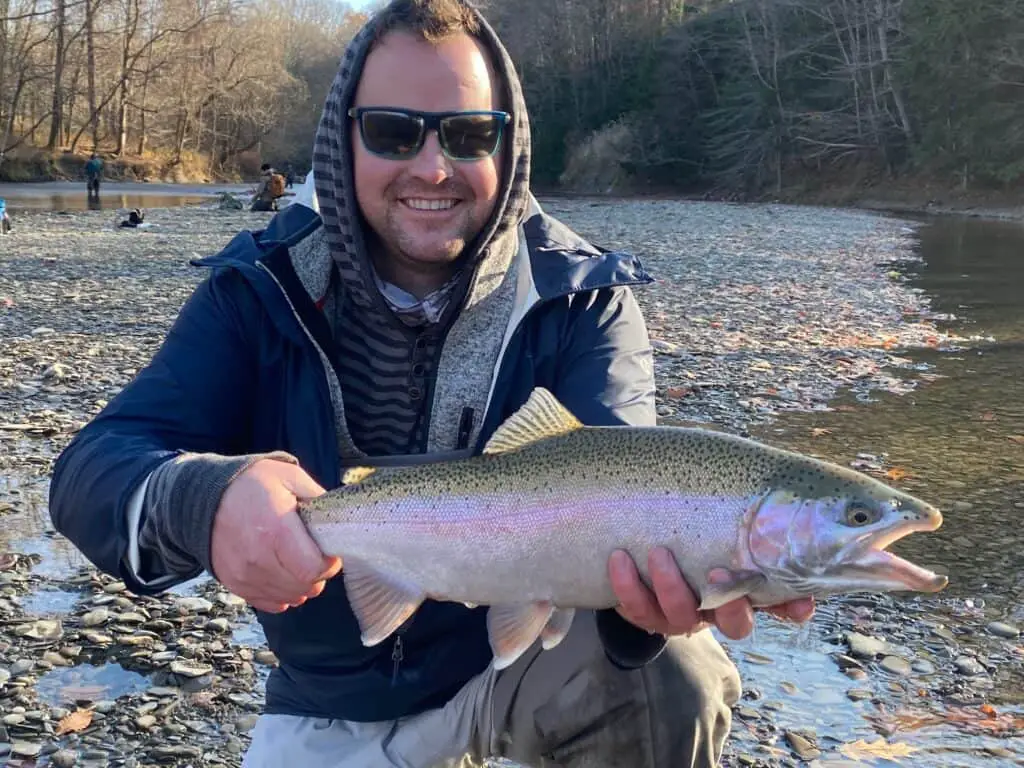 Conneaut Creek
The Conneaut begins in Pennsylvania before entering Ohio and flowing into Lake Erie at Conneaut. Be warned, though, bring out the big guns if you intend to fish this creek.
It is known as the steelhead capital of the world.
It has populations of walleye, bass, and northern pike and a documented 75 other fish species in addition to steelhead and brown trout. 
Unfortunately, fishing access is relatively limited, for although a 20-mile stretch has been designated a state wild and scenic river, there is no real public access. Some private landowners may grant you access, but it is a case of asking.
You may be better advised to hire a local guide. The Steelhead Guide is a long-established guiding service that specializes in Steelhead fishing. 
Wondering, "Should I hire a fly fishing guide?" Read this article to help you decide. 
For public access, the best places are the Conneaut Breakwater and Harbor, Lakeville Park, Keefus and Creek Roads, and at the Old Main Road section of Route 7, which is considered a bit of a hotspot!
It is worth noting that in Ohio, land ownership includes the riverbank, so although you can gain access to the river at public access points, please be aware that fishing the bank on private property is forbidden without the landowner's permission. The river can still be fished by float or boat in these areas. 
For Steelhead fishing in Conneaut Creek, the run usually begins in late October and continues until late April. December is considered the ultimate time to plan your trip. 
Little Miami River
A tributary of the Ohio River itself, the Little Miami River meanders through southwest Ohio counties for over a hundred miles. While not an excellent trout river, it does boast over 80 species of catchable fish. 
One of the great joys of fishing the Little Miami is that you don't know what you're going to hook. Both smallmouth and largemouth bass are common, as are walleye, sauger, rock bass, white bass, and gar. And these are only the most common ones. Striped bass weighing up to 15lbs have also been recorded as well as the occasional Muskie. 
Smallmouth bass fishing is what most anglers head to this river for. They are aggressive and feisty fighters that make for great sport on a lighter fly outfit. We recommend an 8.5 to 9-foot rod rated for a 4 or 5 line.
Streamers and poppers are great lures to attract the smallmouth who can attack these with such ferocity that it can feel like your shoulder has popped. The best time to fish from these is from February or March through until the Fall. 
Local outfitters Delamere and Hopkins run guided trips and fishing schools throughout the year on the Little Miami River and can also offer you great advice on where and what to fish.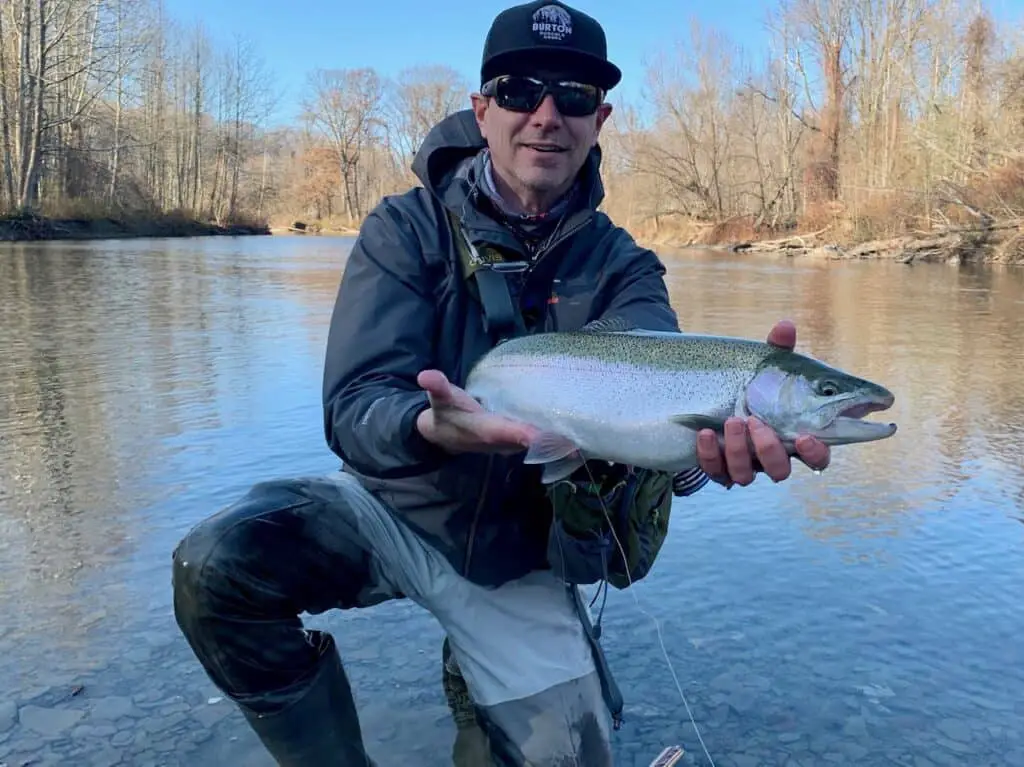 Rocky River
Running through the heart of downtown Cleveland the Rocky River is not what many anglers would consider prime fishing real estate. But don't be fooled by the river's location.
The Rocky River is one of the sites in Ohio that is stocked with Manistee Steelheads. These fish grow into large silver bullets that can strip you down to the backing line in a matter of seconds. 
The Cleveland Metroparks mostly hold ownership of the river and happily provide unrestricted access for fishing. Public access points are numerous along the river's length. Some of the more popular are Madison Pool, Mastic Woods, South Mastic Picnic Area, Lagoon Dam, and Emerald Necklace.
For a full list and map of all the access points, the Ohio Department of Natural Resources has published a useful downloadable map. 
The Steelheads make their way to Lake Erie in the warmer summer months and return to the river late summer into the fall. For the best the river has to offer, plan a trip anytime from September through to May. Summer steelhead fishing in the Rocky River is sparse and particularly throughout July and August.
A collection of lures and minnow patterns are the most successful types of flies as these best mimic the steelhead's usual prey of fry and minnows. 
The Ohio River
The Ohio River is a fishing trip in its own right. Once again, as with many Ohio rivers, there is no excellent trout population, but there is still plenty of sport on the fly.
The river is populated by many species that include the usual suspects found in Ohio – Sauger, walleye, hybrid striped bass, smallmouth bass, largemouth bass, and catfish.
The fishing is mostly by boat, but bank angling is generally centered around the locks and dams where there are purpose-built fishing platforms and outcrops. Plenty of decent sportfishing is to be had around these areas. 
With a river this size, local expertise is recommended if you want to find the real hotspots. The river runs for 450 miles along the southern border of the state. A fly fishing can help you get the best from your outing. Hooked Up on Fish specialize in multi-species and discipline fishing. 
Lake Fishing in Ohio
You may be asking, "can you fly fish anywhere in Ohio?" Well, you can't cover fishing in Ohio without discussing Lake fishing. With over 20,000 to choose from, it can be hard to narrow it down to just a few. But of course, the mother of them all is Lake Erie, an appropriate place to start.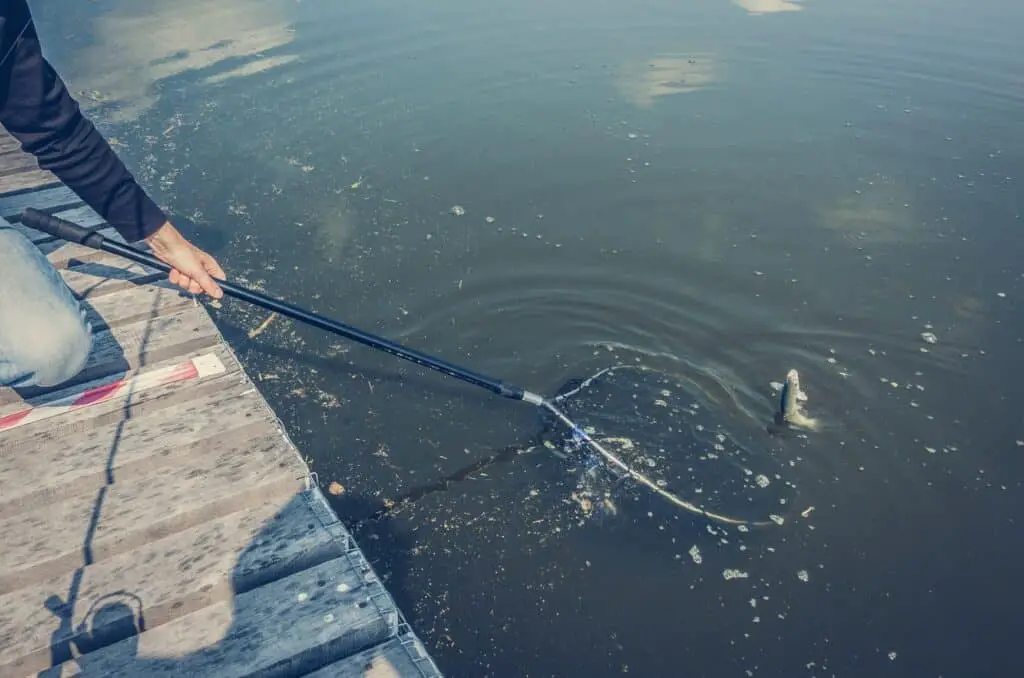 Lake Erie
A great spot to start exploring Lake Erie's vastness is the 'North Coast' shoreline in Cleveland. Access to the lakeshore is plentiful around this region, and so are the species to fish for.
Early in the year, walleye are the most usual sport, and the right spots to get the best action are usually around river mouths. Prepare to go a bit deeper for them, so a long leader or a sinking tip line can work well. 
Later in the year, as the water warms up, smallmouth and white bass start to become more prevalent as they begin to feed closer to shore. In the height of summer, watch for shoals of seagulls feeding on the surface. This usually indicates the presence of baitfish. Of course, where there is baitfish, there is generally larger fish.
Fishing with streamers and lures in these areas will usually result in catching hard fighting white bass. 
As with all fishing, but paramount in the water of Lake Erie's size is the importance of checking the weather. So if you do venture out on a boat fishing trip, make sure and check the weather first, or better yet, use the services of a local guide who knows the water and will be able to read the weather patterns. Fishing Booker has put together a list of the top ten fishing guides for Lake Erie. 
Indian Lake
At over 5,000 acres in size, this is a sizable lake that offers some fantastic fishing from shore and boat. Situated close to Bellefontaine, the lake is known for large populations of saugeye, largemouth bass, walleye, sunfish, yellow perch, catfish, and large crappie.
The lake is mainly known for its saugeye fishery and is considered Ohio's premier saugeye fishery. A selection of brightly colored streamers or lures is best when trying to tempt any of the species in Indian Lake, and tackle would be on the lighter side, around a 9 to 9.5-foot rod rated 4 or 5 is perfect. Floating lines or a sinking tip for when the fish are lying in deeper water is usually all you would need, although a sinking line can also work in certain circumstances. 
Access to the water is easy as the road frequently has lay-bys and picnic points from which it is easy to find secluded coves and bays. There are also numerous boat launch sites situated all around the lake.
Final Thoughts
There is nowhere quite like Ohio for those fishermen that like a variety of fishing. Although the trout fishing may not be as varied as in other more traditional trout states, Ohio makes up for this by the sheer diversity of species to target in its rivers and lakes.
And let's not forget those steelhead runs. If you are planning a visit to fish the waters of Ohio, then time it to coincide with the runs on the Rocky River or Conneaut Creek, and you will have the fishing experience of a lifetime.