Amongst the fly fishing fraternity, some places hold an almost spiritual reverence. For me, Montana is one of these places, ever since I began fly fishing, it has been on my bucket list for must fish States. 
This yearning to fish the wilds of Montana began as a young, novice fly-fisher fishing the lakes and streams around my home. A gnarled old angler (actually my older brother) suggested the conditions were right to bounce a Montana nymph along the bottom.  
Since that day, the Montana nymph has been one of my go-to flies, and the state of Montana has been on top of my fly fishing wish list. And now, at last, I can say that Montana can be ticked off my bucket list. 
And it was everything that it promised to be.
What's so special about Montana?
Montana is a Mecca for just about every fly-fisher, hundreds of miles of productive rivers, crystal clear lakes, and all set against the backdrop of some stunning scenery. Just look at this video from the renowned fly fishing guide, Jenny Grossenbacher, commissioned by the Montana Office of Tourism. 
If you are looking for convenience, then Montana has something for you. If you are looking to head into the wilds to explore remote rivers and creeks, then Montana can do that too!
Where To Fish In Montana
The options are limitless; a great source of information can be found in the official state website's fishing section. 
When it comes to deciding where to base yourself once you make that pilgrimage, it is easier to break down the options into three primary regions and delve into each one in a bit more detail to see what they can offer.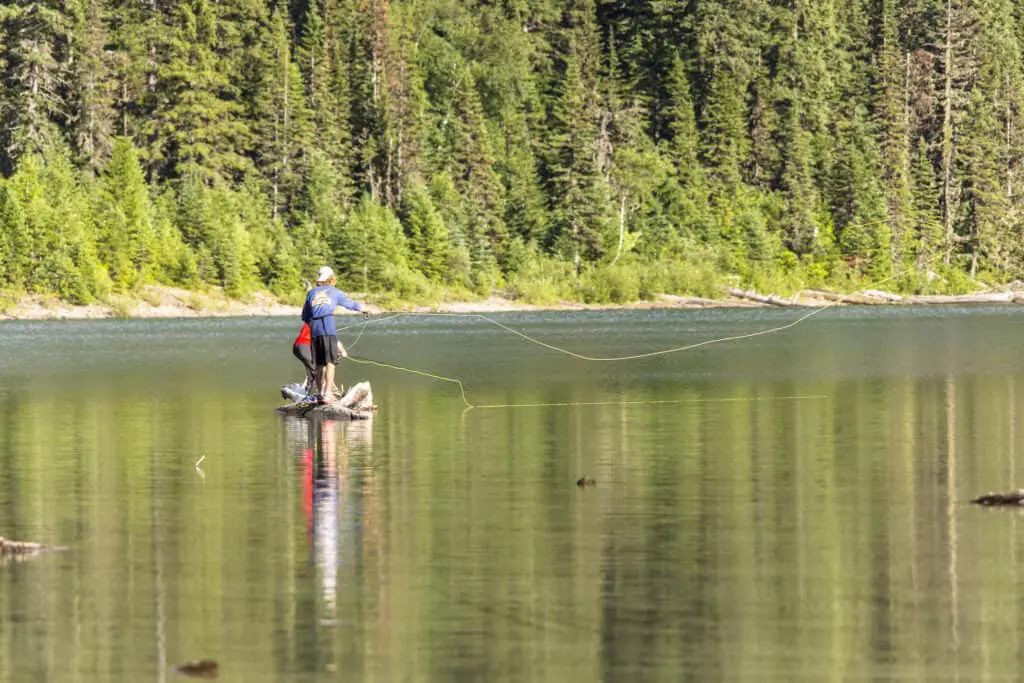 Eastern District
For fly-fishers looking to fish for species other than trout, this is the region for you. With a different climate than the central and western districts, the rivers and lakes here are too warm to support a trout population.
Instead, what you get are large and healthy populations of catfish, walleye, and smallmouth bass. The region's landscape is also a stark contrast to the rest of the state. It is mostly a prairie landscape and sparsely populated. If you want peace and quiet and don't mind missing out on the trout fishing, then this might be the district for you.
Most of the eastern rivers are accessible by car, so it is brilliant for those who don't fancy hiking into the wilderness. 
Central District
The central district has some serious 'back-country' type fishing. As opposed to the Eastern District's prairie landscape, this is a landscape of wild rivers and endless forest. In essence, this is the real Montana fishing experience, where a lot of the more notable fishing is remote.  For many fly fishers, this is all part of the overall 'Montana Fly Fishing Experience.'
However, if you're not one for wilderness treks to remote rivers, then this might not be the area for you. But even if you aren't up for those treks, there is still a vast amount of fantastic fishing available.
If you're seeking some remote fishing, then rivers like the Sun River, Dearborn River, and the Teton River are excellent spots. For the less remote rivers, there is always the mighty Missouri River or the Smith River. 
The closer you get to the mountains in the central district, the better the fishing is. The trout thrive in the colder and oxygen-rich rivers that tumble from the mountains. 
For those looking for a camping experience or basic campsite accommodation, getting close to the mountains is an incredible fly fishing experience.
Western District
Although the north of this district offers some fine fishing, particularly the Kootenai and Yaak Rivers, most of the best fishing is located in the southwest. The scenery and landscape across the whole western district is stunningly beautiful, miles of forestry and rolling hills interlaced with rivers that bubble with trout. This is a fly-fishers paradise. 
Many of the rivers available in the central district also pop up in the west too, and the trout fishing they offer is phenomenal. And the choice of places to fish is seemingly endless. A few of the more notable rivers that the western district offers are the Yellowstone, Boulder, Ruby, and Bighorn rivers, and we haven't even scratched the surface yet. 
Best Montana Fly Fishing
Now that you know a bit more about Montana's districts and the type of fishing available in each, you should have a better idea of what area best suits your needs. This section will look at each district in turn and give you more specifics of where to fish, available guides, etc. 
Eastern District
For those looking for a smallmouth bass experience or even looking to hook into some summer pike, then the eastern district is where you should aim for. The species that you will be able to hook into in eastern Montana include: – 
Smallmouth Bass
Walleyes
Paddlefish
Sturgeon
Catfish
And many more, including pockets of trout and some outstanding, stocked trout fisheries. 
Next, we'll consider some of the best fishing spots in eastern Montana. 
The Junction of the Missouri, Marias, and Teton Rivers
Situated about 50 miles northeast of Great Falls along Montana Highway 87, the Marias and Teton rivers merge and run together for a mile or so before meeting with the Missouri River. 
River confluences are always rich in feeding for fish and therefore rich in fish. There have been 47 different species documented, so there is plenty of variety to choose from. Some of the highlights include: – 
Sturgeon: – plan for late May if you fancy a shot at these prehistoric fish. They fight like salmon, and they taste just as delicious, and at that time of year, thousands are surging up the Marias to their spawning grounds. 
Sauger: – a cousin of the perch, in springtime, this fish migrates 100 miles or so up the Missouri River to its spawning grounds. A hardy fighter for its size, it can provide excellent sport. 
Other notable species here are redhorse, river carpsuckers, northern pike, and even some resident brown and rainbow trout.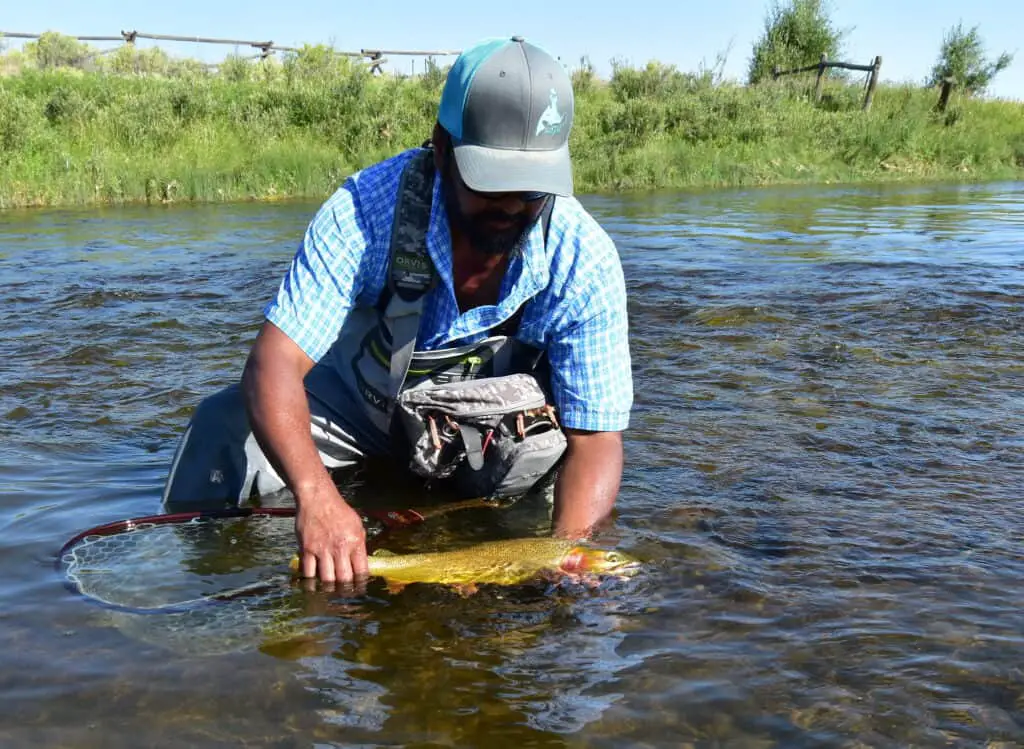 Fort Peck Reservoir
While the walleye fishery's fame here is sweeping the country, the smallmouth bass fishery is less a bit of a secret. The state record was caught here and weighed in at a hefty 6.6 lbs. Biologists reckon there are bigger ones yet lurking in the 250,000-acre reservoir. 
There are numerous fish hotspots, but as in most reservoirs, there are also some dead spots too. For water this size, mainly if your visit is of short duration, it is best to employ a guide's services to get the best fishing. 
Medicine Lake
One of the most thrilling experiences I've ever had when fly fishing was catching my first pike on a lightweight kit. Since then, I've spent a lot of time pursuing this 'freshwater shark.' If you are like-minded, then Medicine Lake is a superb location to head. 
The lake offers the perfect habitat and feeding for this top predator; weedy islands and shallows are plentiful, as are the fish. Pike were first introduced here to control the carp population and have thrived in the environment. 
If you do fancy a go at some of the best pike fishing Montana has to offer, then be aware that annually from September 15th to November 15th, the lake is out of bounds for all recreational use. 
A great source of information for places to stay and where to fish can be found here. 
Bighorn River
The Bighorn River is one of eastern Montana's trout hotspots. With an estimated 6,000 trout per mile, it is crammed with them. Trout fishing here wasn't always endemic. It started after the Yellowtail Dam was completed in 1966 and changed the river's characteristics to more suit trout. But the trout that were introduced now breed naturally and are thriving. 
There are many local guides and places to stay when fishing here. The Bighorn River Lodge offers fantastic value packages if you want to see the best of the fishing. 
Central District
The problem with the central district is knowing where to start. The variety and the fishing scope here can be daunting if you have limited time and little local knowledge. One good way to ensure you maximize your time is to employ the services of a local guide. Montana Fly Fishing Guides is a great place to start if you're looking for a guide. 
Missouri River
You can't talk about fishing in central Montana without mentioning the Missouri river. This mighty waterway epitomizes fishing throughout the state. The 'Mighty Mo,' as locals know it, is crammed with brown and rainbow trout, and because of the power of the current in this river, they are some of the hardest fighting fish to be found anywhere in the world. 
Large rises of trout make this river the perfect all-year-round fishery for dry-fly aficionados any day of the year. And there is something very special about fishing the Montana nymph in the state it was developed, as you hunt for that 10lb monster in the depths. 
Most anglers will tell you that the best fishing is found to the north and begins around the Helena region. The whole area surrounding this town is a fly fisher's dream. An excellent guide to Helena fishing can be found on the Visit Helena website. 
With incredible mayfly hatches that begin as early as March and olives and caddisflies in May, the Missouri River is at its very best in these months. However, the Missouri River can offer fishing that beats just about any other river you could put up against it at any time of the year. For instance, the caddisfly hatches continue to provide great fishing right through the summer. 
For tackle and fly requirements for the Missouri River, it is best to carry a versatile rod that can cope with various conditions. Ideally, something like a nine-foot rod rated for about 5-6 weight lines. This kit can give you the delicacy you need to land that dry fly gently, and if conditions warrant it, it can also throw out that weighted nymph.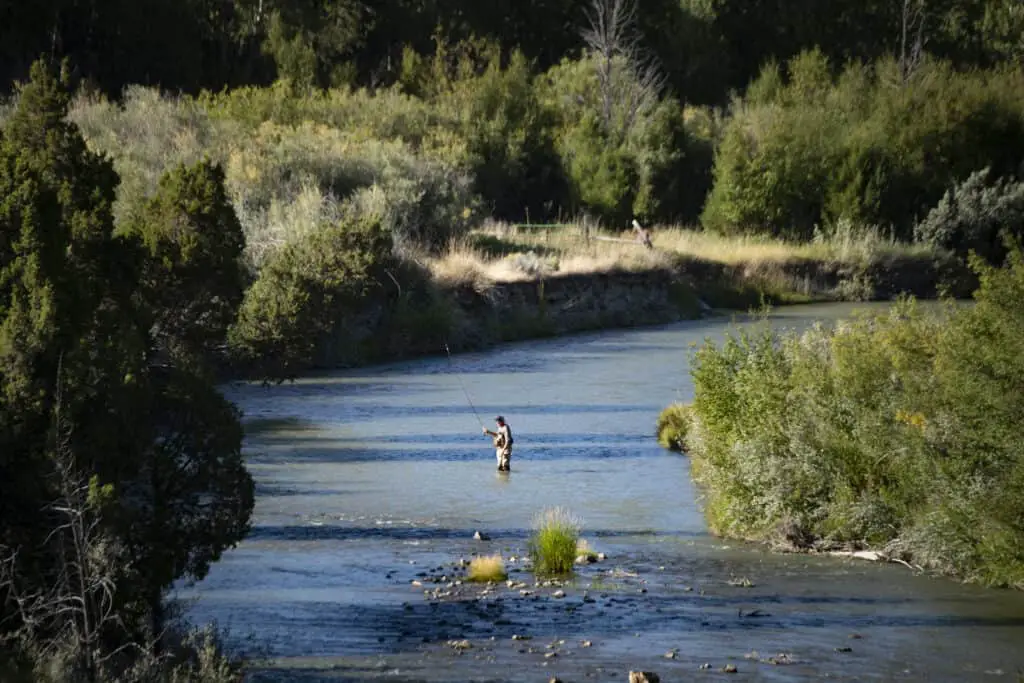 Dearborn River
While the Missouri River rightly dominates the central district, it isn't the only place that offers fantastic fishing. The Dearborn River is another gem of a river. 
Situated on Highway 200, just north of Lincoln and south of Augusta, it can be broken down into two stretches, the upper and lower Dearborn. The Dearborn is an authentic wilderness fly fishing experience. Although access is limited and will likely involve a trek, those who are willing to put a bit of effort into the fishing can be fantastic. 
It is perfect for those who like to take a float trip down the river but watch for water conditions as it could be quite a ride! This is one reason why the float trip season is restricted to the period from the 3rd Saturday in May until late June. 
The Dearborn has an outstanding stock of rainbow, brown and cutthroat trout and is best fished with larger dry flies or weighted nymphs. The fish seem to be less fussy about what they rise to here than on the Missouri River, making it an ideal spot for beginners. 
The Montana Angling Company is always very helpful and can help you plan your trip if this is the river for you. 
Sun River
Another river that we will quickly mention is the Sun River. One for the wilderness enthusiast, this will suit the most ambitious of anglers only. But for those who undertake the challenge, the rewards are some of the best fishing Montana has to offer in some of the most beautiful scenery in all Montana. 
Western District
Finally, we will have a quick look at western Montana. A great place to base yourself if you are planning fly fishing in this area is Missoula. The good people at Montana Fly Fishing Guide are specialists in organizing trips and offering advice on the fishing that abounds throughout the region. 
Setting yourself in this area means you are based where four great rivers are within easy reach. 
Bitterroot River
An excellent river for those who like to take float trips, this river boasts nearly a hundred miles of floatable water and has some great fishing, with the predominant species being the West Slope Cutthroat trout. 
It can be three different fishing experiences on the one river with the upper-middle and lower river, all offering a completely different experience. 
Clark Fork River
Once again, this is a river with two different personalities. In contrast, the upper river is populated with mainly brown trout. The lower river is crammed with wild rainbow trout that love to rise to a delicately placed dry fly. 
Missouri River
Yes, it is here too! We have already covered much of what the Missouri River has to offer, but it is worth mentioning that if you base yourself in the south-west, you still have access to one of the great trout rivers. 
Blackfoot River
It just keeps getting better! I can't even begin to touch on the range of fishing available in Montana. But the Blackfoot River is where I ultimately achieved my goal of catching a trout in Montana on a Montana nymph, and I think it's fair to say I was almost in tears. 
Set in a stunning backdrop of ruggedly beautiful terrain, it is still readily accessible and has healthy stocks of rainbow, brown, and bull trout. This river is the epitome of fly fishing in Montana, and for me, although I fished in many other places throughout the state, this is where I achieved my dream. And as such, I freely admit to being biased. 
 Final Montana Fly Fishing Thoughts
They say you should never meet your heroes; you will only be disappointed. I was nervous that Montana wasn't going to be the place I'd always imagined. 
It wasn't. It was far better than I could have ever imagined. The people are friendly and always offering advice and tips on where to fish. And the fishing has to be experienced to be believed. There are no words that can describe the sheer joy of hooking into a wild Missouri River rainbow trout and feeling the line screech from your reel as it powers off downstream. 
Montana is undoubtedly one of the world's most remarkable fly fishing experiences and one that will stay with me forever. I didn't even start to experience what the state could offer in the way of fly fishing before my trip was over. So, one thing is for sure; I haven't yet ticked it off my bucket list; I can truthfully say: –  
Montana, thank you, I will be back.