Whether you are new to fly fishing or an experienced angler, is hiring a guide worth your time? Most people would agree that yes, you should hire a guide. Newbies and anglers alike can benefit from a guide. And if nothing else, a guide is good company to have out on the river.
Hiring a fly fishing guide is a good idea because it significantly increases your chances of catching a fish. A guide will show you the best spots to fish and might even get you access to private water. The guide can also help you improve your casting, drift, and hook set timing. 
There are many great reasons to hire a fly fishing guide, whether you are a beginner or experienced fly fisher. Having a fishing guide to show you around new water is a great way to learn and improve your skills, no matter your level of experience. Let's look at some of the reasons for hiring a fishing guide helps improve your chances of catching a fish.
Fly Fishing Guides Know What The Fish Are Eating
Your guide will have fished the water you are visiting many times before. They have learned where the fish like to hang out and what their current food source is. Knowing what flies to use if they have never fished the area before can be challenging for many people. Your guide will provide you with the right flies for the area and time of year. 
Since the guide has fished the water before, they also know where the big fish hang out. Your guide can direct you to the most promising holes and show you where to drift your flies so that the fish has the best chance of eating it. Your guide may even have a winning spot that he knows a big fish lives in and what it likes to eat.
In short, your guide has done the hard work for you, figuring out where the fish live in the river and what they're eating. All you have to do is be patient and wait for them to eat.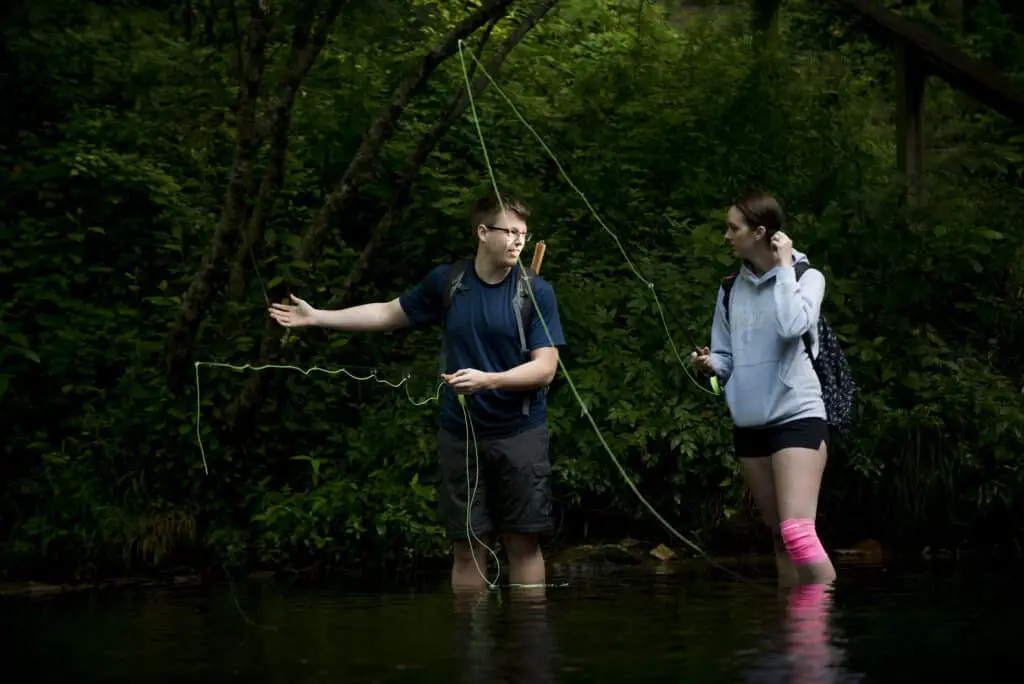 A Fly Fishing Guide Can Help Improve Your Cast, Drift, and Hook Set
A fly fishing guide has spent a lot of time fly fishing to get to where they are. They have picked up a lot of pointers to give to you to improve your casting. 
Your guide has watched a lot of people before you learn and practice their casting. They know what to look for in good form and what tips and techniques can make your casting better. They also may show you new casting techniques that help on different stretches of the river. 
The same advice applies to your drift. A good guide will let you know when to mend up or downstream and if you need to take the line in or let line out. A bad cast can be saved with a good drift. 
Knowing when and how hard to set the hook is another crucial aspect of fly fishing. Your guide is watching your flies drift with you and may notice subtle changes before you do. They will tell you when to set the hook to lower your chances at missed opportunities.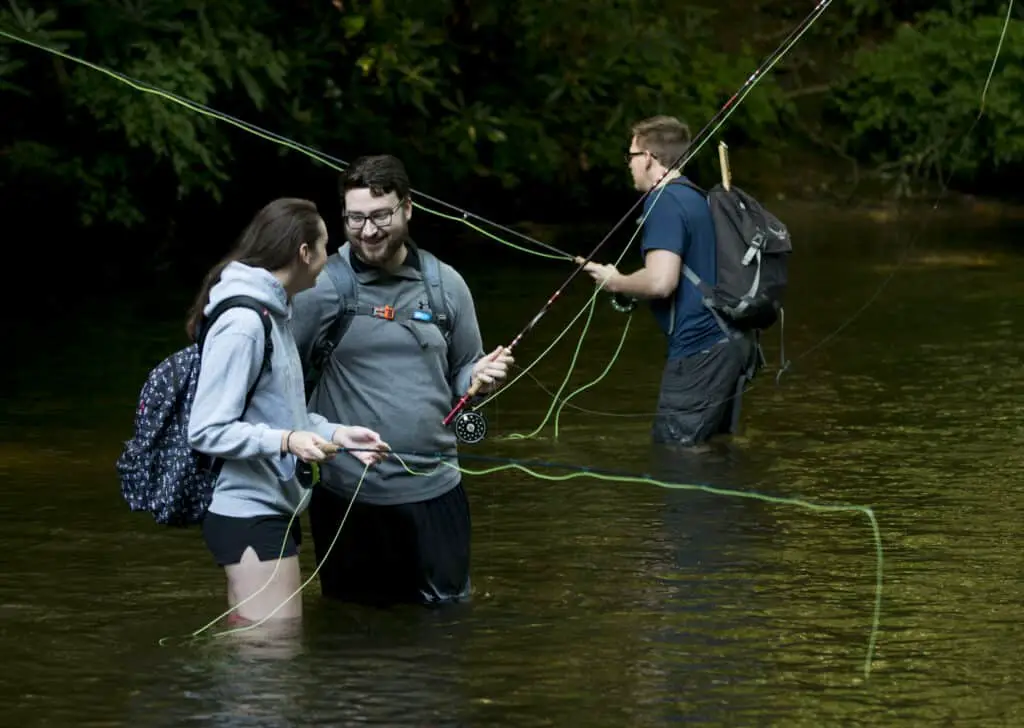 Fly Fishing Guides Gives Access To Private Land
Since many fly fishing guides work through outfitters, they have access to private land. Can you fly fish anywhere? Fishing on private land lowers the competition on the river. Fish that have less fishing pressure are more likely to eat when you are around. 
Booking a fly fishing guide for private water also means the guide will be able to show you their top spots more easily. Private water only sees one or two trips a day, so don't have to worry about someone already being at the spot your guide wants to take you to.
You Don't Need All Your Own Equipment
When you hire a fly fishing guide, you don't need to bring all your own equipment. Your guide may provide rods, flies, and other equipment you might need for that stretch of water.
The guide probably already knows while flies you should be using and can tie those on for you. If your line gets tangled, they will untangle it for you. You just get to hang out and relax while they do the hard work. 
If you're not sure what you need as a beginner fly fisher, read our article, "What Does A Beginner Fly Fisher Need?"
Guided Float Fishing
Another great reason to hire a fly fishing guide is to go on a float fishing trip. Float fishing is when you float downriver in a drift boat and allow your flies to drift downstream with the boat. This will enable you to fish more water throughout the trip and is an enjoyable experience.
The guide will still provide you with all the equipment needed, but they will also row the boat for you. A float trip is an overall great experience on the river. If your guide is good, they will be able to point out different birds and other wildlife along the way. 
Catch A Ride From Your Guide
In many cases, your guide will drive you to and from the fishing area. Some fishing spots are farther away and may be difficult to find on your own. Also, since many fishing access points are down dirt roads, you can reduce the wear and tear on your vehicle. This is also great if you don't have a great vehicle to get yourself to some more difficult access points. 
Letting your guide drive you to and from the water allows you to relax and enjoy your day. Some guides will provide beer and other beverages for you to enjoy on the river. If your guide drives, you don't have to worry about how you're getting home.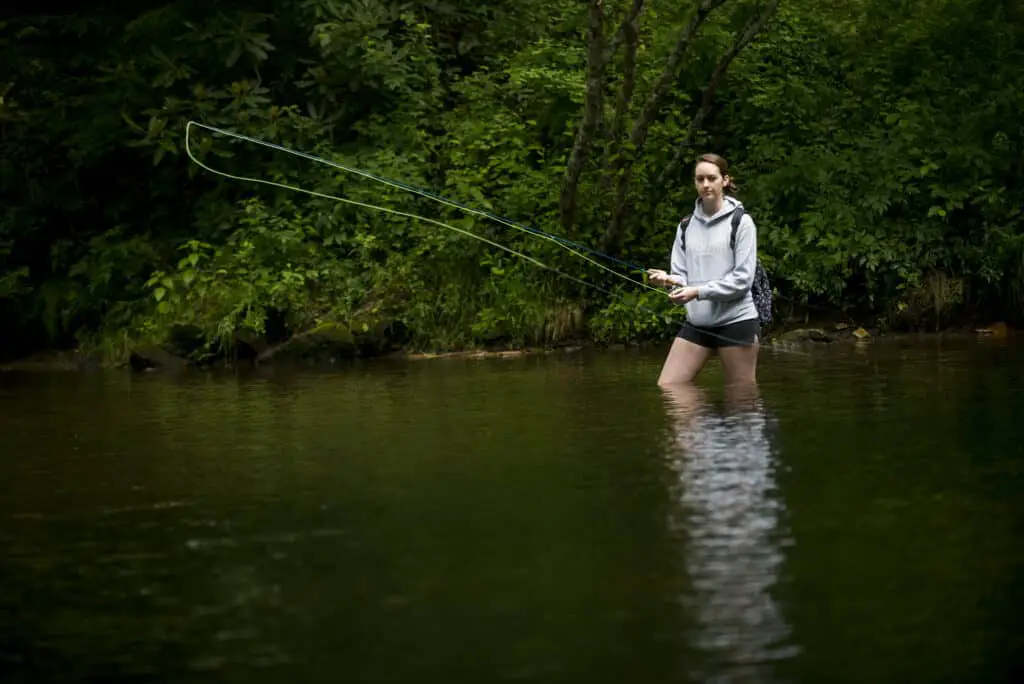 A Guide Is Great Company
Lastly, fishing guides are great company. They have plenty of jokes and stories to tell about their time on the river. They are personable and want you to know that your time with them is important. 
So hire a fly fishing guide, explore some new water and get out there. And don't forget, always tip your guide.
Guided fly fishing is a large part of the tourism industry out west, especially in Colorado, Wyoming, and Montana. These states are home to world-class fishing and beautiful, big trout. But fly fishing can be done anywhere. In recent years, fly fishing in the Florida Keys has been gaining popularity. 
In Colorado, Mile High Angler out of Denver is a great place to look into a guided fly fishing trip. They are the only outfitter based out of Denver with permits for the Colorado, Williams Fork, South Platt, and Blue Rivers. They offer both private and public water trips.
Wild Trout Fly Fishing Outfitters and Guide Service based out of Big Sky, Montana, offers guided fly fishing trips year-round and a variety of other outdoor activities. From a classic wade fishing trip to a guided Yellowstone National Park fishing trip, you can plan as much of an outdoor experience as you wish. 
Based out of Casper, Wyoming, is the Platte River Fly Shop. They offer trips at the Gray Reef, Miracle Mile, and Fremont Canyon sections of the North Platte River. With over 40 miles of wade fishing access and 80 miles of float fishing access, there are various options to choose from.
Conclusion
No matter where you will be fly fishing, hiring a guide is always a good idea. Your guide will show you where to go, what flies to use and provide you with everything you need to know on the water. You can sit back and relax knowing your plans have been taken care of for you.