After seeing amazing pictures of anglers fly fishing in locations many never get to, we started wondering, "Can you fly fish anywhere?"
You can fly fish anywhere. Some areas may also be more difficult to fly fish than others due to accessibility, casting room, or locating the fish.
The first rule is to determine whether it is legal or not. If you are legally allowed to fish that particular body of water and fish live there, you may proceed to chase your quarry. 
For years fly fishing occurred in a stream a few feet deep at most and full of various trout species. However, fly fishing has evolved into anglers casting fly rods in rivers, ponds, streams, lakes, and even saltwater. 
Regardless of where you choose to fly fish, you must have the following variables on your side:
Fish within your casting distance
Room to cast
Proper equipment for targeted species
Traditional Fly Fishing Locations
Fly fishing in a shallow stream for trout is the sport's roots, often taking place in mountainous regions or field streams and brooks. Fly anglers use lightweight tackle such as a 3 or 5 weight rod and tiny flies. The targeted species can be brook trout, brown trout, or rainbow trout, amongst other species such as grayling, chubs, or even bass. 
Montana is the mecca for trout fishing. Locations such as the Madison River, Gallatin River, or Rock Creek have consistently produced quality fish. All of these, plus a myriad of others, always provide an opportunity to hook fish that will test your skill and abilities. 
Some other locations for traditional fly fishing can include Idaho, Colorado, Washington, and states along the Appalachian Trail. 
If those locations sound a little far away, check out the best fly fishing in Ohio.
Stillwater Fly Fishing
Fly fishing in a pond or lake is called "Stillwater Fishing." Stillwater fly fishing is unique in that the water is, well, still.
Typically, an angler relies on the current to help bring his fly pattern to life. The angler must strip the line in and make the fly appear as alive and natural as possible with lake fly fishing. Stillwater fly fishing can target trout, bass, carp, and other freshwater species such as musky or pike.
Trident Fly Fishing | Free Shipping on All Orders | Low Price Guarantee! Try any rod we sell risk-free for 7-days. Ask about our Castability Guarantee. Shop the top brands including Sage, Hatch, Scott, Loomis, Nautilus and more. Shop Now.
Saltwater Fly Fishing
Saltwater fly fishing has rapidly gained popularity in recent years. It is the ultimate test of angler and tackle as saltwater fish species are large and fight hard.
Saltwater fly fishing can take place in backwater creeks and estuaries or out in open water offshore. Target species need the correct tackle. 
Saltwater fish can range in sizes from sixteen-inch sea trout to 500-pound billfish. The fly angler must do their research and determine what tackle they will need when deciding what species of fish they are after. 
Saltwater fly fishing locations are very subjective regarding being "the best" and have many variables; mainly, what species are you targeting? The Florida Keys is the ultimate location for fly fishing. There are so many species that can be targeted both inshore and offshore. 
Other popular locations include the Bahamas, Mexico, Belize, and anywhere else on the coastal Southeast United States. The Caribbean is prime real estate for more exotic species such as bonefish, tarpon, permit, or triggerfish. 
Southeast Coastal areas of the United States are equally reputable for various species such as redfish, tarpon, snook, or cobia. 
Saltwater fly fishing provides more opportunities to go fishing, but there are also more species to target. The only downside to saltwater is that it is harsh on equipment. Corrosion from saltwater requires fly anglers to rinse off all equipment at the end of the day.
Common Fly Fishing Struggles 
The biggest struggle with fly fishing anywhere is accessibility. Other variables can include weather (wind can affect one's ability to cast), lawful access (trespassing or not), and how accurate or far an angler can cast.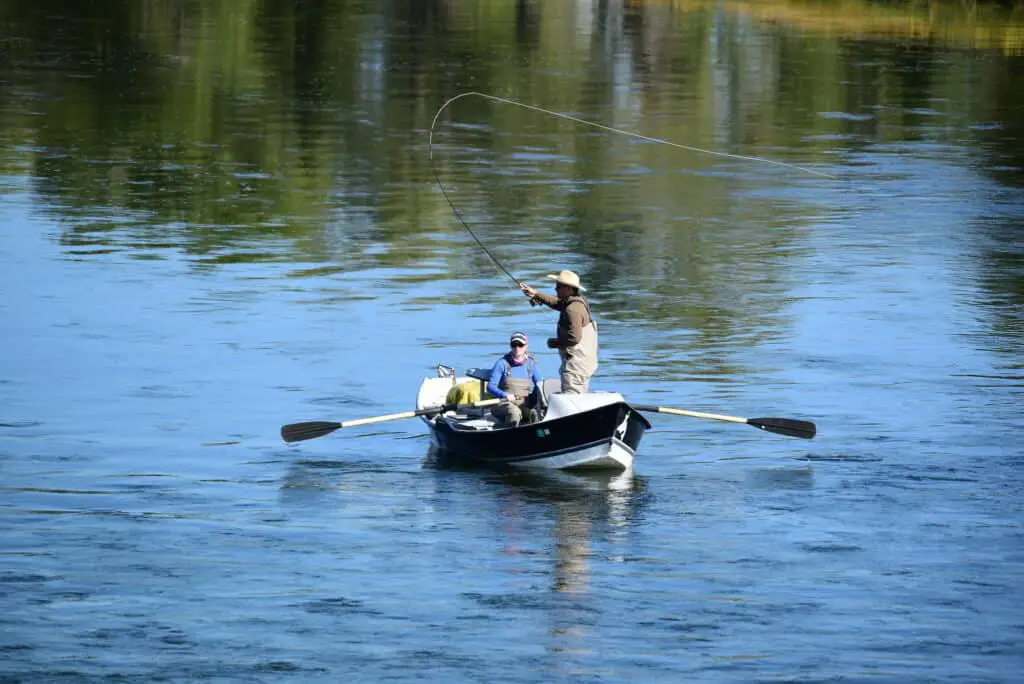 Accessibility
Accessibility can limit a fly angler because of a lack of casting room or if the angler is without a boat. Fly fishing requires a bit of space to perform a good cast. A fly angler must be cognisant of any brush or trees within his or her casting area.
Accessibility also refers to the fact that fly fishing limits the caster to their ability to get the fly where it is supposed to go.
Both distance and accuracy are crucial variables when it comes to making a productive cast. It isn't as hard as it sounds. Fly fishing is not difficult.
Lastly, a fly angler must be able to access the fish. If fishing from shore, the angler is very limited in an area like a large lake or the ocean. However, shoreline fishing is very stealthy as no sound waves are going through the water as there is from a boat. 
Weather
Weather can make or break a fly fishing trip. Too much wind or a crosswind can lead to very frustrating casting. Lightning is another key weather factor.
An average fly rod is nine feet in length, and if you factor in the angler's height, the individual holding the fly rod becomes around a fourteen-foot tall lighting rod. Use caution when dark clouds start rolling in.
When fly fishing, you are more than likely sight-fishing. Your eyes are battling the sun and its glare off the water all day. Use a sunscreen, proper clothing, and most importantly, a decent pair of polarized sunglasses. Costa Del Mar, RCI, and Smith are all reputable polarized sunglass brands. 
Gear
Lastly, the fly angler must select their gear. If fishing from shore or wading, be sure to have comfortable wading shoes or waders. Dress for the elements- lightweight clothing and polarized shades for sunny weather, layer up for chilly locations. 
Your tackle should reflect the size of fish you are targeting too. Three to five weight rod and reels are ideal for streams and rivers if targeting trout, bass, or panfish. 
For larger freshwater gamefish and most inshore saltwater species, seven to eight weight rod and reels are preferred. For bigger saltwater species such as tarpon, shark, and billfish, ten to twelve weight rods and reels are necessary.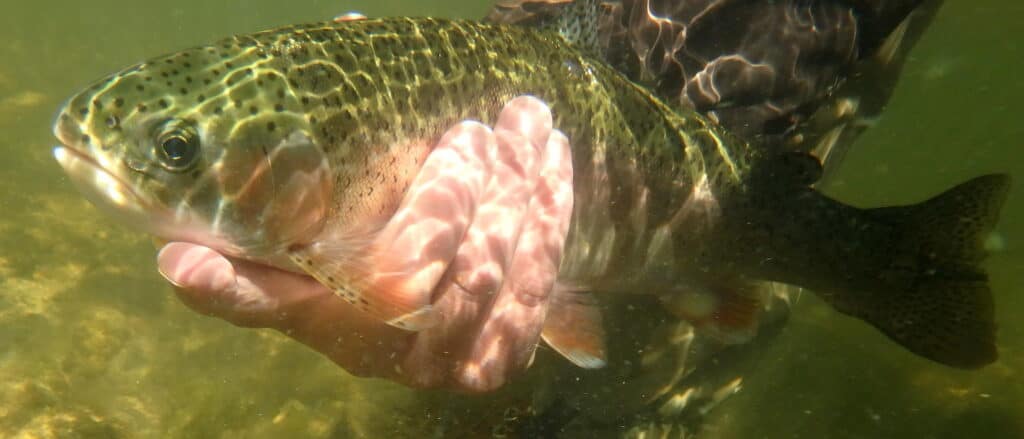 As far as to fly selection, trout and stream species are the most particular. This is when you must "match the hatch" or what the fish are feeding on. Either by looking around the stream and identifying the bugs around or asking the local fly shop, you can quickly use a fly that the fish will eat.
Marine species will eat pretty much any baitfish or crustacean pattern, while large freshwater game species such as bass and musky will eat anything that imitates a baitfish, mouse, or frog. 
Other tools and equipment can include a pair of pliers, landing net, extra leader material, and a small pack for carrying flies and tackle. When wading especially, be sure to pack light and minimal as you have to carry it all day. 
Get a more detailed review of what a beginner fly fisher needs here.
Conclusion
Fly fishing, like many types of fishing, can be done almost anywhere. 
First and foremost, obey the law and do not trespass. If you are allowed to fish in the selected location, make sure you can cast in that area and reach the fish. Also, be sure to use the appropriate tackle, or you may never get a chance to land the fish you successfully accessed.
Google Maps has done wonders for fly and conventional anglers alike because it provides an aerial sneak peek at areas that an adventurous angler can access. Just be sure to tell someone (that you trust won't steal your spot) where you are going in case of emergency.
If you need help finding spots or locating fish, a fly shop is invaluable. The employees working there are experts on their nearby waters and will be glad to help you get set up. Just be sure to help them in return by spending a few dollars on some flies, a shirt, etc. 
Get out and explore. Don't fret over not catching anything in a new spot. Just enjoy finding the location and know that you will not catch a fish with the fly out of the water. 
Good luck, and have fun!