Florida isn't always a state that springs to mind when you consider fly-fishing. Most people think it a 'big game' sort of fishing state. But increasingly, more people are taking to the state's waters with a fly rod in hand. And no wonder.
Florida has some spectacular fly fishing and a huge variety of species to cast a fly at. If you want to try some salt-water fly fishing, then Florida has that in abundance. It even has rivers bubbling with sea trout!
In this article, we will cover some of the major hotspots to fly fish in Florida.
Do I Need A Permit To Fly Fish In Florida?
Firstly, in all likelihood, you will require a fishing permit to fly fish in Florida, although there are exceptions to the rules. If you are unsure, the Florida Fish and Wildlife Commission (FFWCC) has a detailed breakdown of what permits are required and who requires them. 
It is worth pointing out that Florida has two types of fishing permits: freshwater and a separate one for saltwater. Depending on what fishing you plan to undertake, you may need two fishing licenses to cover all your fishing. A guide for visitors requiring permits can be found on this page of the FFWCC web page.
For Florida residents, the information can be found on this page.
Best Tackle For Fly Fishing In Flordia
Your choice of tackle depends on the scope of the fishing you intend to do. Part of the problem here is that the fishing is so diverse that one set of tackle will not cover all the bases. 
Assuming you will tackle some saltwater fly fishing (and why wouldn't you?), you will need some hefty gear. For example, if you intend to fish for permit, then you would need to take a 10 weight rod. A 12 weight rod might be better for tarpon. If bonefish are a likely target, then you would be best using an 8 weight.
One of the big considerations is the wind factor. Expect to be fishing into a strong wind, a lot. This, combined with the power and size of the fish you are targeting, means it is best to err on the side of a heavy rod combo. 
For freshwater angling, of which there is also plenty, lighter gear is required with recommended weights ranging from a 6 weight rod to an 8 weight rod and in some instances down to a 4 weight rod. 
The challenge is that if you intend to do both saltwater and freshwater fly fishing, then at least two sets of tackle would be essential.
If you restrict yourself to two sets of gear, then a 6 weight rod and a 10 weight rod would be a fair compromise to cover most circumstances.
Other crucial items to bring are sunscreen, polarized glasses, a wide-brimmed hat, and finally, insect repellent. Don't forget the insect repellent!
What Species Can I Fly Fish For?
For saltwater fishing, the list of species is extensive. You can be stalking the flats for such species as permit, redfish, or bonefish during the day. There is even the chance of hooking into a sea trout in daylight hours. 
Learn more about the best times to fly fish here, "When is Fly Fishing Best?"
By night, the chance of hooking a big sea trout is always high, and if that doesn't tempt you, how about a big snook, and we are talking really big! And let's not forget the tarpon fishing. 
For freshwater fly fishing, the list is almost endless. Most freshwater species in Florida will take a snap at a passing fly or lure. Amongst the most targeted freshwater species are Florida bream, panfish, largemouth bass, channel catfish, pickerel, and gar. 
For additional information, read "What Can I Catch By Fly Fishing?"
We have only touched on the species that you can fish for in Florida. This is one of the great thrills about fishing in this state, no matter if you are targeting a particular species or not. You just don't know what your next fish is going to be.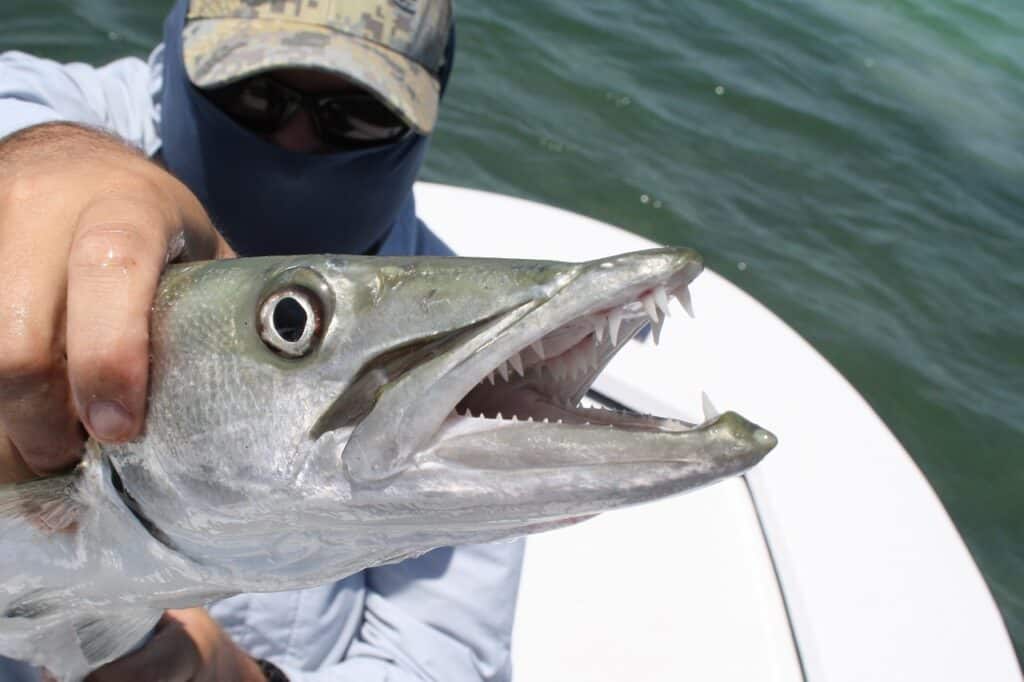 Best Saltwater Fly Fishing Locations In Florida
Saltwater fly fishing is becoming huge in Florida. In this section, we will cover some of the best saltwater fly fishing spots in Florida. 
Biscayne Bay
Biscayne Bay is situated right where the Florida Keys begins. The bay is a fly-fishing paradise. It is peppered with uninhabited islands and has mile upon mile of grass flats with plenty of fishable channels. It is best to employ the services of a guide who can take you straight to hotspots and advise you on the best gear and lures for the occasion. 
Wondering if you need a guide? Read "Should I Hire A Fly Fishing Guide?"
Miami Biscayne Bay Fishing Guide can get you hooked up with a fishing guide to maximize your trip. 
Species that you can expect to fish in Biscayne Bay are permit, tarpon, and bonefish, amongst many others. Because you will likely be fishing in at least a strong breeze, coupled with the size and power of the fish you can expect to hook, powerful and heavy gear is recommended. 
Although Biscayne Bay is mostly within the Biscayne National Park, you won't need a National Park pass to fish, but you will require a saltwater fishing permit. 
If possible, the best way to fish in the bay is by a flats boat. This allows you to cover some of the remotest and lesser fished spots. These are available for rent from various locations around the bay. If you do employ a guide, it is likely included in the package.
A good selection of flies for the trip would include Tarpon Toad, Simon's Hovercraft, Cowen's Baitfish, Mantis Shrimp, and most minnow imitations. 
Pine Island Sound
This area offers a massive variety of fishing. The sound has many islands offering plenty of scope for fishing inlets and bays, as well as Pine Island itself. It also has Sanibel Island, Punta Gorda, Cayo Costa, and Cape Coral. 
From a Pine Island base, the variety of fishing available makes this an ideal spot for those on shorter trips and want to experience the whole 'Florida experience.' Here you can fish the mangroves, beaches, grass flats, and even canals. 
Heavier weight gear would again be recommended because the wind will be your biggest challenge. So those 6 and 7 weight rods will not cut it here. Be prepared to fish at least a 9 weight rod or more. A good guide will be able to lead you to more sheltered spots. Naples Guide Fishing can sort you out with some of the best guides in the area if you fancy a guided trip. 
For species to catch in the sound itself, you can expect to hook into snook and redfish on a year-round basis. If you visit during the spring and summer months, then the chances are good of hooking a large tarpon as they are in the waters for the spawning season.
Other species that are often caught include mackerel, jack crevalle, and seatrout. Because of the size of the fishable area, you might need to be patient, but the fishing can be fantastic! 
For your fly box, make sure to stock some minnow patterns. Good patterns include Snook Minnow and Puglisi Floating Minnow. Another successful pattern is Cowen's Mullet.
If you want to experience all that Florida has to offer in one trip, then this might be the place for you. 
Sarasota Bay
Fly fishers from all around the world visit Sarasota Bay. It is no wonder the sheer variety of fishing is mind-blowing. Among the species you can fish for are spotted seatrout, tarpon, trout, mangrove snapper, grouper, snook, redfish, and even shark. 
From clear sandy inlets to vast grass flats, there is a large area to be covered. The bay is 10 miles long and 3 miles wide and offers a large variety of habitats. Employing a guide with local knowledge would certainly help get you straight to the hotspots. Paradise Fly is based in Sarasota and has guides that know these waters like the back of their hands. 
Another plus about hiring a guide is getting the use of a boat. A boat is crucial to get to the best fishing in this area. Large parts of the bay are heavily developed, and although there is plenty of shore fishing around the bay, they are generally more heavily fished. A boat opens a whole new range of possibilities and leads to a better fishing experience. 
For the gear, you should err on the heavier side. At least an 8 weight rod and line and more preferably a 9 weight is required to get the best from your trip. The usual selection of larger minnow patterns and surface muddlers is always a good choice for fly selection. Sometimes it is necessary to go deep, so a sinking line or even a sinking tip should be packed. 
Mosquito Lagoon
The fisherman's paradise that is Mosquito Lagoon is in the town of New Smyrna Beach. From this point, the amount of fishing available is staggering. The town is situated on a pristine beach that runs for 13 miles. It is also handily placed for those flying in as it is located only 45 miles from Orlando airport. 
Fishing the lagoon is best done from a flats boat, although there is plenty of shore fishing available. If you are looking for a fishing guide, then look no further than Captain Justin Price, who is situated on New Smyrna Beach and is a renowned local fly angler. 
Amongst the species you can expect to hook in Mosquito Lagoon are trout, redfish, tarpon, and snook. If you don't have access to a boat or just want to spend a wandering day casting a fly as you go, then try the Klondike Beach trail. This is perfect for fishing on the move. 
The fish aren't especially noted for their size in Mosquito Lagoon, but they make up for this in sheer numbers. That doesn't make them easy to catch though, stealth is crucial when fishing here, and landing your flies as gently as possible is a must. For these reasons, you'd want to drop a weight or two for fishing these waters. A 7 or 8 weight rig would be ideal. 
However, what Mosquito Lagoon fish lack in size, they make up for with sheer power. So, it is highly recommended that you use a good length of shock leader on your rig. 
As is the case throughout Florida, the wind is a big factor, so weight forward lines are the best option. 
For fly choice, large to medium minnow patterns and a smattering of brightly colored lures will get you started. If you want to see how the fishing is before you set out, then there is an excellent report service here.
Tampa Bay
You cannot write about fly fishing in Florida without mentioning Tampa Bay. Before planning your trip, be aware that motorized flats boats are not allowed to use their motors in large areas of the grass flats.
However, most of the best quality fishing is accessed by boat, so if you are willing to put in the work and do a bit of polling, then the results can be some of the best fishing you've ever likely to see. 
As with all trips, if you want to get the best fishing quickly, it is better to get yourself a guide. Lost Coast Anglers are a great guiding service for the bay. 
In the bay itself, one of the main species you will hook into is large Redfish, these fish will give you a run for your money, so at least a 9 weight setup would be preferable, although dropping down a weight is exciting when you hook one of these beauties. 
The best area to fish in the bay is the area that lies between the Manatee and Alifia Rivers, and the great thing about this strip of fishing is it offers plenty of shore access. 
The usual collection of minnows and lures work here, including the Clouser Minnow and the Puglisi Minnow.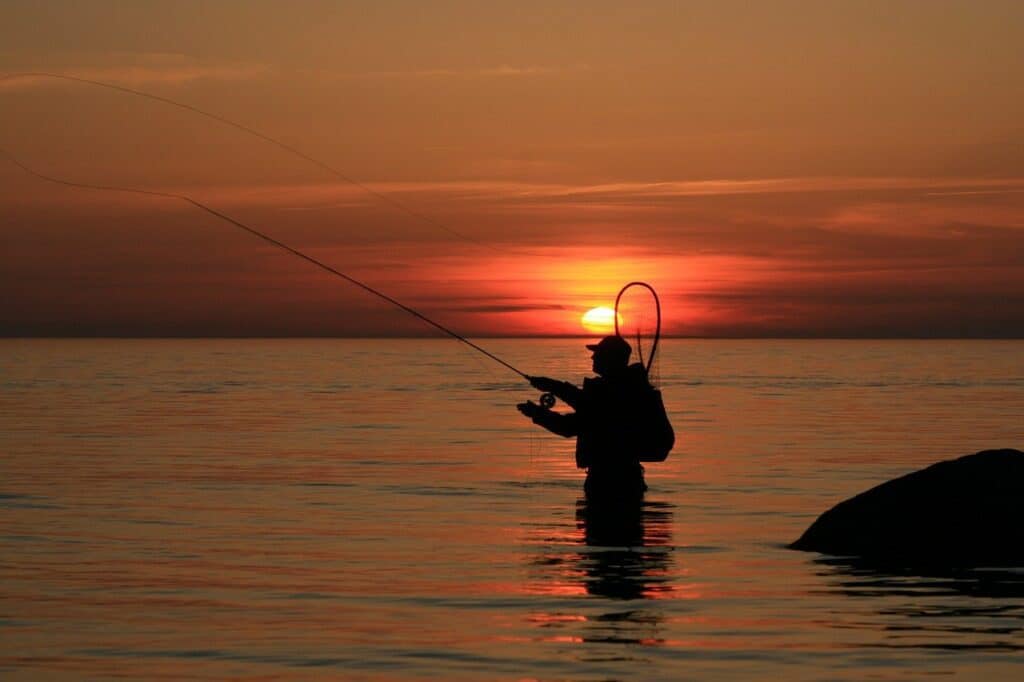 Where To Fresh Water Fly Fish in Florida?
We have only touched on the amount of sea fishing available, but I'm sure you get the picture. However, it is only fair to cover some of the excellent freshwater fly fishing the state offers. 
Want to learn more about saltwater vs. freshwater fly fishing? Read, "Is Saltwater Fly Fishing Different From Freshwater?" 
We will start with one of the most famous fisheries in Florida and one with the best of both worlds available, both saltwater and freshwater. 
Everglades National Park
With plenty of freshwater and saltwater fishing available, this is another area where you can catch the essence of the whole Florida fishing experience in one location. There are trophy fish in both ecosystems, and fishing can be done both from bank and boat. 
If you plan to visit the park for fishing, it is best to visit in the Spring or early summer before the temperatures get too high. During your visit, species to aim for are trout, largemouth, hybrid bass, tarpon, seatrout, snook, and redfish. 
It is best to check what fishing permits you will require because Florida has different permits for both types of fishing, so check before you go. It is also a good idea to check out where the best fishing is happening on entry to the park. 
If you want to hire a guide for your trip, then there are many local guides to help you make the most of your trip, including Captain Jerry Perez, who specializes in fly fishing for Tarpon. 
For tackle, aim to take gear of 8 weight or above, and recommended flies include the GT Pinfish, Shrimp patterns, and the usual minnows that work most places in Florida. 
Winter Haven Lakes
Winter Haven Lakes is a group of 9 lakes linked by canals located between Tampa and Orlando. There are many species to target, including crappie, gar, bass, and tricky carp. It is best to fish from a boat and target the shorelines. However, you can also have great success fishing the bank, and there are plenty of banks to choose from. 
This is where you would want to look out for your lighter weight kit; 5 or 6 weight rod is perfect for these lakes, and the fish will give you quite a fight on the more lightweight weight gear. They do tend to snatch quite viciously, so a shock leader is recommended. 
For flies, any surface poppers or muddlers worked along the weed banks can be very successful. If you're looking for a guide for your trip, then a large selection of guides can be found at a great resource put together by bass-online. 
Fly fishing is a fantastic method of catching bass, and Winter Haven Lakes are known for their trophy-sized fish, with bass of up to 10lbs having been seen in recent years. 
Conclusion
It can take a long time getting round to saltwater fly-fishing if you are landlocked. Florida is an eye-opener as to just how much fun fly fishing in the sea can be, and there isn't anywhere finer in the world to practice that art!