Many anglers' big goal is to catch a plethora of fish species and add them to their all-time list. Every corner of North America offers different species in a variety of bodies of water. Fly fishing is a great way to open your eyes to other species and diversify your catches. 
What species can you expect to catch while fly fishing?
North America has some incredible species to catch on a fly. These species include salmon, a variety of trout, grayling, bass, and a variety of saltwater fish. 
Each of these species has specific details you'll want to be familiar with. And if you're new to fly fishing, don't worry, fly fishing isn't difficult.
Top Fly Fishing Species
Salmon
There are a few salmon types, and most of them are in the Pacific Northwest. This includes Oregon, Washington, Alaska, and British Columbia in Canada. Although there are salmon in the great lakes, these are usually caught through trolling and not fly fishing.
Every year, millions of salmon leave the Pacific Ocean and travel thousands of miles upstream for the spawn. This is when you swoop in with your fly rod and make some casts.
Some of the types of Salmon include Chinook, Coho, and Sockeye. There are known areas for each species, and each one may have a different technique for catching them.
Trout
Like salmon, there are many subspecies of varying sizes and in different areas around North America. Trout is a species that a ton of fly fishers target. This is because they tend to live in creeks and rivers, perfect spots to throw a fly.
If you're a beginner, read what a beginner fly fisher needs to get started.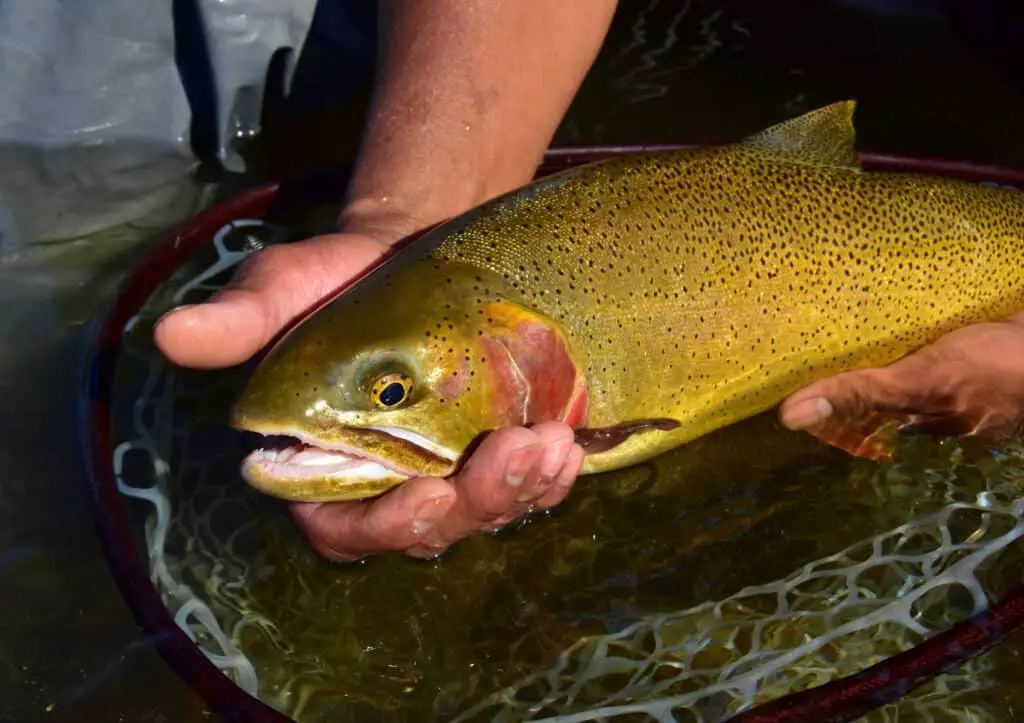 Some of the types of trout include:
Brown Trout
Brown Trout are beautiful golden fish that have colorful spots all over their back. Brown trout live in Colorado's streams, deep in the Great Lakes, and all over Southern Canada. These fan favorites can even be chased in the Lake Michigan inlet next to Downtown Milwaukee. 
Lake Trout
Lake Trout is the most significant player in the Char family of fish. Initially, you could have found these fish in Alaska and Canada like Manitoba and Ontario, but now they have spread to the Great Lakes and parts of Colorado.
Rainbow Trout
Rainbow Trout are very distinguished because of the bright pink stripe down the side of the body. Naturally, Rainbows can be found on the Pacific coast, the Great Lakes, and in much of Ontario and Manitoba. However, Rainbows have become a very popular sport fish and have been stocked all over the planet.
Brook Trout
One the other side of North America lives the Brook Trout. Brook trout are a much smaller fish that calls much of the eastern United States home. More specifically, the Appalachian Mountains are the Brook Trout's mainstay, while they also pop up in Colorado and the Arctic Sea.   
Grayling
Grayling is a pretty unique fish that is found up north. Graylings range includes Alaska, Canada, and Montana in springs and rivers. Like the other fish, it has spread all around through stocking. They aren't trophy size compared to other fish, but their elusiveness is part of the fun. 
Bass
Within the bass family, there is smallmouth, largemouth, peacock, and spotted. The main two that are targeted by many fly fishermen are smallmouth and peacock bass.
Fly anglers love smallmouth because they often live in creeks and streams. They love shallow, flowing water, which is where a majority of fly fishing takes place. Smallmouth is found all over North America, but they are the biggest up north in Minnesota, Ontario, New York, and Michigan.
Peacock Bass are native to Hawaii and Brazil. Over the years, the species migrated to southern Florida and can be fished for Miami canals.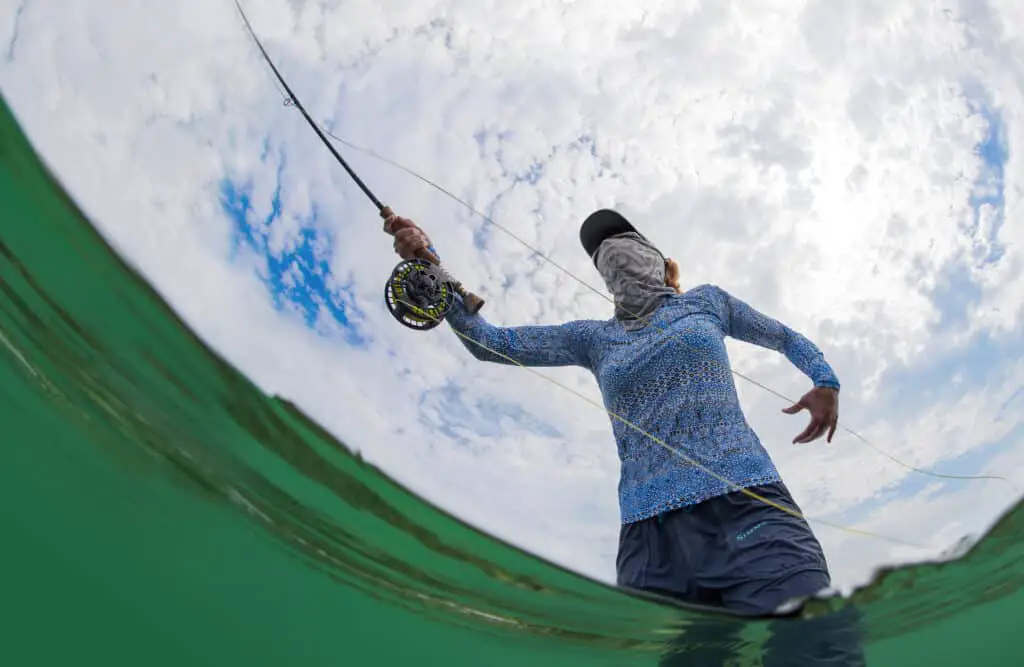 Saltwater Fish You Can Catch Fly Fishing
If you have the fortune of living on the coast, especially where it is warm like the southern United States or Mexico, you have the ocean at your disposal. Fly fishing isn't always about being in the woods and trekking through creeks.
Several saltwater species will destroy a fly. Here are some of the most sought-after ocean fish for fly fishing.
Snook
Red drum or redfish
Striped bass
Cobia
Striped bass
These are just a few of the many species caught on the fly. Generally speaking, saltwater fly fishing requires slightly different gear that is beefed up for the larger species.
If this saltwater fly fishing interests you, see what kind of saltwater fly fishing gear you want to maximize your experience.
Best Seasons For Fishing
Although every place has different seasonal patterns, some general tips follow across the board for fishing seasons.
Depending on the target species, a lot of the peak fishing seasons revolve around the spawn. For example, every late spring or early summer, bass go on an eating spree to bulk up for the spawn. This is a fantastic time to target this species. But, they can be fished for from March to October in many areas.
For salmon, it is 100% reliant on the spawn. Because of that long journey from the ocean, it is essential to take advantage of the salmon run. Specifically, with sockeye salmon, after they spawn, they turn a bright red color and die. There is a small window that needs to be taken advantage of or missed out for the year.
For many of the species described above, avoiding the dog days of summer is a good idea. Yes, these fish can be caught on a 100-degree summer day, but it may not be the best option.
Best Natural Features To Fish
Natural features and scenes vary across North America, but there are some things to look for when finding a new fishing spot. This depends on the species, weather, and geographical location. Because there are many different scenarios, here are some recommendations of what to look for when you seek a trophy fish.
The first location is a northern creek. Maybe this is in Michigan, Minnesota, or southern Canada. This is a very picturesque spot that has flowing water surrounded by a dense forest. Here are some things to look for in this situation:
Eddies and breaks in the current
Down trees and brush piles
Deep holes
Cuts and curves in the bank
Looking for these attributes will help you be a successful fly fisherman.
Another common scenario is going further north and attempting to land some salmon. As already stated, your success is based on getting to the spot in the window of the salmon run. You will look for rivers and streams that are known to hold the salmon run.
This does not require a ton of research as there are known spots that hold salmon a couple of weeks out of the year.
Conclusion
No matter what environment you find yourself in, fly fishing is a great way to fish in new water and seek new fish. 
The beauty of fly fishing is your ability to catch a wide range of fish and some that are not generally targeted with spinning gear. Fly fishing is a great way to broaden your horizons and add some new species to your list!  
Good luck and happy fishing!