New Hampshire is a small state that punches above its weight in terms of trout fishing opportunities. It is crammed full of rivers, creeks, and lakes. Despite its diminutive size New Hampshire has over 900 lakes and over 12,000 miles of river to fish. 
While the predominant species is brook trout (it is the state fish after all), there are also brown and rainbow trout to target, and just as an aside, even the odd landlocked salmon. 
And just to make sure there is always plenty of fishing, the Department of Fish and Game stocks up to a million trout annually. 
Included in the stocking program are several ponds throughout the state that is managed purely as trout fisheries. These ponds are stocked with brown, brook, or rainbow trout and can be stocked up to 1.5lbs in weight! 
If you don't mind a bit of a hike, there are also the backwater ponds stocked with brook trout by helicopter. In these remote ponds, the trout thrive, and after two or three years, it is not unusual for them to have grown to 17". 
For all the above reasons, the 'Granite State' can genuinely be considered a trout anglers paradise.
Do You Need A Fishing Licence In New Hampshire?
To fish in New Hampshire, you must have a valid fishing license. There are various ones available, depending on residency status, age, etc. These can be purchased online before you set out on your trip. It can be completed online at the New Hampshire Fish and Game website.
For the season, it is best to check first before you go, as there are differing dates for individual fisheries. For most rivers and streams, the season runs from January 1st until 15th October. However, rivers that predominantly hold wild stocks are fishable from 1st January until Labor Day. 
Most of the stocked ponds have a season that can vary from pond to pond, but generally, most are open from the first Saturday in April through to mid-October. 
There are also some stocked trout rivers and streams that are open to anglers the entire year-round. 
Brook Trout, Rainbow Trout, Brown Trout Seasons In New Hampshire
| Where | Season |
| --- | --- |
| Rivers and Stream | January 1 to October 15 |
| Wild Trout Stream | January 1 to Labor Day |
| Trout Ponds | 4th Saturday in April to October 15 |
| Wild Trout Ponds | 4th Saturday in April to Labor Day |
| Lake Trout/Salmon Waters | January 1 to September 30 |
| All Other Waters | No closed season |
Where to Fish for Trout in New Hampshire
Now that you know just how good trout fishing is in New Hampshire let's look at some of the highlights the state has to offer.
Given the number of fantastic fisheries found throughout the state, this is far from an exhaustive list. However, it gives you a flavor of some of the excellent fly fishing that New Hampshire offers. 
If you truly want to experience the best this state has to offer, then why not take advantage of a local guide to help you get the most from your trip. 
The Saco River
From its source at Saco Lake, this mainly freestone river works its way from Crawford Notch to North Conway. The river has a population of brook, brown, and rainbow trout and is stocked annually. The brown trout seem to thrive above all in this river, and catching these beauties at 20" is common. 
If you are lucky enough to find yourself with an opportunity to fish this river, then be prepared to wade it rather than a float trip. The water levels are generally too low to float fish unless there have been recent rains. 
Some specific regulations apply to this stream. The length of the river between Lucy Brook to the confluence of Artist Falls Brook is a fly-fishing only sector and has a brook trout limit of 2 fish. 
There is also an area that is put aside for young anglers under the age of thirteen. This stretch runs from Willey pond downstream as far as the dam at Crawford Notch State Park. And here are some great fly fishing rods for kids.
The Androscoggin River
Over 50 miles of this river flow through the state, and for its entire length, it is a trout fishers paradise. Unlike the Saco River, the Androscoggin is best fished by boat or float because although wading is possible, appropriate areas are limited. 
Want to know more about fly fishing boats? Read "What Is The Best Boat For Fly Fishing?"
Along its entire length, the water conditions vary constantly. There are rapids in one section, then just round the corner, there will be deep and slow-moving pools, and before you can blink, rapids again. 
It is this variance that makes the fishing on this river so exciting. And because of these variances, it is best to approach this water in the company of an experienced guide. 
This river also has an area designated as a fly-angling only stretch; this runs from the Errol Dam right down to Bragg Bay. 
Sugar River
Located in the west of New Hampshire, the Sugar River is a 27 mile long tributary of the Connecticut River. The Sugar River is heavily stocked with brown, brook, and rainbow trout and offers some excellent fishing in various river conditions. 
This river is an excellent choice for beginners as the recently stocked trout are easy to catch and offer plenty of sport. For the experienced anglers, the older, wiser trout can be tricky to catch and provide the chance for hooking a bigger fish. 
There is a fly only area in and around the Newport area, but apart from that, anything goes. This river fishes best in the spring and fall as at the height of summer the water temperature can be too high. 
All Year Round Streams and Rivers
There is plenty more river fishing to be found in New Hampshire, including many that are stocked and opened all year.
Lamprey River: This is a great stream for brook trout, and the winter fishing can be spectacular. It can be fished from the high-tide mark up to Deerfield.
Souhegan River: The year-round stretch runs from the bridge on Route 31 to the green Bridge on Old Wilton Road. Although the bank can be tricky to fish from, particularly in the high winter wares, the results can make it worth your while. 
Taylor River: The stretch that lies to the west of Route 95 crosses the river is an all year round stretch. 
Other streams and rivers that are open all year include: – Coheco River, Exeter River, Isinglass River, and the Merrimack River. 
If you are unsure what seasons any rivers or ponds are available to fish, then the New Hampshire Fish and Game have a fantastic resource covering all aspects of angling in the state, including specific seasons and restrictions.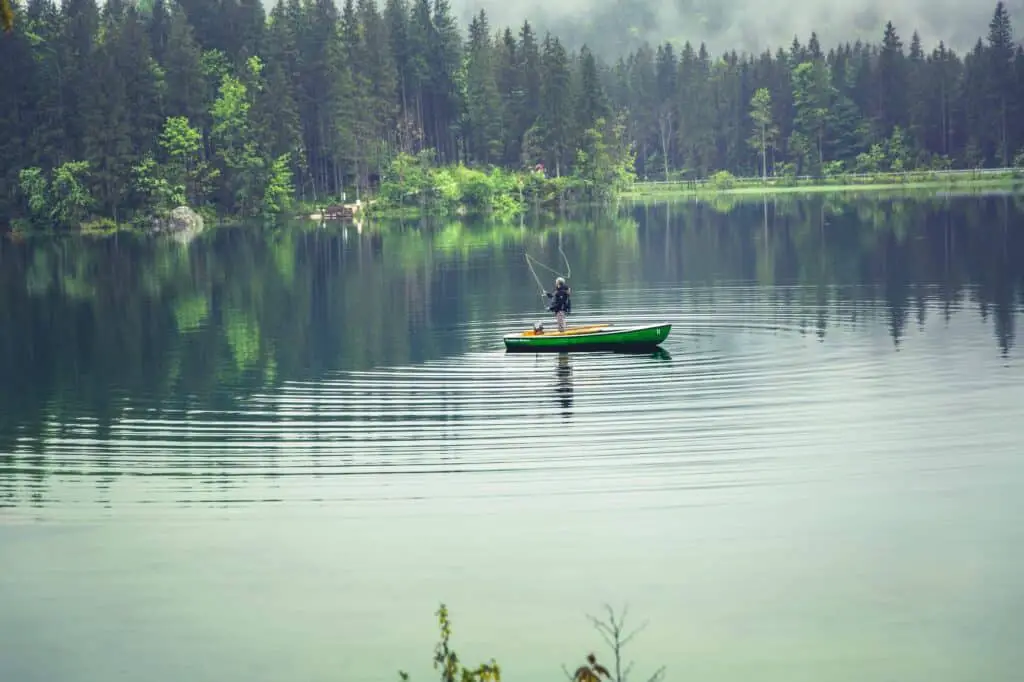 Trout Ponds
Since the Fish and Game Department have gone to so much trouble to stock these ponds, it would be remiss not to mention a few. For those interested, the above link has a comprehensive list of these ponds. 
Coon Brook Bog
From Route 3, take the Coon Brook Bog Road for about two miles. This is a fly only water with a no-motor rule. It is stocked annually. There is plenty of insect life in the summer, so imitations are the name of the game. 
Terrell Pond
The Terrell dam that created the pond is named after a Fish and Game warden who built the dam. This is another pond that has a lively and plentiful stock of beautiful Brook Trout. It also has a fly-only and no motor policy. 
East Inlet
Such named, as it is indeed the East Inlet to the Second Connecticut Lake. This is an excellent pond for those who want to use methods other than fly fishing. It is a general fishing rules water, although it still has a no-motor rule. It is another pond with a plentiful supply of brook trout to keep anglers happy all day long. 
Round Pond
This is another pond that isn't restricted to fly-only fishing. You can also quite happily use a motor on Round Pond. It is deep water and has the usual stock of brook trout, the New Hampshire pond's hallmark. Round Pond fishes well all season, but the season is known to be when the best fishing is. 
There are so many ponds to fish in New Hampshire that there really is something for everyone. These are great waters for beginners and experienced anglers alike. A great list of all the ponds in the state has been compiled by Fishing Northeast. 
Conclusion
New Hampshire may not be the first name that springs to mind when you think of states known for excellent trout fishing. But it has several advantages over many better-known states. If you base yourself in the center of New Hampshire, then you have an incredible amount of fishing on your doorstep, and much of it is all year round. 
Then, the Fish and Game department put effort into keeping the streams and ponds well-stocked. It is an enlightened attitude that bodes well for the future. 
Then there is the scenery. There has been so much fishing to cover that we haven't even mentioned the scenery. It is quite staggering, and it is the jewel in the crown of this trout angling paradise.