In this article, we are going to discuss some of the best fly fishing destinations for beginners. 
Location is everything when it comes to learning to fly fish. Fish should be plentiful, willing, and not likely to rip the rod out of their hands. 
I have fished for as long as I can remember. However, I was into my twenties before I discovered and fell in love with fly fishing. I remember being quite cocky about it.
I mean, I'd fished all my life, I could tie the knots, I knew what everything was, I knew the jargon. How difficult could it be?
Well, I was in for an eye-opener. I turned up with my new Daiwa rod, a reel, a few flies, and a head full of optimism. 
I watched all these experienced anglers casting their flies out, creating great elegant loops of line as they effortlessly launched 100 feet or so of line out onto the water and landing it with barely a ripple.
Then I started. Great coils of fly-line stacked above my head before crashing down about me as I swished my rod frantically backward and forwards. Now and again, I managed to land a few feet of fly-line in the water with an almighty splash. It was frustrating. 
I was embarrassed. 
I shouldn't have been. Fly fishing is the most technical of all fishing disciplines. Anybody can pick up a spinning rod and be casting in a few minutes, but this is not the case with fly fishing. 
Instead of laughing at my feeble attempts, my fellow anglers could not have been any more helpful. Instead of rushing off to waters where there wasn't somebody scaring every fish within a mile, they rushed to offer me advice instead. 
This shouldn't have surprised me; the angling community is always generous with their time and patience. And they'd all been through it themselves. It wasn't too long before I could at least occasionally get a few yards of line out onto the water. 
And then, a moment I'll remember all my life, my first rainbow trout on the fly. The fish was hooked. So was I!
I was lucky. My fishing buddies knew where to take a beginner. It was somewhere that casting would be easy, and fish were plentiful. 
Before we go into the destinations, let's just touch briefly on what tackle would be best for a beginner. 
We also try to recommend a local guide. If you're not sure if you need one, read, "Should I Hire A Fly Fishing Guide?"
What Basic Equipment Will You Need?
For the sake of brevity, we will skip items like waders, vests, nets, etc. We will just discuss what you should consider in terms of the business side of tackle requirements. 
Rod: – Each rod has a different action, some are stiff, and some have softer actions. A good mid-range rod of about 9-feet and rated for about a 5 or 6 weight line would be ideal.
Line: – You will notice that the rod had a rating. Lines are rated as well and should match the rod. If you are buying one line, then the best option is a weight-forward floating line, with the line's weight matching your rod's rating. 
Flies: – You may be itching to try something like a dry-fly, but this requires accuracy and deftness of touch. That will come later. 
For the moment, you want something bright and bushy that will trigger an aggressive reaction in your prey. 
For the record, my first trout was on a bushy fluorescent green, and white lure called a Cat's Whisker. 
For additional information, visit "What Does A Beginner Fly Fisher Need?" or our Fly Fishing Gear post. 
Next, we will look at some of the best locations for fly fishing beginners. We will look at some of the top fly fishing states and cover a great location in each one. 
Fly Fishing In Ohio For Beginners
There is a reason to start in Ohio. There is a lot of perfect fly fishing for beginners in this state. Many of the rivers and lakes are stocked annually with yearling brown trout. This means that there is plenty of medium-sized fish to be had. 
There are also plenty of lakes that have lots of room for throwing a fly. 
Read our article, "Best Fly Fishing in Ohio," for even more details on Ohio locations.
Apple Creek
Situated just outside of Wooster, this is an excellent spot for beginners. It is catch and release so that you won't be taking anything home with you. 
The trout are plentiful and inclined to strike. There is an excellent chance of hooking into some of them. You are unlikely to catch a monster, which might be fun, but at this stage, it is really about learning how to cast and set a hook.
All in all, this is a fantastic spot for a beginner. 
Lower Clear Fork River
The area between State Route 3 and Pleasant Hill Dam has plenty of great sites for beginners. The primary target here is the brown trout that are stocked annually. 
Just to spice things up about, there is also the chance of hooking into a bass or bluegill. While this may sound a bit adventurous for some beginners, more experienced anglers who are just starting fly fishing would enjoy the possibility of hooking something a bit different. 
Read our article, "What Can I Catch By Fly Fishing?" to discover some more exciting target species for fly fishing. 
If you want to learn to fly-fish in Ohio, there are plenty of courses and guided trips available for beginners. Midwest Fly Fishing School has a whole range of options available.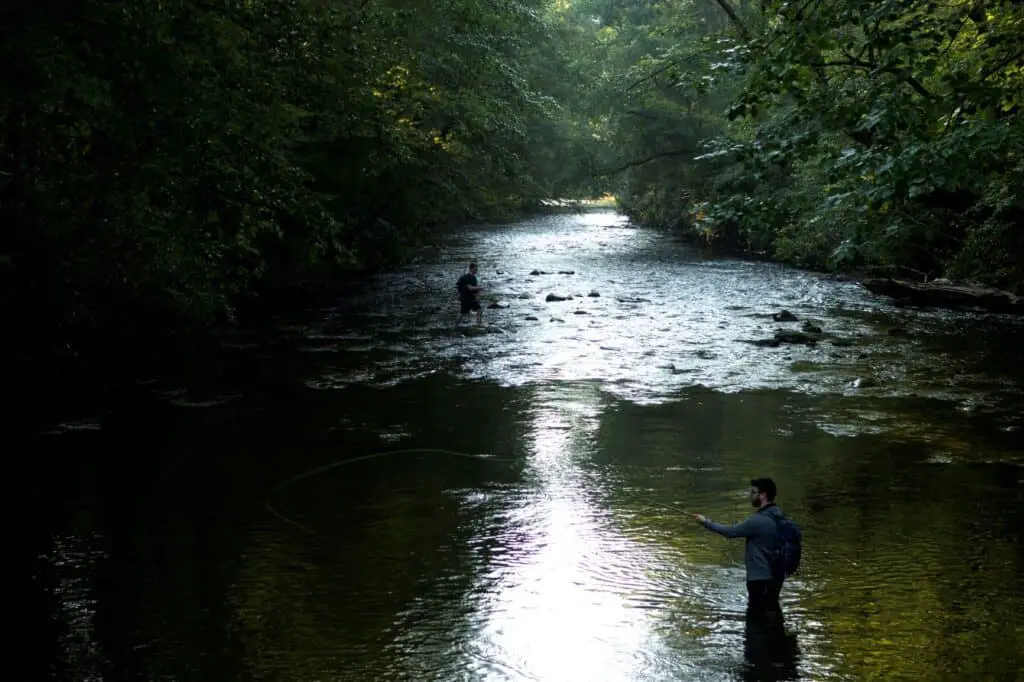 Fly Fishing In New York State For Beginners
New York State has some of the best fly fishing on the east coast and some of the best spots for beginners to learn the art of fly fishing. New York is considered by many to be the cradle of fly fishing in the USA.
Streams of the Catskills, Upper Delaware River
A natural brown and rainbow trout population thrives in an insect-rich environment with plenty of areas suitable for the beginner. Although the fish aren't massive in general, there is plenty of smaller and medium-sized fish to keep a beginner interested. 
Most of the river is open to the public for fishing, but some private stretches are too, so make sure you keep to the right parts. 
It is a great place to start a beginner with a slowly retrieved nymph. Read "What Is Nymphing?" to learn more about nymphing. 
Kinderhook Creek
This is an ideal location for beginners. It is stocked annually with over 10,000 brown trout and has a native brook and rainbow trout population. So, plenty of fish to be caught. 
Although recently stocked fish isn't much of a target for a seasoned fly fisher, these fish are generally on the obliging side and can provide plenty of sport and practice for the novice. 
Casting can be restricted in some areas, but there are plenty of more open sections where the beginner can begin to get that casting practice in. 
New York state is crammed with ideal locations for the beginner, and there are plenty of guides that specialize in guiding beginners throughout the state. One of the most renowned is City Fly. 
They offer comprehensive courses and guided tours to suit all skill levels. 
Fly Fishing In Montana For Beginners
Montana is a Mecca for fly fishers from all over the world. A lot of the fishing here is technical with restricted casting and delicate fly-placement, but there is also plenty of scope for beginners to learn their trade. 
And what a backdrop to do it against, majestic scenery laced with fantastic trout rivers that bubble with fish. 
Learn more about the Best Fly Fishing In Montana. 
Rock Creek River (Lower Half)
Rock Creek River is a river of split personalities. The stretch above the town of Dalles is really only suitable for more experienced fly fishers. However, below the town, the river becomes a different beast. There are plenty of pools with lots of room to mess up those casts. 
There is plenty of rainbow and brown trout to be caught by beginner and experienced angler alike. Although some of them get pretty hefty, they are generally of the right size for a beginner. 
Big Spring Creek
Situated close to and running through Lewiston, Big Spring Creek has something for beginners and more experienced anglers alike. The river itself is easily accessible for its entire length and is chock full of good-sized brown and rainbow trout, and there is always the chance of hooking into a trophy fish.
This river is one that can claim to give the beginner that authentic Montana fly fishing experience. 
Part of the problem with discussing fishing locations in Montana that are suitable for beginners is that there are just so many of them. 
And where there is so much fishing to be had, there are plenty of guides who are delighted to take a beginner out and show them the ropes. Yellowstone Country Fly Fishing offers a complete service and guided fly fishing trips for the beginner. 
Fly Fishing In Alaska For Beginners
What can you say about Alaska? It is the dream of every fly fisher to cast a fly here. 
But it's only for advanced fly fishers, right? 
Wrong, there is no doubt that Alaska is jam-packed with rivers and lakes that are more suited for experienced anglers. But there are plenty of locations for the beginner too.
Alagnak River
Situated in the Bristol Bay region of Alaska, this river is perfect for beginners and experienced anglers. So, if you're heading off on a once in a lifetime fly fishing holiday with a beginner in tow, basing yourself in this area would be a good bet. 
It boasts a good stock of rainbow trout that can easily reach trophy size. You can also hook into beautiful arctic grayling. And for the more ambitious learner, all five species of Pacific salmon can be caught here too!
Denali National Park and Preserve
The Denali National Park is perfect for the beginner. The park has many rivers to fish, and most of them are easily accessible once you enter the park. 
In particular, the Nenana River is located not far from the entrance, so there are no long hikes or treks into the wilderness. 
Throughout the park, the fishing is mainly for rainbow trout.  Although trophy fish are caught, there are plenty of willing smaller fish for the beginner to catch. 
Arctic Grayling are found in many of the rivers. These are feisty little fish and can help the beginner practice playing a fish. 
Alaska is so large that it is impossible to list all the opportunities available to the beginner. For instance, the state has over 3 million lakes! 
With such a variety available, if you are heading to Alaska, it is always better to hire a local guide to get the best of your time in the state. My Alaskan Fishing Trip specializes in fishing trips for beginners.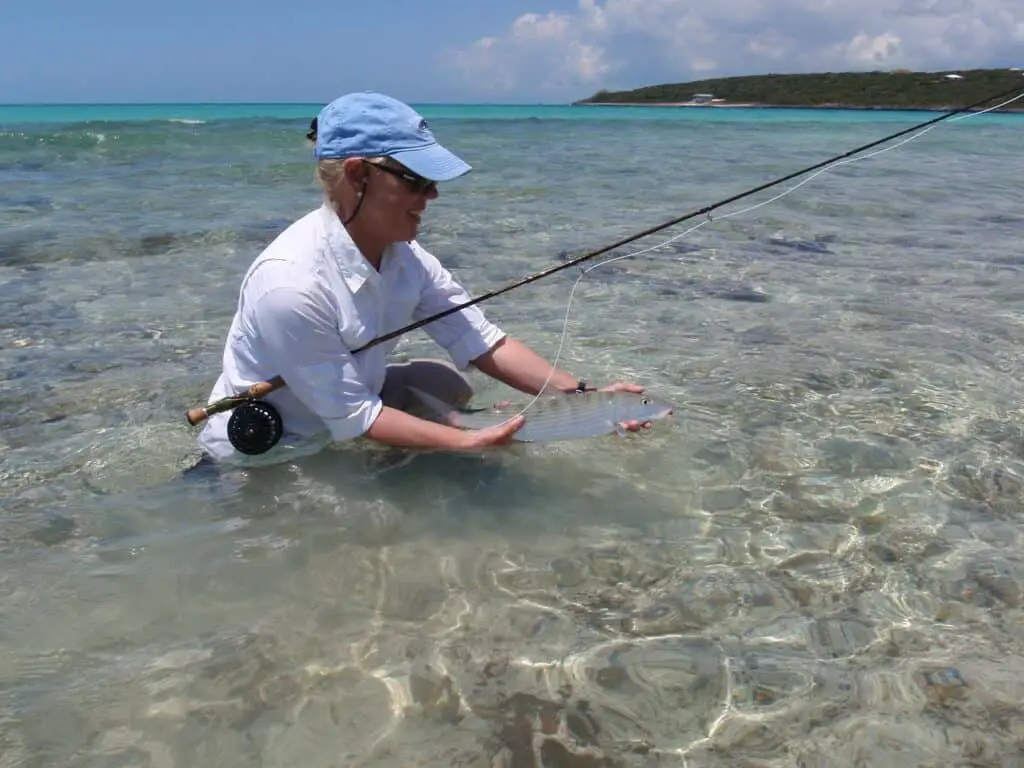 Fly Fishing In Florida For Beginners
It isn't always game fish that attracts people to fly fishing. Saltwater angling has always been popular, and its popularity is increasing. Florida offers some of the best and easiest accessible saltwater fly fishing that will suit beginners and experienced anglers. 
So, if saltwater fly fishing is what your interested in, the state of Florida is the perfect location. It even has some excellent freshwater fly fishing as well. 
Here are some of the best fly fishing in Florida. 
The Florida Keys
Although it can get busy with tourists, and you might have to go through the pain of performing casts in front of a curious and non-angling audience, the result can be spectacular. 
One thing that should be pointed out is that if you are coming to fish here, the tackle listed at the start of the article is probably not what you want to bring. You will need heavier tackle for this type of fishing.
Read "Is Saltwater Fly Fishing Different From Freshwater?" to learn more about the differences. 
If you are here from April through to June, then the tarpon are a common catch. Don't worry if you miss this timeframe. Redfish are there for taking the whole year-round. 
Palm Beach and Martin Counties
If you base yourself anywhere around this area, then there are plenty of options open for the beginner. 
Mackerel can be plentiful, and they are an excellent fish for the beginner to cut their teeth on. Sleek and powerful, they are not in the slightest bit fussy about the presentation of your fly. They will just strike it and run. 
There are loads of places to fish from, from docks to bridges to landing slips. For the more adventurous, there are snook, tarpon, and even tuna to target. 
If you are taking a trip to Florida and want to make the most of your trip, then as with all fishing, it is best to get some local knowledge behind you, particularly for the beginner.
Florida is one of the world's fishing capitals, and there are hundreds of guides that are happy to take a beginner under their wing. 
Dream Catcher Charters offer the full experience for beginners and experienced anglers and can even kit you out for your trip. 
Conclusion
Of course, if you have just picked up that first fly rod and reel and are itching to get started, then there is always somewhere not too far where you can get onto the water for that first fly fishing experience. 
It is almost impossible even to begin to list all the suitable destinations for fly fishing beginners in the US. Every state and county in the country is likely to have some stretch of water that is suitable for a beginner to practice their craft. 
Be sure to visit our Fly Fishing Destinations page to discover even more. 
Also, as I mentioned at the start of the article, anglers will rush to help a novice. 
Ask around, go to your local tackle shop. They are always a font of local knowledge. They can tell you which flies and techniques work on certain waters and when the optimum times to fish are. 
In my biased opinion, fly fishing is the truest form of fishing, a real case of hunter vs. prey. And you never stop learning, from fly and line choice, to how to spot the areas the fish are likely to be lying.
But above all, be patient. Casting a fly is an art. Good anglers make it look easy, and with a bit of practice, it does become easy. But the rewards are fantastic.