There are certain states that spring to mind when you think of great trout fishing. Idaho should be one of them. From the majesty of Yellowstone National Park to the fact that this is the only landlocked state in the Western US where you can fish for Steelhead, Idaho is a trout anglers paradise. 
In this article, we will look at some of the best trout fishing that Idaho has to offer. First, let's have a look at some of the considerations you will have to make before setting out on your trip.
What do I need to know before trout fishing in Idaho?
It is always best to be prepared for setting out on an angling trip, here we answer some of the common questions. 
Do I need a fishing license in Idaho?
Any angler over the age of fourteen will require a fishing license to fish for trout in Idaho. The cost of the license varies depending on the status. Some of the factors that affect this are residency and age. The Idaho Department of Fish and Game (IDFG) website is a great place to find and purchase the exact license you require. 
Is there a trout fishing season in Idaho?
This can vary from year to year, species to species, and even water to water. There is a great resource online, once again provided by the IDFG. Here you can download a free PDF booklet that details all the restrictions and regulations for fishing throughout the State. 
What species of trout can I fish for in Idaho?
There are many species and subspecies of trout to fish for in Idaho, mostly angler will be fishing for:
Rainbow Trout 
Brown Trout
Cutthroat Trout
Brook Trout
Steelhead
Lake Trout
Bull Trout
Native rainbow trout in Idaho is often referred to as Redband Trout. Bull trout are a protected species and must always be released unharmed.
As well as trout, there is also salmon species native to Idaho, including Sockeye and Chinook.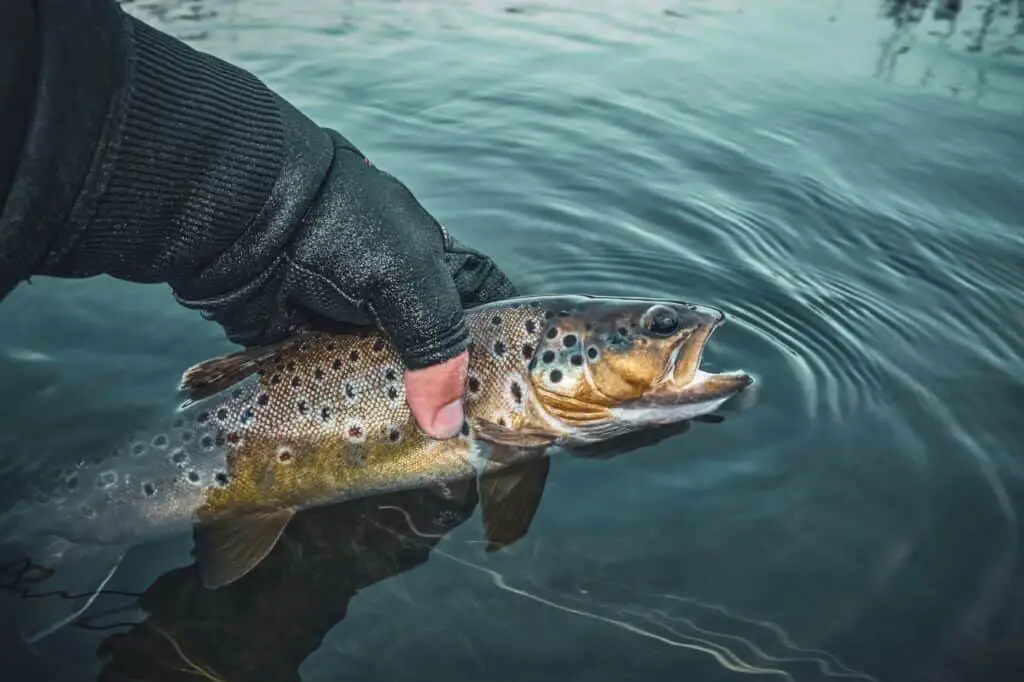 Where is the best Trout Fishing in Idaho?
In an article like this, we can't even begin to cover the overwhelming amount of world-class trout angling that Idaho has to offer.  By necessity, then this article can only cover some of the highlights that this state has to offer. 
Yellowstone National Park
The park section that falls within Idaho is not as rugged and mountainous as it is in Montana and Wyoming. Here it is more of a gentle plateau, but the trout fishing available within the park is still quite phenomenal. And the scenery is stunning, with the distant mountains acting as a backdrop to your fishing. 
There is hiking involved to get to the multitude of streams and rivers within the park, so it isn't for everyone. But for those able and willing to put in the effort,t the results are well worth the effort. Be aware that you will be hiking through country with populations of grizzly bears, cougars, wolves, bison, and moose, so always be mindful of your surroundings.
Within the park's boundaries, you will be mainly fishing for cutthroat trout, and although they aren't huge, they are plentiful and fighting fit. 
If you are in Idaho and want to combine trout fishing with that authentic frontier experience, Yellowstone National Park is worth visiting. 
Middle Fork of the Salmon River
The Middle fork of the salmon river runs for over a hundred miles from the north end of the Sawtooth Mountains to its confluence with the main Salmon River close to the town of Salmon. 
This is one of the great trout rivers in the entire country (despite its name). This is located in another of Idaho's great wildernesses, the Frank Church River of No Return Wilderness area. This area is over 2-million acres of stunning and pristine wilderness, and as such, you will be fishing in some of the most beautiful scenery the state has to offer. 
Of course, the downside to this is that fishing this river isn't going to be a case of parking your car on the highway and ten-minutes later be on the riverbank. This is a fishing outing that is best undertaken as an organized trip. Many local guides can make sure your trip to the Middle Fork of the Salmon River is the trip of a lifetime. 
South Fork Boise River
Situated in Western Idaho, the South Fork of the Boise River is one of the best trout fishing rivers for big trout in the entire state. Visit Idaho has described the river as one of the most famous trout fisheries in the state's southwest. 
Although there is a population of protected Bull Trout in the river, the real target is the prolific population of large Rainbow Trout. Unlike the Salmon River, there is plenty of easy access and miles of riverbank easily wadeable.
You can fish this river all-year-round, although, for optimum times, Spring and fall are best. In the spring, there are large hatches of caddis, stoneflies, and mayflies. But there is plenty of insect life all-year to keep the fish feeding and plump. 
Based in Boise, Idaho Angler can organize a great day out on this river if you fancy a guided experience.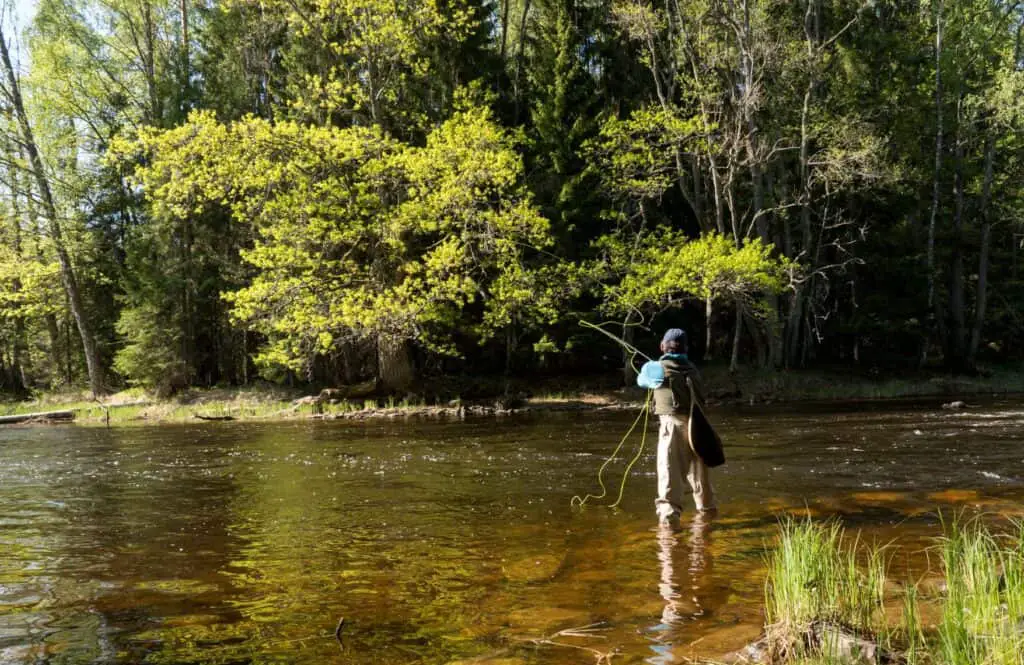 South Fork of the Snake River
The South Fork of the Snake River is one of Idaho's best spots for a bit of float fishing or boat or raft fishing. The Snake River itself may be more famous than its lesser fork, but the trout fishing here can be on a par with it on any given day. Unusually for Idaho rivers, this river is known to fish well at the height of summer, so if you arrive in Idaho at this time, then this is worth considering. 
The South Fork of the Snake River is 60 miles long, and for most of its length, it is difficult to wade, but for those that make it out onto the waters, then the trout fishing can be magnificent. It has a population of hefty Rainbows and Cutthroat Trout and plenty of insect life to feed them. 
North Fork Coeur D'Alene River
Situated in Northern Idaho, the North Fork Coeur D'Alene River is a gem of a river with a name that suggests it belongs on the Azure Coast of France. Yet here it is chock full of trout and situated in Northern Idaho. 
This river is just what you'd expect from an Idaho trout stream. It isn't a huge stream and runs through forests and mountains giving you a stunning backdrop to your fishing.
It offers plenty of easy access to fishing, and if you fancy camping out on your fishing trip, then there is lots of scope for this too. 
The fishing here might not let you catch trophy-sized trout, but there are plenty of eager fish to be caught, and it is one to try if you are in the area.
The fishing tends to be best from mid-summer through to the fall when there is plenty of feeding on the river. Spring and early summer are best avoided if possible as snowmelt can make the conditions tricky, if not impossible, to fish.
Silver Creek
Situated in Central Idaho, Silver Creek is a genuine contender for being one of the most productive stretches of water for trout in the whole state. 
It is also one of the trickiest to fish. Crystal clear and slow-moving water make this a river that isn't for the novice angler. But it is also these attributes that draw anglers from all over the world to come and try their hand on the Silver Creek. 
Stealth, cunning, and a deft touch with a fly rod are required if you want to catch trout on this river. It has an abundance of insect life that the brown and rainbow trout thrive on. There are prolific hatches of Mayfly, Stonefly, Midges, and more that take place at any time of year. It is best to try and 'match the hatch' if you want to tempt one of the trophy fish that inhabit this river. 
Silver Creek is best experienced with a local guide. Local knowledge of the conditions and the feeding on the river would go a great way to helping even the most experienced anglers making the best of your trip to this trout fishing mecca. 
Conclusion
The reaction of any trout angler that has been lucky enough to spend some time trout fishing in Idaho is "wow!" There is barely a stream, river, or creek in the state that doesn't offer fine trout fishing. From the stunning backdrop of Yellowstone National Park to the River of No Return Wilderness Area's beauty, this state bubbles with trout infused rivers.