Illinois is not renowned for its trout fishing, but perhaps it should be. 
The Prairie State has plenty of excellent trout fishing. From urban fishing for lake trout on Lake Michigan banks to exploring the state's 87,000 miles of riverbank, trout fishing in Illinois is plentiful. There is something for everyone. 
And while Lake Michigan is the body of water that Illinois is famous for, there are also plenty of beautiful lakes and ponds with healthy populations of Lake Trout and Rainbow Trout. 
Do I Need A Fishing License In Illinois?
You need a permit to fish in Illinois. The type of license required will depend on the kind of fishing, age of the applicant, residency status, etc. The easiest way to check which type of permit you need is to check out the Illinois Government website, where they have a page detailing the permit requirements. 
In most instances, you will be able to purchase the permit online. The site also lists vendors that you can buy the licenses from.
For trout fishing, you will also need to purchase a 'trout stamp.' The fees collected from this stamp go towards a trout stocking program overseen by the Illinois Department of Natural Resources. This program is committed to an annual stocking of over 80,000 rainbow trout in trout fisheries throughout the state.
Trout fishing for the stocked trout is best done in the spring as this is when the stocking program takes place, and the stocks can get depleted quickly. However, some waters are stocked twice a year, in April and in October, so it is worth checking the stocking program before planning your trip. 
Now that you've got your license let's look at some of the trout fishing highlights available in Illinois.
Where to Fish for Trout in Illinois
While fishing for natural trout populations in Illinois is limited, the stocked waters provide some excellent sport. With the added benefit that in most waters' you fish in Illinois, there are various other species that will rise to your fly or snaffle your bait, so there is always that added excitement. But for this article, we will stick to the stocked waters and briefly mention some of the other species you may encounter. 
Axehead Lake
Situated just outside Park Ridge, this is a 17-acre lake stocked with trout in April and October each year. Each stocking introduces 1000-1500 trout, so there is always plenty of trout to be caught. The stocked fish are usually introduced to the water at about 1/2lb upwards to a maximum of about 2lbs. 
It should be noted that the lake closes for five days after stocking to allow the trout to acclimatize to their new habitat. A full set of the fishing regulations in place on Axehead Lake is available at the Windy City Fishing webpage. 
This lake is probably not a place to go if you are searching for a bit of peace and quiet as the lake is usually packed with anglers, particularly after it has been stocked. The best fishing usually occurs within two weeks of the stocking dates, and there is a five-fish limit in place. 
During the rest of the year, the lake is relatively quiet. There is always the chance of hooking into trout that have survived a frantic couple of weeks after stocking. These fish are generally harder to catch as they have become wary. 
This is a great place to bring the kids or beginners to learn the trade. The water is generally clear, and it is all easily accessible. There is also a population and a stocking program for smallmouth bass.
Lake Michigan
It is impossible to cover trout fishing in Illinois without covering the mother of all lakes in the state, Lake Michigan. On the lake, you will be able to fish for rainbow trout, brown trout, lake trout, and steelhead trout. 
While the lakeshore can be fished from many access places throughout the state, the best way to fish in the lake is by boat. With a boat, you can access much more of the water and go at some of the numerous tributaries and streams prevalent right along the shore. 
Of course, local knowledge is essential with a lake this size if you want to get right to the hotspots. There are numerous guides operating in Illinois that can help you make the most of your trip. 
By far, the prize catch on Lake Michigan is the lake trout. Historically, it was the top predator on the lake until the introduction of the lamprey eel. Together with overfishing, this decimated the lake trout population, and for a time, they were classified as an endangered species. Since then, careful fish management and a stocking program have seen populations rebound, and the lake trout fishery is now healthy again. 
Lake trout are a slow-growing and long-living fish, which means they can get large. They average around 12 to 14lbs, and the record currently stands at 38lbs 4oz. 
The lake trout fishery is open all-year-round, although the spring and fall seasons see the best returns. In saying that, great fishing can be had at any time of the year.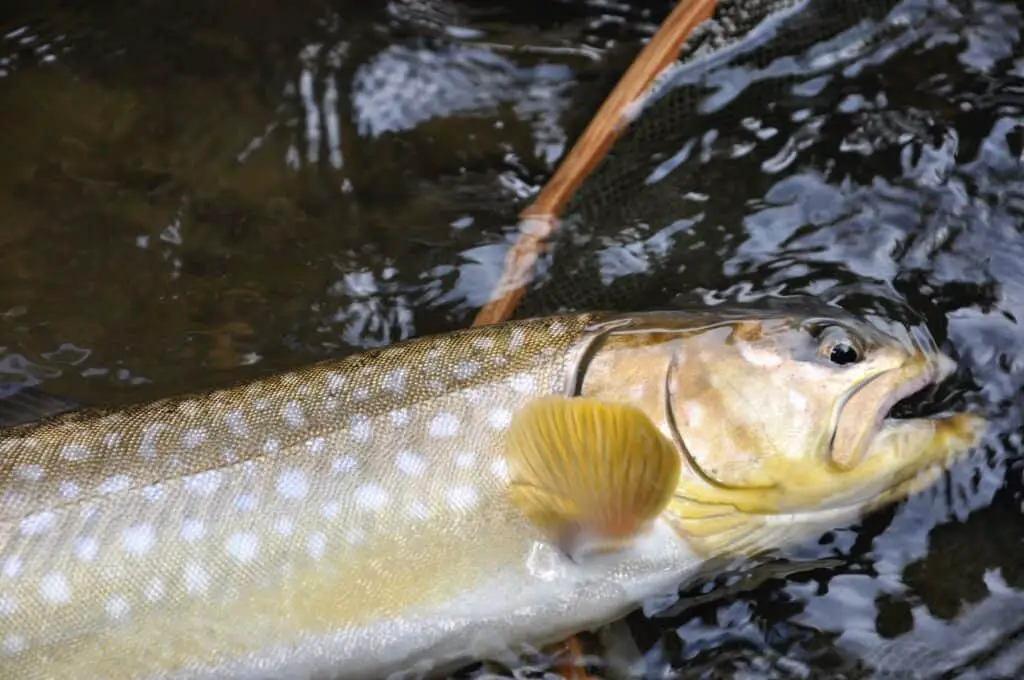 Gridley Lake
Gridley Lake is another of Illinois's inland stocked trout waters. It is located 8-miles north of Ashland within the Jim Edgar Panther Creek State, Fish, and Wildlife Park. It is a beautiful 25-acre lake with two annual trout stockings (spring and fall). 
After the spring stocking, there is a two-week catch-and-release fly-only fishing period, which can be great fun and is brilliant for those learning to fly-fish as the fish are easy to catch. After this, the lake is open to all-comers, and a five-fish limit applies. Boats are allowed on the lake but with electric motors only. 
The trout stocking program was only introduced here in 2014 and has proven to be very popular, and the lake has plenty of feeding, so those trout that do manage to grow on can become large and tricky to catch. For those who enjoy fish-stalking, the lake's clear water is fantastic. 
Among other species you can catch here include an occasional redear sunfish introduced in a mostly unsuccessful stocking program. These should be returned to the water unharmed. 
Devil's Kitchen Lake
Situated in the Crab Orchard National Wildlife Refuge, Devil's Kitchen Lake is another lake stocked annually with rainbow trout. Being larger than some of the other stocked waters, more of the fish have a chance to grow-on in the lake, and therefore there is better all-year-round fishing. Also, due to the water's size, they disperse rapidly as soon as they are stocked, meaning there is no focus on the period immediately, the fish are stocked.
The lake itself has many inlets and arms to fish and in total is 810 acres with over 24-miles of shoreline, much of which is fishable. The lake is situated in one of the most scenic areas of the state, and the ample shoreline and many hidden coves and bays mean you can always find a quiet spot to fish. Although there are plenty of shores to fish from (including a handicap fishing pier situated close to the dam), the best fishing is by boat. 
If you fancy staying close by and renting a boat, there is a list of available campsites, many of which will rent a boat available here.
Beaver Dam Lake
Located in west-central Illinois, within the Beaver Dam State Park, this is a shallow lake of about 60 acres with a fall stocking of rainbow trout. There is a handy boat ramp situated at the western side of the lake, and here you can also hire a boat and stock up on bait and provisions for your trip. 
The fishery closes for trout fishing from the fall to spring, and this gives the stocked fish plenty of time to acclimatize. This policy ensures that the trout that are caught are fighting fit and on the wary side.
While it isn't a huge lake, there usually is plenty of room to find a quieter spot. With boat rental available, there is additional room to get away from the crowds. With easy access to fishing and plenty of fish to be caught, this is an ideal spot for novices and experienced anglers alike.
Conclusion
Illinois isn't famous for its trout, but from the giant lake trout of Lake Michigan to the smaller ponds that are stocked annually, it does have something for everyone. 
And there is always the chance of catching one of the myriads of other species abundant throughout the state.