When you think of Arizona, the first thought that probably doesn't pop into your head is trout Fishing. But Arizona has a secret, for, despite its desert landscape and warm climate, it has some fantastic trout fishing to offer the angler. 
You see, Arizona isn't just desert. It has lush forests and crystal-clear lakes and streams that bubble with trout. So, while the spouse enjoys all the usual luxuries associated with Arizona, like golfing and luxury spas, you can grab your trout rod and head out to see what Arizona has to offer the trout angler. 
In many instances, you won't have to head too far either, for Arizona is one of the few states that offers trout fishing in an urban environment. 
What Do I Need To Know About Trout Fish In Arizona?
Before we look at some of the trout hotspots that Arizona has to offer, let's look at some facts you should be aware of before you set out on that trip.
Do I need a license to fish for trout in Arizona?
The Arizona Game and Fish Department (AZGFD) requires all persons over the age of ten to hold a valid license to fish. The cost of the license varies depending on the length required, age, and residency status. Full details of the licensing rules and where to purchase your license can be found on the Department's Website.
Is there a trout season in Arizona?
Most of the trout fishing in Arizona is open all-year-round. However, some waters may only operate from spring to fall, and others are difficult, if not impossible, to fish in the winter months. The AZGFD operates a year-round stocking program on many of its waters, so if you want to hit the fishery at just the right time, you can check out the stocking dates here. 
What species of trout can I catch in Arizona?
Mostly the state stocks Rainbow Trout, but you can also catch Brook Trout, Brown Trout, Cutthroat Trout, Tiger Trout, and the very rare Apache Trout. There are bag limits on the amount of trout you can keep, and it varies from species to species and from water to water. In most places, the bag limit is six trout of any combination, and the possession limit is twice the bag limit. 
However, as noted, this is a general rule and may vary. For instance, in certain Lees Ferry trout fishery stretches, the restriction is four rainbow trout. 
Where Are The Best Trout Fishing Spots In Arizona?
Now you know all the details you need to know about trout fishing in Arizona, let's look at some of the state's trout hotspots. In this section, we will cover some wild river fishing, reservoir and lake fishing, and a spot for urban fishing for those in a hurry. 
Lees Ferry – Colorado River
You cannot cover trout fishing in Arizona without mentioning the mighty Colorado River. The river's stretch that runs from Glen Canyon Dam to Lees Ferry in the Grand Canyon National park is simply called Lees Ferry, and it offers some of the best trout fishing in the state. 
It also is set amongst some of the most awe-inspiring scenery. The river carves its way through the Paria Plateau. To fish here is truly to be fishing amongst some of the best natural wonders in the land. The river winds through the Glen Canyon and is surrounded by towering cliffs that are often over 1,000 feet tall. 
The waters are crystal clear and perfect for trout as they maintain a constant temperature of 50° all year-round. This river is not part of the AZGFD stocking program. Indeed it was last stocked in the 1990s, so all the trout on this river are natural. Don't be fooled into thinking that because it isn't stocked, it isn't worth fishing. Nothing could be further from the truth. Estimates have numbered the rainbow trout population to be in the thousands per mile!
Optimum times to fish Lees Ferry are in the spring and fall, although the air temperature isn't a huge factor with the river temperature so constant, so the fishing can still be impressive even in the scorching summer heat. 
Much of the river is only reachable by boat, although there are a few areas that can be waded, so if you want to make the most of your trip and get straight to the fish, then you might want to consider a local guide to help you. 
Oak Creek – Sedona
Oak runs through Slide Rock State Park, and much of the fishing within the park boundaries is restricted. However, head upstream from the park, and you will be rewarded with some of the best Brown and Rainbow trout fishing in the state. 
The AZGFD supplements an existing and healthy stock of Rainbow and Brown trout. You can get details of the stocking dates from the link listed earlier. The river is renowned for its trophy-sized fish of both species, particularly in the remote stretches of river that lie south of the West Fork confluence and North of Slide Rock. If you don't mind spending some time and effort getting to your ideal fishing spots, these areas are certainly worth the endeavor. 
Upstream of Slide Rock is a particularly popular spot. The river here is a trout anglers paradise. The river consists of large, clear pools interspersed with gentle riffles, and all along the stretch, there are plenty of undercut banks where the trout love to lie. 
Bait and fly fishing are allowed on the river, so it is open for all types and tastes of fishing, although anglers have been asked to refrain from using any baits in glass packaging. Fly-fishers seem to have the best luck catching the trophy browns, which can be fussy when presented with baits and spinners.
There are plenty of hatches on the river, so for those who fancy trying some fly-fishing, then a variety of nymphs, bloodworms, and stonefly patterns work well. Dry flies are also a good bet. For bait anglers, nightcrawlers work well for any fish, but after stockings, many dough baits will attract the recently introduced fish.
There are plenty of guides available if you fancy a guided trip on Oak Creek.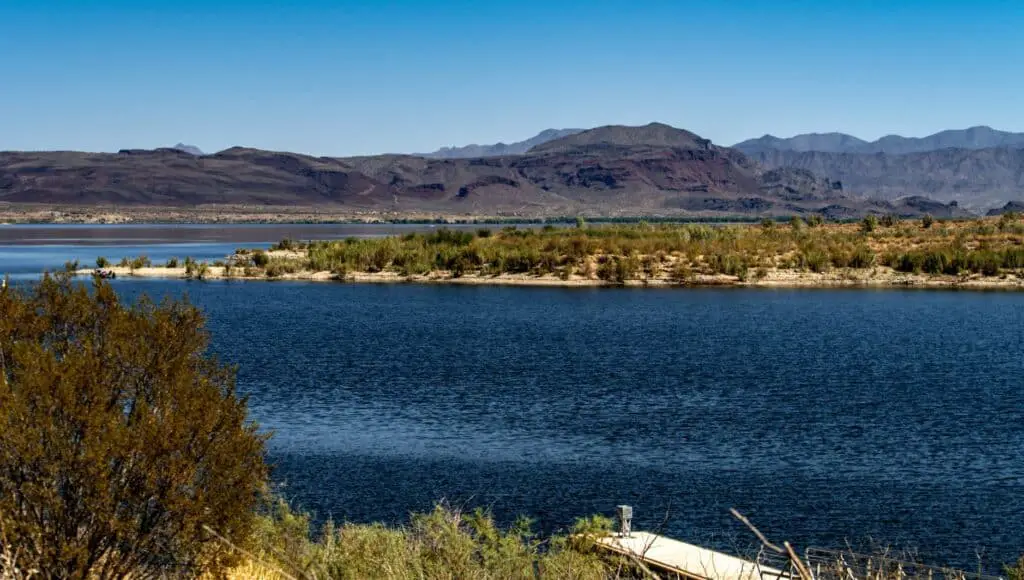 Big Lake
Being situated in the Arizona White Mountains gives Big Lake a stunning backdrop for anglers seeking trout. This is considered one of the best trout lakes in the White Mountain Range. It is stocked with about 40,000 Rainbow fingerling trout annually, which grow quickly in the lake's fertile waters and add to the stock of cutthroat, brown, and the rare apache trout that also inhabit the lake. 
The lake itself is fishable from April through to November and is pretty much off-limits in the winter due to ice and snow. Mainly this is due to its 9,000 feet elevation, but what this does mean is that come the spring, when the water thaws, the trout feed voraciously. At the other end of the season, the same applies as the fish feed heavily through the fall to stock up for the winter ahead. The lake is situated around 30 miles south of Springerville and has access roads from Highways 260 and 261. 
There is a small store on-site where you can stock up on baits and flies and discover how the water is fishing, you can also hire boats, and there is limited fishing tackle for rent. Other amenities available around the lake include boat ramps, 200 camp areas, picnic areas, and fish cleaning stations. More information about the amenities and book camping can be found at the USDA Forest Service webpage. 
The fishing itself is any method, with bait anglers having success on most baits, including worms and paste baits. With spinners and lures also working. Fly anglers should include crayfish patterns and bloodworms, both of which work throughout the season. There are also plenty of hatches, so dry flies and nymphs are also successful. 
Silver Creek
Silver Creek has regular stockings with large rainbows, apache trout, and occasional broodstock monsters that are 25" in length from the nursery upstream. This has made Silver Creek one of the must-visit destinations for trout fishing in Arizona. Situated close to the town of Show Low, this creek offers plenty of fish thanks to the stocking program and matches it with easy access and terrain. All of these factors make it perfect for novice fly fishers. 
As well as the regular stocking program, the river is also home to native Apache trout. While you are allowed to include these as part of your bag-limit during catch and keep season, it is good to put them back. After all, they are not long removed from the endangered species list, thanks in no small part to the efforts of to native White Mountain Apache tribe and the AZGFD, among others. 
It is short in length at only two miles long, but not short in stature. This short length means catching trout is virtually guaranteed, another factor that makes it ideal for novices. Even though it is short in length, there are plenty of habitat changes along its course, most of which is fishable from the bank as wading can be difficult. But even from the bank, you still have access to pools, runs and riffles, and plenty of undercut banks to target. 
The river is open to anglers the entire year but is available on a catch and release basis only from 1st October through until 31st March. For the rest of the season, a six-fish bag limit applies. All fishing throughout the season must be conducted with barbless hooks only. 
Chevelon Canyon Lake
The last two waters have been ideal for novices and those who want to park the car and be fishing five minutes later. Chevelon Lake isn't a huge wilderness hike, but you will need to traverse nearly a mile of pretty rugged terrain to reach it. Is it worth it?
Some argue that Chevelon Canyon Lake isn't the best brown trout fishery in the country but the whole world! While I wouldn't like to argue that point, it is undoubtedly ranked as a world class trout fishery. The brown and rainbow trout that populate the lake breed naturally, and the population is bolstered with twice-yearly stockings. 
Because of the difficult access, it isn't heavily fished, which allows the fish to grow large. 
The lake itself isn't huge at 206 acres, but it is deep, reaching 80ft in some places. It is fed by the Chevelon Creek, which also acts as a spawning ground for the trout population. As well as the regular stockings, there are also native trout to target. Renowned for its trophy-sized browns and rainbows, this is a must-visit for those willing to put a bit of effort into fishing. 
Boat fishing is largely impossible unless you fancy hiking a boat to the lake, but bank fishing is plentiful, and floats can be easily carried to the lake if you fancy a trip onto the water. For those that make the trip, not only are they presented with stunning fishing, but stunning scenery in which to fish. The lake is peaceful due to its location and surrounded by forested banks with breathtaking views. 
There are limited camping facilities nearby for those wanting to stay overnight, but they are quite spartan. Full details are available at the US Forest Service webpage. 
Other Great Trout Fishing in Arizona
While the above list covers some of the main trout fishing in the state, there are plenty of other waters that more than deserve an honorable mention.
Reservation Lake
Situated in the White Mountain Apache reservation, the lake is where the state record Brown trout was caught, which weighed in at 24lbs! It has a short season due to its high altitude but is open from Mid-May to the end of November. 
Stocked twice a year, the trout have plenty of room to hide and grow in the lake's deep waters and grow they do. If you want to catch trophy browns and rainbows, then Reservation Lake has them. It also has a good stock Apache trout. Camping is available for those who wish, and a White Mounting Apache Permit is required for both camping and fishing.
Tonto Creek 
Situated in Gila County, Tonto Creek is an easily accessible river with plenty of fish, thanks to a regular stocking program. It can get busy, particularly in the summer, with many people taking advantage of the ample camping available nearby. 
Open for bait and fly-fishing and populated by rainbow, brown, and apache trout, it has plenty of good runs, riffles, and clear deep pools to target. It is possible to wade in many places, but the bank is also easily fished throughout its length, which is another plus for beginners. 
Woods Canyon 
Another location that is likely to get busy in the height of the summer season, mainly due to its proximity to Phoenix, but if you are in town and want somewhere convenient to fish, particularly in the spring or fall, then this is right on your doorstep. There are boat rentals and an onsite shop on the lake, as well as plenty of camping. 
The trout are stocked regularly, and although most of the stocked fish are caught quickly, enough of them survive to give the lake a population of large and fit fish. Some of the stoked fish are also introduced at trophy size too!
X Diamond Ranch
X Diamond Ranch is excellent for those who want guaranteed seclusion and don't mind paying a little extra for the privilege. Only this private stretch of water offers some of the best Rainbow trout angling in the State for fly anglers. 
The ranch strictly inhibits the number of anglers allowed to fish on a given day, so booking is always advisable. At the time of writing, a half day's angling cost $35, and considering the water is stuffed with rainbow trout that regularly touch 18" and more, it can be regarded as money well spent. 
Conclusion
Not bad for what many anglers consider a desert state! The range of fishing, landscape, and habitat that Arizona offers is simply stunning. From tree ringed mountain lakes to rivers flowing through sandstone canyons 1,000 feet deep, there isn't another state that can offer such extremes of environment. 
Then there are the trout. The natural populations bolstered by the Arizona Department of Game and Fishery's enlightened attitude have led to lakes and streams abundant in fish. 
Of course, there is the chance to fish for one of the rarest of all trout species, the Apache trout. Once endangered, these fish have been brought back from the brink by the hard work of local tribes and AZGFD. 
Arizona is well worth a visit for any trout angler.