When most anglers think of trout fishing locations, they think of glacier or mountain-fed streams and rivers surrounded by towering forest and bubbling over with trout. This is not the picture that springs to mind when you think of Iowa. But trout anglers shouldn't despair. 
Iowa has some fine trout fishing, and although there are some wild trout, the quality of the fishing is mainly due to the hard work done by the Iowa Department of Natural Resources. (DNR) The northeastern region, in particular, has fantastic trout fishing.
The bulk of the trout fishing in the state can be found in the state's northeastern part. In this area, over 50 trout streams are regularly stocked from the state's three hatcheries. In addition to the stocked waters, there are also at least 50 fisheries with wild breeding populations of brook and brown trout. You can see a list of the wild fisheries here.
On the stocked waters, the DNR states that they introduce 300,000 to 400,000 weekly from April through to October. They also introduce 600 brood trout weighing upwards of 2lbs. Most of the stocking program consists of rainbow trout, but many of the streams have resident populations for brown trout. Full details of the dates and places of trout stocking are provided by the DNR website, a great resource to increase your chances. 
In this article, we set out to explore some of the best trout fishing in Iowa. 
Do I Need A License To Fish In Iowa?
Like most states, Iowa requires a fishing license. There are separate licenses for residents and non-residents, and throughout Iowa, there are 700 local vendors from whom you can purchase your license. 
The Iowa Department of Natural resources also has an online facility for purchasing a license and a webpage with the details of which license you will require. 
The fishing restrictions and regulations are also available on the same site. This is where you will find season dates, catch limits, and any waters that have specific dates or catch and release policies. Most of the fishing is available year-round, but restrictions are noted on the web page.
Similarly, unless otherwise noted on the page, the catch limit is 5 per day total combined. There are also certain rivers and stretches of rivers that are restricted to artificial lures and flies.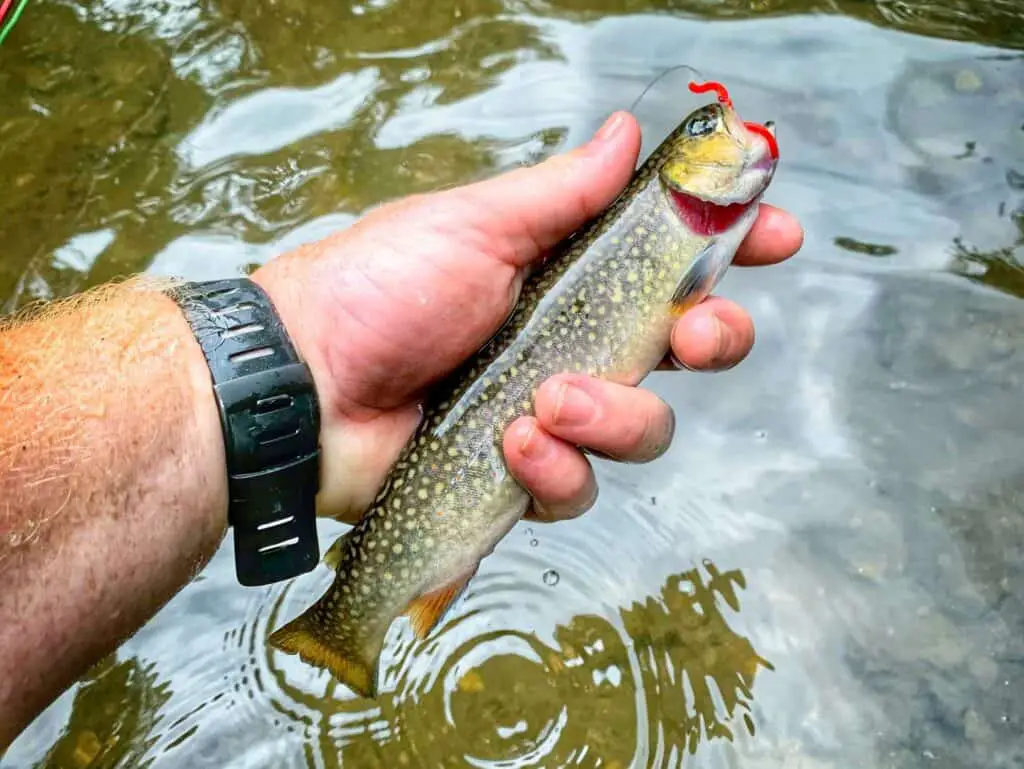 Where Are The Best Places To Fish For Trout In Iowa?
As mentioned, the bulk of the trout fishing in Iowa is found in its northeastern portion. Which at least narrows the choice of the area down. However, when it comes to narrowing down the selection to which rivers, the choice becomes trickier. 
Now I'm not a geologist, but I am reliably informed that the rivers in this part of the state were not affected by the last ice-age, and as such, they weren't exposed to a phenomenon called 'glacial drift.' This has left the rivers of this part of the state so suitable for sustaining a trout population. 
Another factor to consider before looking at the best places to fish for trout is when the best time of year is. In Iowa, the fishing is year-round, but the optimum time is the spring and the fall for most fisheries. 
Like many state, hiring a fly fishing guide may be helpful.
Waterloo Creek
This is one of the real draws for trout anglers in Iowa. The river is a tributary of the Iowa River and is an absolute cracker to fish. The river is stocked each week from April through to November with both brook trout and rainbow trout. Generally, these all fall between the 10-to-12-inch size range. However, a good number of larger rainbows are introduced throughout the season. 
Another draw of this creek is the population of breeding brown trout that can be caught. These can grow to large sizes, and hooking one of these specimens highlights any trip. Latest estimates have shown a population of at least 700 brown trout per mile throughout the creek's 10-mile length. These are trickier to catch, and stealth and patience are required, but the results are worth it!
The fishery is split into two distinct sectors, the upper sector down to highway 76 is where the river is stocked, and the fishing is open to most methods. The water is strictly catch and release below this, and the methods are restricted to artificial lure and fly only. 
Access to the water is fairly easy even though the land around it is, in most part, privately owned. This is due in no small part to the agreement that the Iowa DNR has made with landowners to allow access to the state's streams and creeks.
Paint Creek
Paint Creek is a tributary of the mighty Mississippi and runs for 11-miles through the Yellow River State forest. It is another creek stocked weekly from April to October with brook and rainbow trout sized between 10 and 12 inches. Like Waterloo Creek, it has a good head of wild brown trout, although they aren't as numerous. Recent estimates have put the population at somewhere between 130 – 150 trout per mile. 
The creek also happens to be in one of the most scenic areas of the whole state, which really adds to the experience. And if you are looking to make a camping and fishing trip, this is perfect for you. The Yellow River State Forest has great amenities for campers. A great source of information can be found at the Iowa State Parks website. 
There is a bag limit of five fish per day, and it can consist of brook, brown, and rainbow trout. Paint Creek is a great place to camp and fish, making it perfect for a family fishing trip and, the regular stockings, an excellent creek for beginners to learn the craft. 
Yellow River
This river is stocked annually with around 50,000 fingerling brown and rainbow trout. Being able to grow-on in the river makes these fish cunning and trickier to catch, so this river is better for the purist and the more experienced angler. Unfortunately, the state has no agreements in place with adjoining landowners, so this river must be fished by boat or canoe for the most part. 
The river is located about 11 miles from Monona in Allamakee County, and there are boat launch points at various points along its length. If you are lucky enough to have a landowner's consent, then bank fishing can be successful here as the fish like to lie in the shade of the bank when not feeding. 
The bag limit is five trout with no size limits imposed, but the state does appreciate it if you carefully return smaller fish. And so do other anglers!
The river is best fished in the spring or fall as the fish are generally not as active at the height of summer, although the fishing can still be pretty exciting on cooler days. If you want to go further and establish the best time of day to fish, Hook and Bullet have put together a handy chart showing the best times to fish the Yellow River.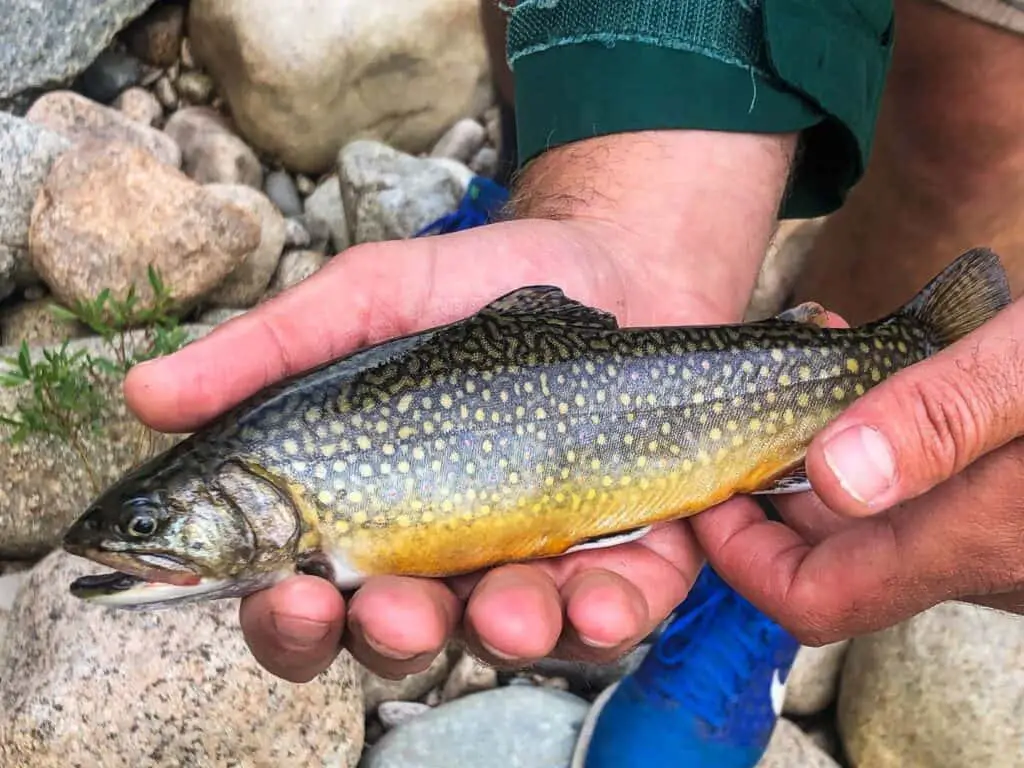 Turkey River
The Big Springs Trout Hatchery is located on this river, so it isn't a surprise to find out that this is one of the best-stocked rivers in Iowa. The Turkey River is stocked twice weekly from April through to October with rainbow and brook trout. So it doesn't matter when you arrive in this period there is always plenty of fish to catch. 
With plentiful fish to be caught and a whole array of nearby amenities, this is another excellent spot for a family fishing break and beginners. There are several campsites along its length and nearby and easy boat launching facilities. 
It is also easy for bank anglers as there is plenty of access along its entire length. It is a river that makes it easy to fish. 
The creek itself flows through some stunning countryside and, at times, can widen right out and give you the impression you are fishing on a Montana river. 
There is the same 5-fish bag limit that applies across much of the state, and there is no limit on the size you can keep. 
In addition to trout, the creek also has a population of smallmouth bass and walleye. So that trout on your line may not be what you think. 
Conclusion
The Iowa DNR has gone to great lengths to ensure that the state has a healthy trout fishery. Their stocking program must be one of the most enlightened of all the states, and with landowner agreements in place to ease access to fishing across many of its fisheries, they have gone that extra mile. 
Iowa's northeastern region has to be considered one of the best trout fishing destinations in the country.