South Carolina isn't an obvious choice when it comes to selecting great trout fishing states. Nonetheless, the amount and scope of trout fishing available are surprising. An enlightened state stocking program and some stunning waters to fish make this state one of the most underrated trout fishing destinations. 
In this article, we will look at some of the best trout fishing Carolina has to offer. 
What do I need to know before Trout Fishing in South Carolina?
Before we check out what the state has to offer, let's have a look at some factors to consider before you plan your trip. 
Do I need a license to fish for Trout in South Carolina?
You will require a license to fish for trout in South Carolina. The cost of the license varies depending on factors like age and residency. A complete list of vendors and information on the license you require can be found on the South Carolina Department of Natural Resources (SCDNR) website.  
When can I Fish for Trout in South Carolina?
Mostly you can fish all year round, some waters do have a catch and release only seasons, and others are catch and keep all year. For bag limits, there is a state-wide limit of 40 game fish! However, many good trout waters operate tighter limits, usually in the vicinity of 5 or 6 fish per day. Many of these are available on the trout page of the SCDNR website. 
What Species of Trout can I catch in South Carolina? 
In South Carolina, the main trout species you can fish for are Brown Trout, Brook Trout, and Rainbow Trout. The state stocks all three species though Rainbows are most prevalent.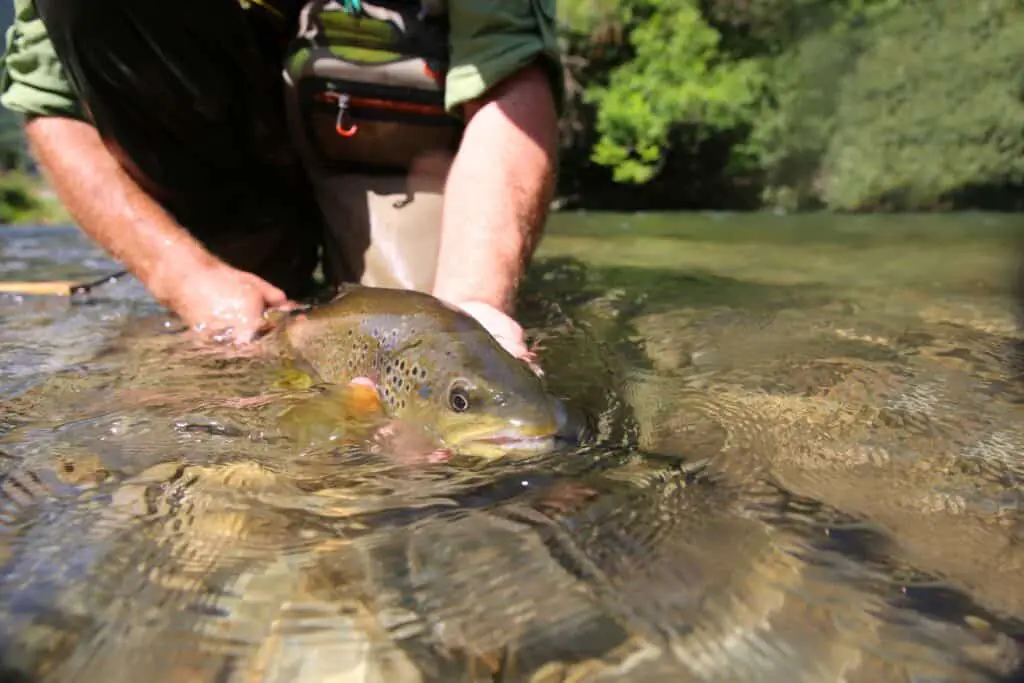 Where To Fish For Trout In South Carolina?
There is a surprising variety of types of trout fishing in South Carolina, from rugged rivers that involve some hiking and effort to well-stocked reservoirs that can be easily accessed by car. It has something to fit all angling purposes. 
In this list, we shall cover some, but by no means all of the great trout fishing available in South Carolina. 
Lower Saluda River
This is a tailwater river that is fed by Lake Murray, situated west of Columbia. The river is fishable from below the Saluda Dam. This river is part of the stocking program run by the SCDNR. It is stocked with around 40,000 trout each year. While many of these fish are juvenile browns, which are stocked each fall, Rainbow trout of catchable-size are added each month from November through to May. 
The fish thrive in this water, and catching trophy-sized brown and rainbow trout is a common occurrence. It is "catch and keep" water all year round with a bag limit of 5 fish of which only one can be above 16". There is also no restriction on bait fishing methods.
Much of the river is bordered by private land for its ten-mile length, so that access can be tricky, but there are some access points for those that want to wade fish the river. The most commonly used access points are on the south bank at Hope Ferry Landing. For North bank access, the easiest place for access is from the Saluda Shoals Regional Park. 
While the stocking program assures there is fantastic winter fishing, for those that want to challenge themselves, the months of May and June are more for the purist. With the stocking program finished for the season, the river is quieter, and the fish that are left are feeding naturally on the large insect hatches the river has. For the fly angler, this is the best time of year. 
If you fancy a guided trip to this river, Saluda Valley Guides have years of experience fishing here and can organize bank and float trips. 
Chattooga River
This is renowned as one of the best trout rivers in South Carolina. The river itself is a tributary of the Tugaloo. For most of its meandering journey, it passes through US National Forest lands, so access is available along most of its course. However, some of the best trout spots can involve a bit of a hike. 
This is a fly only water from November 1st until 14th May and operates a strict single hook artificial lure policy. It is also catch and release only during this period. For the rest of the year, bait methods are allowed, and a five-fish limit with no size restrictions applies. 
This river's stocking is carried out during the catch and release period and is concentrated on a three-mile stretch of river that runs from Red Creek to the Bridge at Highway 28. Despite its catch and release policy during the stocking period, it is still heavily fished and would make an ideal fishing experience for a novice fly-angler as the fish are easily fooled. 
For more experienced anglers who want more of a challenge, the stretch of river that is north of Burrell's Ford is where the wild trout hide! This is where to go if you like to stock your prey. 
Downstream of the Ford is where you will find the stocked fish, so this position makes a perfect place to tackle the river, with fishing available for novice and experts alike (and frustrated experts). Even better, there is a free campsite situated here too!
Whitewater River
With a hefty population of wild and stocked trout, the Whitewater River is one of the premier trout waters in South Carolina. With a source in North Carolina, the river runs close to the border, and in some places, it is possible to stray into NC, be aware of this as your South Carolina license does not cover you. 
There are two spectacular waterfalls on the stretch of river in SC, known as the upper and lower falls, and it is in this stretch that most of the best fishing occurs. The river operates a year-round 5-fish bag limit and artificial lure only. This is strictly a no bait river, which makes it a bit of a fly-anglers paradise. The wild trout and the surviving stocked fish thrive on the river's rich waters, and although insect life isn't overwhelming, there is plenty of feeding judging by the size of the trout that comes of it. 
For the best time to fish the river, the spring can be great for adventurous souls with good caddis hatches. However, the river is still quite swollen at this time of the year and can be dangerous when wading. Exercise caution if fishing at this time of year. 
Summer is also excellent for fishing the river. It is mostly well-shaded and keeps cool right through the hottest of summers, so the fish are rarely not feeding. Stonefly hatches are common so bring a few fly patterns to cover this. 
It is best to check the conditions before setting out during the winter and fall because the river can get dangerous and the fishing tricky. 
Regardless of what time of year you fish, the Whitewater always take a good range of minnow imitations and lures as the trout feed heavily on small fry all year-round.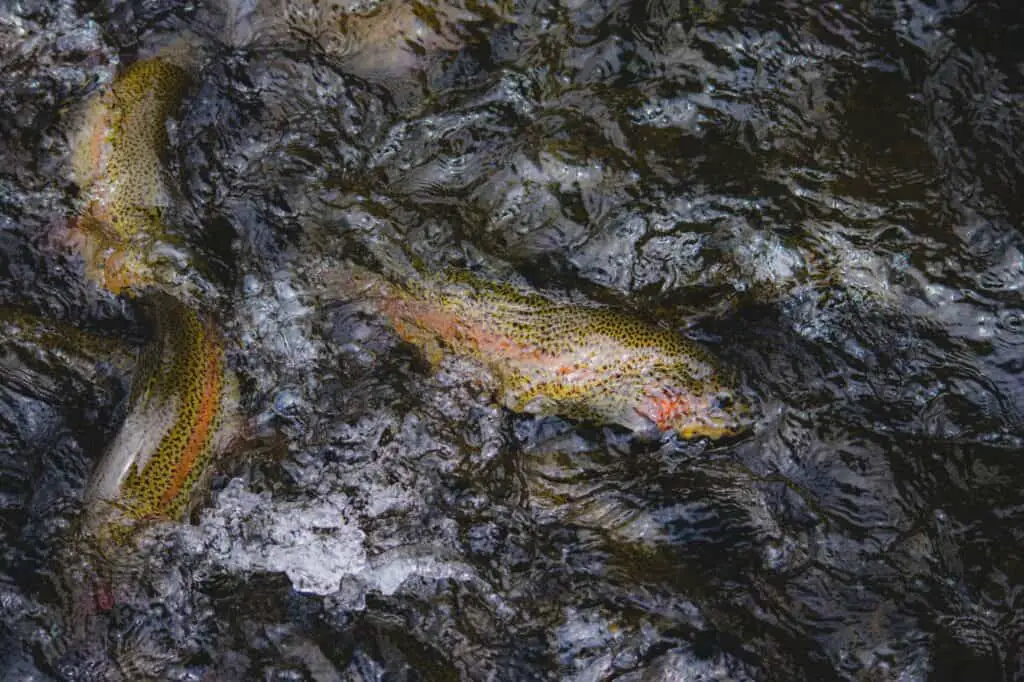 Lake Jocassee
It would be unfair to write about trout fishing in South Carolina without mentioning at least one Lake, and if you are going to pick just one, then it has to be Lake Jocassee. This seven and a half thousand-acre lake is situated in the South Carolina Mountains and was formed by the Whitewater, Toxaway, and Thompson Rivers damming. The reservoir can be accessed through the Devil's Fork State Park. 
The lake is stocked with brown and rainbow trout, and boy do they thrive in its cold clear waters. The state records for both species were taken from this water, and trophy-sized fish are frequently caught. For the record, the Brown trout was a whopping 17llbs and 9ozs while the Rainbow Trout weighed in at 11lbs and 5ozs. Not bad for a state not regarded as a trout state. 
If you are looking for the big trout, most experienced anglers suggest sticking to the deep waters at the mouths of rivers. Some of the best ones to try your luck with include the Toxaway, Whitewater, and Horse Pasture Rivers. 
Summer fishing is tough on the lake, so if you plan a trip, then the spring and fall are the best times. During the summer, the trout like to hide in the depths, and there is plenty of depth for them to hide. 
Conclusion
The South Carolina Department of Natural Resources has put a lot of time and effort into making sure the state has a viable trout fishing scene. And it worked. Throughout the state, you are never too far from some superb trout fishing.
This article has only scratched the surface of the fishing that South Carolina has to offer. If you look at the SCDNR webpage, you can see the stocking program's scope and get a better idea of the sheer amount of stunning trout fishing available.