Ask anyone what springs to mind when they think of Kentucky, and you can virtually guarantee that horses will get mentioned many more times than trout will. 
Thanks to a healthy native population fortified annually by an ambitious stocking program, Kentucky harbors some of the US's best trout fishing. Each year, the Kentucky Department of Fish and Wildlife Resources, aided by the US Fish and Wildlife Service, stock close to a million trout in the state's numerous rivers and lakes. 
Kentucky is an excellent destination for the trout angler, and this article will highlight some of the best trout fishing in Kentucky. 
Do I Need A Fishing License In Kentucky?
All anglers in Kentucky must have a fishing license. The type of license you require depends on where you intend to fish and what you are fishing for. There is a complete list of the license and permits required available at the Kentucky Department of Fish and Wildlife Resources. (KDFWR) 
Various restrictions apply to trout fishing in the state. These are primarily aimed at protecting wild fish stocks and can vary from water to water. There is a statewide regulation on the number of fish that can be taken. 
| Species | Limit |
| --- | --- |
| Rainbow Trout | 8 Fish daily limit with no size restrictions |
| Brown Trout | 1 Fish limit, and it must be of size 16" or above |
| Brook Trout | Catch and Release only |
The KDFWR has put together an excellent resource that details all fishing restrictions and any special regulations. The site includes any current variances in the catch limits that may apply to certain river waters or stretches. 
Best Trout Fishing Waters In Kentucky
Kentucky has 45 major lakes and reservoirs and dozens of rivers crisscrossing its landscape. There are also numerous smaller lakes and ponds to choose from. In total, over a hundred of these waters are stocked annually. 
With the sheer numbers of waters involved, it is impossible to cover every great trout water in the state, but here are some of the very best trout fishing hotspots in Kentucky. 
Another feature of Kentucky trout streams and rivers is a grading system. All trout rivers and streams in Kentucky are graded from 1 to 4, with one being the best and 4 being the poorest. The grading is of the river's suitability to support a trout population, and the major factor considered is the temperature of the water. 
For instance, Class 1 rivers have less than 5 days a year when the water temperature rises above 72°f. Whereas Class 4 rivers have more than 25 days a year when the temperature is above 72°F.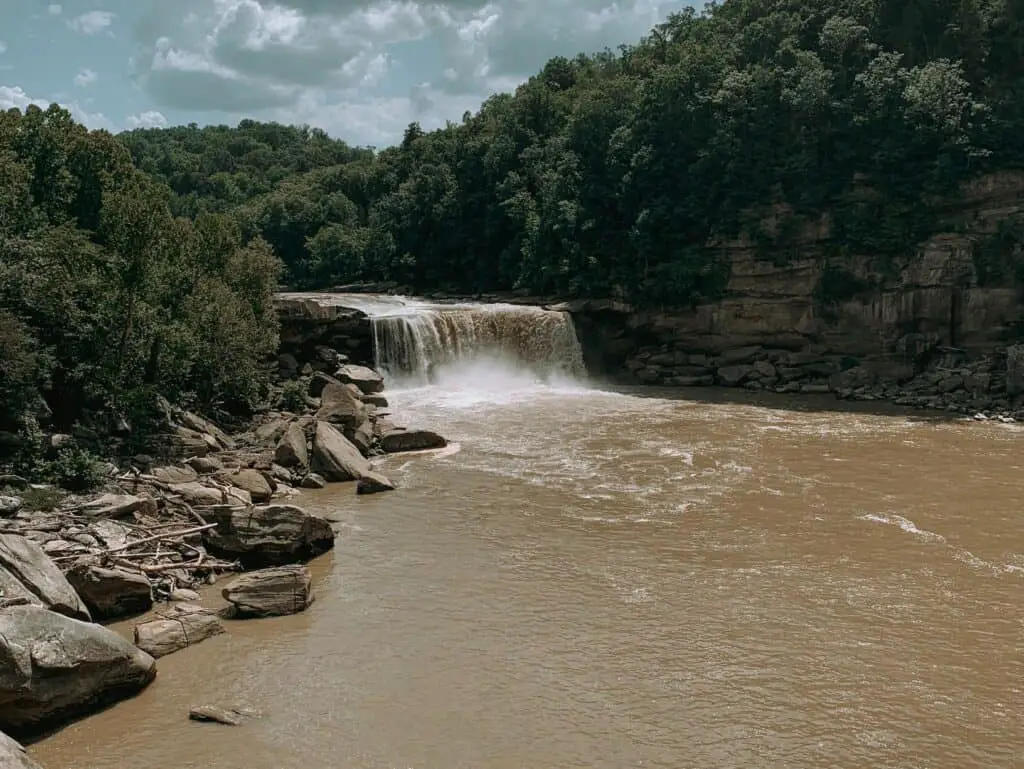 Cumberland River
The Cumberland River is without a doubt the premier trout destination in Kentucky.
The river runs for 75-miles from the Wolf Creek Dam. This is more of a tailwater than a true river, as it was created due to the dam's construction. However, it has a reputation as one of the finest tailwater destinations in the Southeastern United States. 
It is one of the waters where you can keep one brook trout as long as it is at least 15" in length. But the main attraction of the river is the healthy rainbow and brown trout populations. Each year the river is stocked with 160,000 rainbow and 40,000 brown trout, and they thrive in the conditions. Trout of 5lbs or over are not uncommon on the river. 
You can keep one brown trout of at least 20" in size and up to 5 rainbows, with only one of them sized above 20". 
The Wolf Creek Dam is a hydro-electric plant, so the water level is subject to variation, and although it can be fished with the water at any level, it does tend to fish better when the water is lower. 
Although bank access and wading are possible, access can be tricky along much of its length, and therefore it is better to fish the river by boat or even a float trip, if possible. Many local guides can provide boat trips on the river and take you right to the hotspots. 
Buckhorn Lake
This is classified as a Class 1 trout fishery and is stocked annually with rainbow trout. As well as trout, you can also catch bass, muskie, and catfish, amongst others. So if the trout aren't biting, there is plenty of other sport to keep you interested. 
Situated north of Hazard and south of Buckhorn, the lake is an artificial reservoir created in 1967 and has an area of over 1200 acres. Buckhorn Lake is one of the largest lakes in the east of Kentucky and one of the best for trout fishing. 
The KDFWR stock this water regularly, and many anglers try to coincide their trips with these stocking times (Stocking usually happens close to the dam at the Stilling Basin). There is an excellent guide to the stocking schedule on the premier angler website. 
Although at the time of writing, it only has the 2020 dates. They will furnish a link to the new dates when they are available. 
However, don't despair if you can't get to fish the water around these dates, because the Buckhorn is a class 1 water, there is a significant carry-over of trout population from one year to the next. These overwintered rainbows can be ferocious fighters and seem to thrive in the food-rich waters of the reservoir. 
Although there is plenty of bank angling available, the Buckhorn is best approached by boat, and there are plenty available for rent on the lake. 
If you fancy combining your trout fishing with camping, Kentucky State Parks have an excellent facility on the lakeside. You can also rent boats and even fishing kits, in the unlikely event you forget your own (I say unlikely, but I've turned up without packing my rods on a few occasions!)
The water is also frequently stocked with Muskie as well as trout. 
Hatchery Creek
Hatchery Creek is yet another Class 1 water. Located in Russell County below the Wolf Creek Dam, this is a great spot for those who have limited time. Access is easy, and the fishing is usually fantastic. If you are looking for somewhere to park up and be fishing from the bank a few minutes later, Hatchery Creek is perfect.
Of course, this makes it a popular and heavily fished spot. However, the creek is stocked monthly with up to 25,000 rainbow trout, and that means there is always plenty of fish there for the taking! This makes it a great place to take the kids or novice anglers because the chance of them catching some trout is exceptionally high.
There are plenty of areas to bank fish along the creek's public section, so it is usually possible to find a quieter place. However, such is the popularity of the creek that you are likely to get disturbed frequently. That said, the advantages of fishing this water are still numerous. 
As well as the regular rainbow trout stocks, the river also has a population of native brook trout and some stocked brown trout. 
The river also has a larger and wirier trout population that has migrated from the Cumberland River for fly fishing. This is an area of the river that is designated fly only, and all fish caught must be released.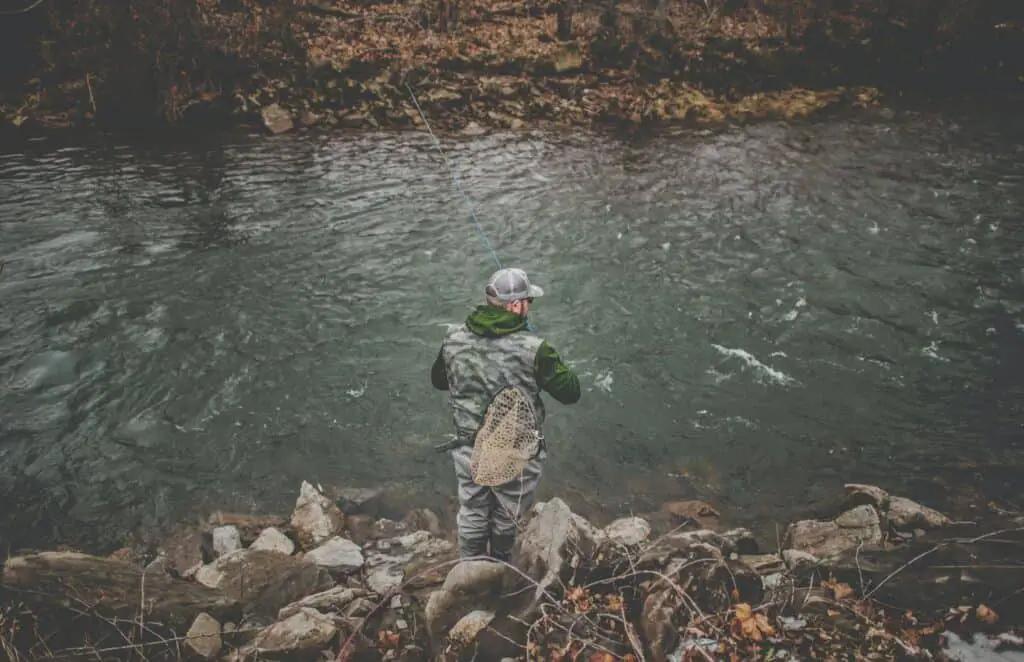 Otter Creek
Otter Creek is a quieter spot than Hatchery Creek and is less heavily stocked. So if you are looking for somewhere a little less crowded, then this might be the place for you. Although it is less frequently stocked because there is less fishing pressure, the trout get to acclimatize and can be trickier to catch. This makes it a great choice for the purist. 
The creek is located outside Fort Knox and has 1700 trout stocked annually by the KDFWR. Not only that but Fort Knox stocks a further 17,000 trout annually (although surprisingly no golden trout!). To fish here, you will need a separate fishing permit on top of your Kentucky State license. 
Once you have this permit, which costs $10, you can access the creek through Fort Knox itself, and you then have access to some excellent wading and bank fishing. It is essential to check if the creek is open before making your trip, as it is subject to occasional closures due to operational reasons. 
There is also a 10-mile stretch of the creek that operates a catch and release only policy from October through March. During this period, artificial flies and lures are the only fishing allowed, and all fish caught must be returned to the river. From April through October, fishing regulations are per the current state regulations. 
Goose Creek
Goose Creek is another class 1 catch and release fishery. It is an excellent place for beginners to try their luck and experienced anglers for whom time is short. Located on the Russell-Casey County line, this creek is stocked with rainbow trout from May to July. In this period, a total of 4,500 fish are stocked. 
It isn't as heavily stocked as some other waters, but the actual fishable trout habitat is restricted to about a mile in length. Hence, the fish are relatively concentrated in one area. If you want to fish this stretch, you have a couple of choices. 
One choice is to find out when the stock is due for release (the stocking dates can be found on the KDFWR website). Fishing on these dates will yield great results, but you will be in the company of many other like-minded anglers. The fish are voracious feeders when first released, and with a bag limit of 8 fish, they get hammered in the first couple of weeks. 
The other choice is to fish it at times when there is no stocking due. During these times, the creek is quieter, and the fishing not as good. However, there is still plenty of fish to be caught with a bit of patience and perseverance. 
Floyds Fork
Located south of Louisville, this is another excellent river for trout fishing and one of the most beautiful fish spots in the whole state. Bank fishing can be difficult on this creek, and a boat is by far the best way to explore the fishing opportunities on this creek. However, there are certain points along the creek where wade-able access is possible.
During the summer months, the water is mostly too warm for successful trout fishing, so for the best times to fish this location, then look at being here from early fall through to late spring. In saying that, summer fishing can be successful too, and if you aren't too fussy about species, the summer months also produce plenty of bass and sunfish to catch. 
The KDFWR releases 3,600 fish into the creek each year, and they are typically stocked in three batches in October, March and April. There is a catch and release restriction in place that runs from October 1st through to March 31st. This gives the trout released in October and, to a lesser extent, March, the chance to acclimatize to their surroundings. It also makes April one of the optimum times to fish the creek, especially if you are looking to put some trout on the dinner table. 
Dix River
Dix River is another river with excellent trout fishing but is also noteworthy because of the views. The Dix River is one of the lesser-known tailwaters in the state and can be tricky to get to. For those who put in the effort and make the trip, the result can be some of the best trout fishing in the state. Fishing the Dix is only by boat, as the river, for the most part, is surrounded by steep limestone cliffs. 
The easiest way to get access to the river is by boat, which can be launched from the High Bridge Boat Ramp on the Kentucky River. From here, you can paddle upstream for around a mile until just past the High Bridge. The mouth of the Dix river will be on your right at this point. You now have almost four miles of pristine river to fish. Boats and kayaks can be rented at the boat ramp. 
One thing to be wary of if planning a trip to the Dix, is that the fishing is very dependent on water levels. Because it is a hydro dam, any significant rainfall will result in the generators being run, making the river too high to fish. Ideally, you should check the water level from the USCG gauge before heading out. Look for the water level between 9 and 11 feet.
The river is renowned for its clear water and trophy fish. Some of the trout can be caught into double-figure weights as you get closer to the dam. 
Fishing on the river's length is restricted to artificial flies and lures. So this is a paradise for the fly fisher with a taste for the wilderness and some solitude.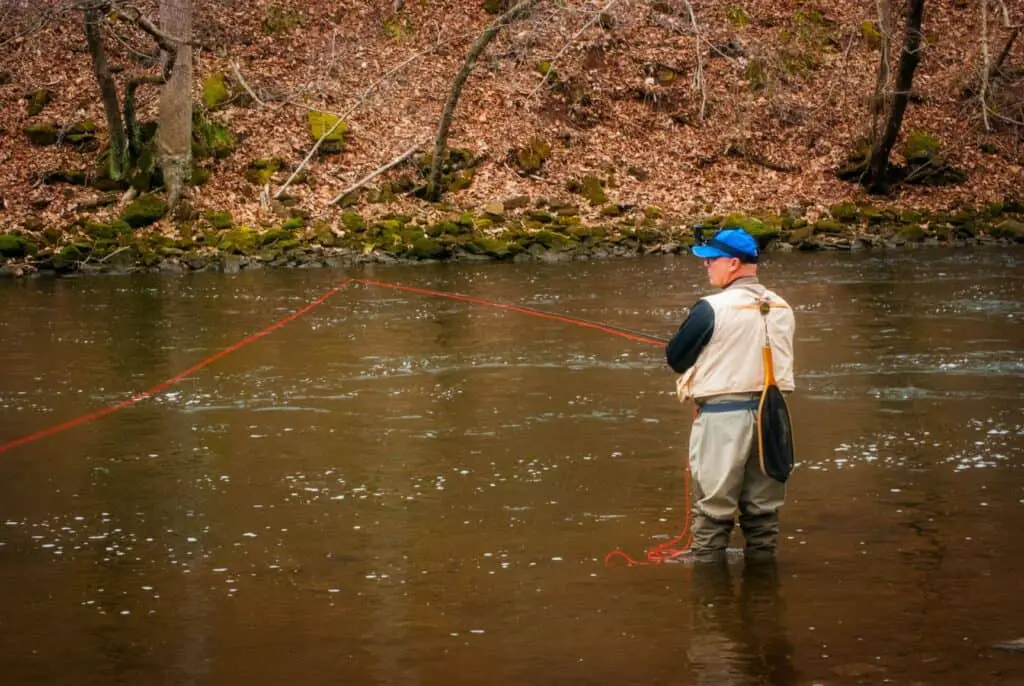 Parched Corn Creek
This creek is located in the Daniel Boone National Forest and is part of the Red River Gorge Geological Area. It can only be reached by hiking. Click here for The Ultimate Red River Gorge Guide. 
But for those willing to make the effort, the result is a beautiful wilderness stream with a good head of natural brook trout. This is not a river for specimen hunters, but if you are looking for a true wilderness experience and a wild opponent to fish for, then this will be right up your alley. 
One word of warning for those looking to camp, there are bears in the area, so you should follow safe food storage procedures. 
One of the strange aspects of trout fishing in Kentucky is that there is debate about whether brook trout is indigenous. Some argue that brook trout were introduced to the state and others say that it is a resident and natural inhabitant. Nowhere is this argument more relevant than Parched Corn Creek.
Although the state no longer stocks this creek, there is still a healthy population of brook trout and definite breeding signs. The fish you will catch here won't be large, with the biggest being around 10". But for the purist, the sense of satisfaction that you get from luring one of these beautiful fish to your fly makes it seem like a trophy catch. 
Conclusion
Kentucky is an angler's paradise, but for most people, this is bass country. The state has gone to great lengths and largely succeeded in providing plentiful quality trout fishing throughout the state.