Washington State is a state known for its game fishing. When fishing in Washington, many people think of rivers with outstanding salmon runs and rivers so dense with these migratory beasts, and you could walk across them. But it is doing this state a disservice if you think that it is all Washington has to offer. 
Washington has some of the finest trout fishing in the whole US. The fishing season can vary from species to species and even from river to river. There are also occasional closures of fisheries depending on fish stocks. 
The Washington Department of Fish and Wildlife (WDFW) does a great job maintaining the quality of the fisheries. For more information about seasons, current restrictions, and fishing permits(over 15's must have a valid license), the WDFW Website has a great guide with everything you need to know. 
You can download their handy pamphlet, which has details of statewide rules and regulations and links to where you can find and purchase the appropriate licenses. 
The WDFW is also responsible for stocking millions of trout into fisheries annually. These are mainly stocked into the lakes, and many find their way into the adjoining river systems. 
The species of trout that are available to catch is as varied as the fish habitats. There are the usual brown, rainbow, and cutthroat trout to fish for in Washington, but also there are brook, kokanee, golden, coastal cutthroat, and westslope cutthroat trout. 
And if you fancy a spot of sea-angling, there is always Steelheads to target. These sea-run rainbow trout can grow to massive sizes, and catching one of these beautiful creatures is something all anglers dream about. 
Washington State has something for everyone. The annual stocking means there is plenty of unwary fish for beginners, and for experienced anglers, there is plenty of resident trophy-sized fish to be lured.
So let's have a look at some of the best trout spots in this angler's paradise!
Best Trout Rivers in Washington
Washington State has fantastic lakes and rivers that are abundant in trout. In this first section, we will look at some of the best trout rivers in Washington.
The Yakima River
This is Washington's longest river; it runs from high in the Stuart Mountains and flows for over 200 miles before its confluence with the Columbia River. Although it is a snow-fed river, the addition of 4 reservoirs has stabilized the water level meaning it can be fished even in the spring when other rivers are raging torrents. This dramatically enhances the fishing. 
The river also has an annual fall run of Chinook Salmon. This is heaven for the trout who gorge themselves on the salmon eggs. This means well-fed, and fighting fit trout that will give even the most experienced angler a run for their money. 
The Yakima River is one of the most famous rivers in the state. Finding a quiet spot is never a problem because of its size, but if you want to see the best this river has to offer, then a guide is highly recommended. 
The trout species that the river hosts are predominantly Rainbow, with some Westslope Cutthroat thrown into the mix. Both these species can grow to immense sizes due to the abundance of feeding on the river. It is best to tackle-up accordingly!
Trout fishing on the river is open all year and is catch and release. Bait anglers should note that this is a fly only water, and fly fishers are restricted to barbless hooks, fished singly. 
Another great feature about this river is that almost without exception, there isn't a wrong time to fish it, with perhaps the very height of summer seeing a slight drop off. However, there is always a large stonefly hatch, so a weighted nymph paired with a slow retrieve can produce fantastic results. 
The Hoh River
It is appropriate that the Hoh River is fed by the Hoh glacier high on Mount Olympus because this is a river that's fit for the Gods! If you find yourself on the Olympic peninsula, then this river is a must-visit. Even without a rod in your hand, the vistas and the scenery are breathtaking.
The river carves its way through the Pacific Northwest rainforest, and if you are fishing here, you are fishing amongst some of the oldest and largest trees in the world. Even without catching a fish, and that's unlikely, the scenery and the majesty of this area are something that will leave you in awe.
If you are a steelhead trout fan, then this river is for you. It has large runs of both natural and wild fish. And these sea-run rainbow trout are sheer bars of silvers that can rip the rod from your hands. 
The prime time to fish for these is between the months of November and January, although the prime runs can often extend into February or even March. But don't despair if you can't make these dates as they can be caught all year round. 
In addition to steelheads, the river also has a large population of cutthroat trout and bullhead trout. The latter is a protected species, so if you catch one of these, handle it carefully and return it to the water gently and quickly.  
The Hoh River can be fished all year round, but there are species-specific restrictions that you can check at the WDFW website. 
You're spoiled for choice for guides in the area. For steelhead fishing, Emerald Water Anglers run a great guide service on the Hoh River.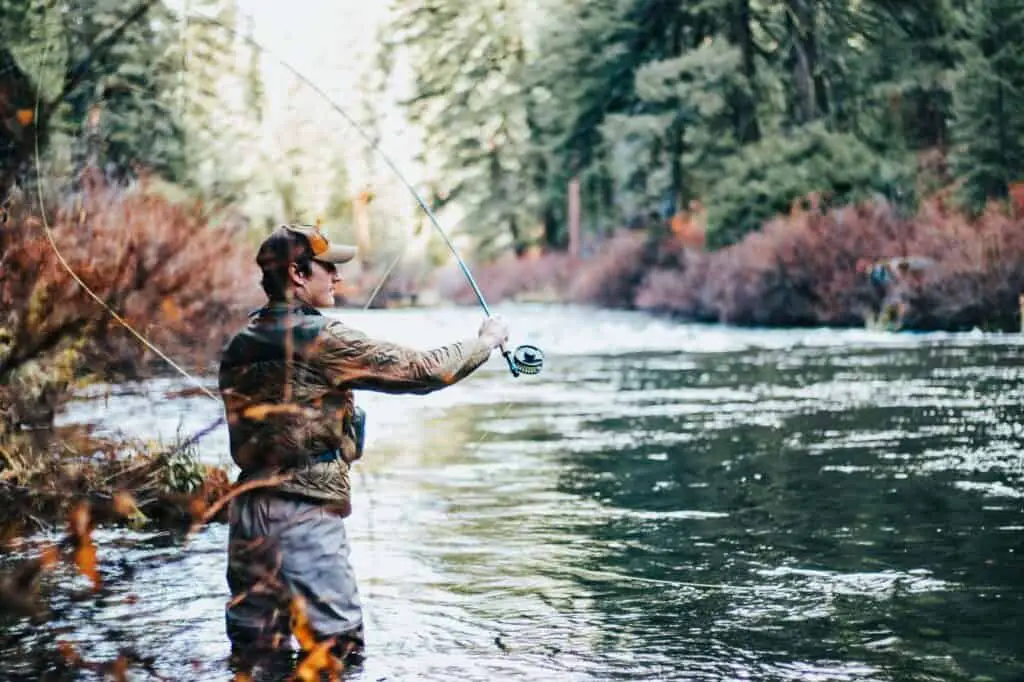 The Skagit River
While this river is perhaps better known for its salmon runs, it also plays host to one of the best Steelhead runs in the state as well as a healthy and hungry population of freshwater trout, including Bull Trout and Coastal Cutthroat Trout. But the big draw on this river is really the steelheads. 
The Skagit originates in Canada before making its way into Washington State. Its famous steelhead runs twofold, with the hatchery fish beginning their run towards the end of November and the natural fish starting around late February/early March and peaks by the end of April. 
If you are looking for exciting fishing and steelheads that average 12lbs and can frequently reach 20lbs, this is the time to visit. This time of year attracts most visitors, and it isn't hard to see why. But for visitors at other times of the year, there is plenty of trout action to be had all year. And if you fancy a shot at some salmon fishing, the Skagit also has runs of all pacific salmon species.
Bank fishing opportunities are rare on the Skagit. It is a wide river that doesn't lend itself to bank fishing even if you can gain access (which can be tough). If you want to experience the best this river has to offer, it is done so from a boat. There are plenty of guides in the local area that offer this service. 
Wondering if you need a guide? Read, "Should I Hire A Fly Fishing Guide?"
The Wenatchee River
Flowing from its source at Lake Wenatchee, the river flows for over 50 miles before it reaches the Columbia River. But what a 50-miles. For the steelhead enthusiast, this is a bit of a paradise. It is also a great river for beginners as the access is generally easy and the waters are easy to fish. For a great list of access points along the river, check out this link. 
The Wenatchee River is also a beautiful spot to fish along its entire length with a backdrop of mountains and Washington State's grandeur all around.
The Wenatchee River used to be so overfished that the WDFW shut it for years before it re-opened in 2007. There are still restrictions in place regarding which fish can be kept. As of the time of writing, all wild steelheads must be returned to the water, and all hatchery fish must be kept. This policy is aimed at returning a natural balance to the river. 
It should also be noted that this is a fly only water, so it isn't suitable for bait anglers. 
The Wenatchee has a steelhead season that runs from August through to March. The steelhead runs usually begin in August, but the best fishing is normally from about September. For those who don't mind braving the winter conditions, the fishing is consistently good through until the spring. 
For those who want to try their hand at other trout species, there are also plenty of Rainbow and Bull Trout to aim for. 
Other Rivers in Washington
These are by no means the only rivers worth visiting in Washington. There are so many fantastic rivers that it would be hard to cover them all in a whole book!
Below is a brief description of some other amazing rivers to try. 
The Sauk River
This freestone river has its origins in the Glacier Peak Wilderness. This is another great steelhead river in its day, but fishing can be variable due to its water quality fluctuations. The river is susceptible to getting murky in periods of heavy rain. Unfortunately, these often coincide with the steelhead runs. 
The Sauk river has three distinct characters depending on the stretch of the river. The upper stretch is narrow, fast, and difficult to access. The middle stretch is still a quick river strewn with boulders and peppered rapids. The lower stretch is easier to fish. It is a wide, meandering river with plenty of fishing opportunities. 
The Stillaguamish River
If you find yourself in Seattle and looking to do a spot of steelhead or sea-run cutthroat trout, then this is within easy driving distance of the city. The steelhead runs in both the summer and winter, so there is a good chance of striking it lucky with your dates. 
It also has rainbow and cutthroat trout right along its length. But it should be noted that the 45-mile long North Fork of the river is designated as a fly only water.
The Skykomish River
The Skykomish River is another excellent river within easy reach of a Seattle base. This is also another river that boasts summer and winter runs of steelheads and a good head of cutthroat trout. This is a temperamental river, though. When it's good, it's very good, and when it's bad, well, we all know that story. 
It is best to check how the water is fishing before you venture here. There are plenty of guides and tackle shops in the Seattle area who are more than happy to offer local knowledge. 
The Bogachiel River
Another river that stems from the Olympic National Park, the Bogachiel, is almost unique in this area as it isn't a glacier sourced river, and therefore has no major run-offs. This means it manages to sustain one of the longest steelhead seasons in the whole state. 
The best steelhead fishing run occurs in March to early May. You can catch steelhead up to 30lbs then this the run you want to catch!
As with most Washington rivers, there is also a thriving population of cutthroat and sea-run cutthroat trout.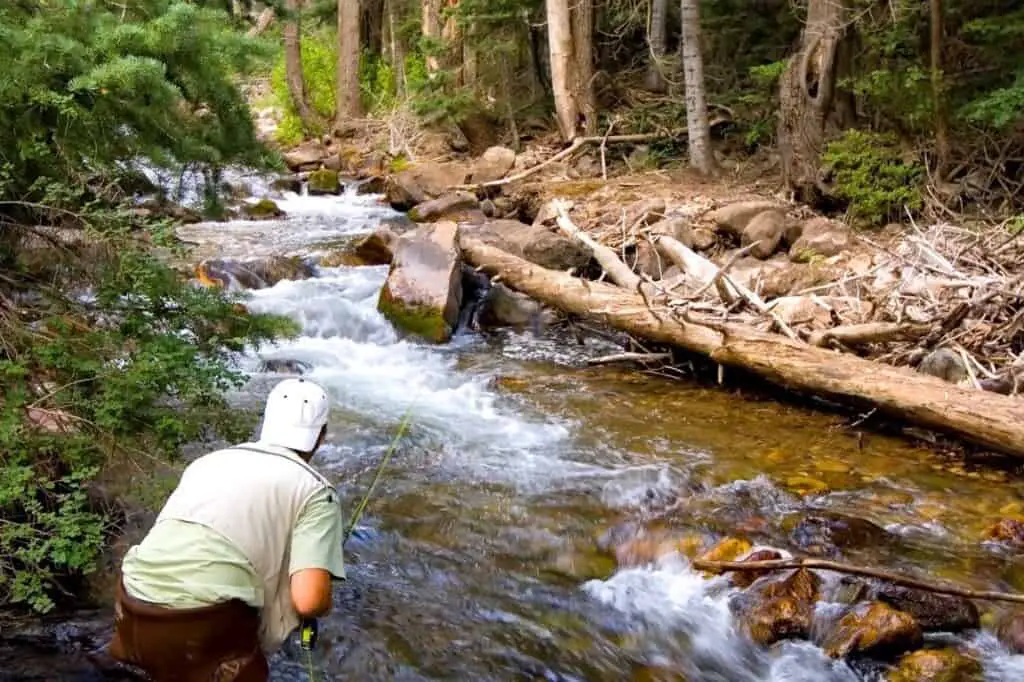 Trout lakes in Washington
While many people think of Washington as mainly a river and coastal fishing destination, for the stillwater enthusiast, there are also plenty of fishing opportunities to choose from. In this next section, we are going to cover a few of Washington's hotspots.
Rock Lake
Situated in Eastern Washington, about one hour south of Spokane, this is the largest natural lake in the area. At nearly seven miles long and with over 2000 acres, it is a large body of water. And it also has large fish!
If you want to target some brown trout fishing in Washington, this lake will be considered worthy of consideration. The brown trout in Rock Lake grow to massive sizes. They are regularly caught in double-digit sizes, in some instances up to 15lbs. 
And if that wasn't enough to get you foaming at the mouth, then there is the rainbow trout. These can be caught at up to 24" inches in length. 
Early spring into early summer is a productive time for the best times, and although the fishing drops off a bit at the height of summer, the fishing can still be excellent on the right day. As the water cools later in the year, then the fishing improves again. 
As the name suggests, the water is dotted with rocks that can make boating hazardous, so extreme caution or, even better, a local guide is advised. 
Omak Lake
This is the largest body of saline water in Washington State. As such, the salinity means that most trout species can't survive in this water, except one, the Lahontan Cutthroat Trout. And it doesn't just survive in these waters; it thrives. 
First introduced in 1968, this species has prospered in the waters and grow to be massive fish! The current record is 18lbs, and trout of 5lbs and over is the rule and not an exception. 
This lake is situated within the boundaries of the Colville Indian Reserve, and you will need to purchase a tribal fishing license (as well as your state permit). These licenses can be purchased from various outlets in Omak and cost $10 per day. 
It is open all-year-round but is a catch and release water except for June when anglers can keep up to three fish, although only of these can be over 18".
Potholes Reservoir
Some people will wonder what this reservoir is doing in a list of trout fisheries. It is well known for its excellent Panfish, Walleye, and Bass fishery. Of which there is an abundance. But it has a secret – A population of rainbow trout that also thrive in the reservoir can occasionally top the 10lb mark, and fish of 3 to 5lbs is not unusual. 
This is a large body of water at over 28,000 acres. There is a lot of water to cover. If you don't know the reservoir, this can be daunting. A boat is also required to make the best of your trip. Luckily there are local guides who can help you out on both fronts. 
Conclusion
Famed for its salmon runs, trout fishing (apart from steelheads) has always been an afterthought for those anglers making the pilgrimage, which in some ways is a good thing because it frees up some stunning trout fishing for the devotees of these noble species. 
For those after steelheads, then this is the spot to be in the lower states. And with each river having its timings of runs, it is difficult to arrive in this state at any time of the year and not have some excellent fishing somewhere.
If you find this article helpful, don't leave without sighing up for our newsletter.
Other Popular Fly Fishing Destination